New Saudi Poll: United States, China, and Russia all Tie as Important Partners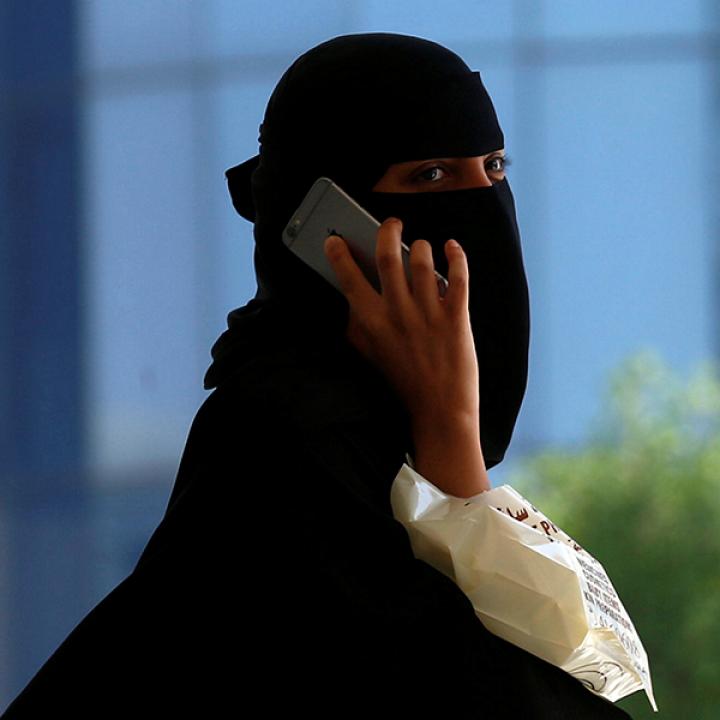 As great powers match in perceived importance, the Saudi public remains hostile to Iran while being less so towards Israel or Turkey.
A rare survey of Saudi citizens, commissioned by The Washington Institute and conducted by an independent regional commercial firm in November 2021, reveals a virtual three-way tie among major powers in perceived importance to Saudi Arabia. China emerges very narrowly ahead, with exactly half of the population calling good relations with that country "important." The United States and Russia are close behind, statistically tied at 44-45%. These figures confirm a pattern that has emerged as fairly stable over the past several years.
Additional evidence for this finding comes from an explicitly comparative question, asked for the first time. Respondents were asked about this statement: "Our country cannot count on the United States these days, so we should look more to Russia or China as partners." Saudis are exactly evenly split on this opinion: 49% agree while 49% disagree.
Attitudes toward specific great power policies mostly mirror this mixed picture. Half of Saudis view "the rise of Chinese investment in various Arab states" favorably. Just under half (45%) are also favorably disposed toward "the recent increase in Russian arms sale to several Arab countries."
Priorities for U.S. Policy: Even Split Among Iran, Palestine, Democracy, and Other
As for American Mideast policies, a surprising two-thirds of Saudis view the U.S. withdrawal from Afghanistan as a plus for the region. Similarly, when asked about "the U.S. agreement to keep a few thousand military advisers in Iraq," 73% of Saudis voice a negative opinion. Asked about their choice of the top priority for U.S. policy going forward, the survey data demonstrates an almost even four-way split among the following options: containing Iran, solving the Palestinian-Israeli conflict, ending the civil wars in Yemen and Libya, or "promoting democracy and human rights in Arab countries." This diversity of popular priorities is little changed compared with similar questions asked over the past several years.
Iran Still Very Unpopular, Though Forty Percent Back Diplomatic Overtures
Iran is another key foreign policy issue on which the Saudi public's views are generally stable—and heavily negative. A mere 13% say that good relations with Iran are even "somewhat important" to Saudi Arabia. The majority (61%) view the election of Ebrahim Raisi to the presidency of Iran last June as a negative development.
An even larger majority (71%) of Saudis agree with this deliberately provocative proposition: "Wherever Iran intervenes, it hurts the local Arabs and doesn't help the Palestinians." And a narrower majority (57%) express a negative assessment of the recent "Saudi-Iran diplomatic talks about some understandings between them"; while 39% voice a positive view. By way of comparison, half the Saudi public supports rapprochement with Turkey, while just 22% feel that way toward Syria's Assad regime. Beyond the substantive interest of these views, the division of opinion likewise demonstrates that many Saudis are willing to offer private opinions that differ from the latest official position.
Forty Percent Accept Israeli Contacts, But Formal Normalization Widely Opposed
On Israel, Saudi popular attitudes are now somewhat less negative, although the majority remain opposed to normalization. Thirty-eight percent agree that "people who want to have business or sports contacts with Israelis should be allowed to do so." A third of Saudis see "replacement of Netanyahu as prime minister of Israel" as a positive change. More surprisingly, an equal percentage say the same about "the new economic deals between Jordan, Egypt, and Israel."
Nevertheless, the Saudi public is still mostly opposed to full, formal normalization of relations with the Jewish state. A mere 16% voice a favorable opinion of "the peace accords between Israel and the UAE, Bahrain, Morocco and Sudan"—a surprising and unexplained drop from when last measured in July 2021, when 36% voiced support for the accords.
A similarly low proportion (13%) in this latest survey expressed a positive view of "the recent conference in Erbil, Iraq that called for peace with Israel." The contrast between the large minority who accept practical deals with Israel and the small minority in favor of open official relations helps make sense of the Saudi government's correspondingly cautious policies on this sensitive matter.
Half See Inadequate Steps On Corruption and Favoritism, Yet Few Back Protests
Regarding domestic issues, Saudi citizens are more concerned about corruption than about overall economic conditions—and least concerned about privacy or individual freedoms. The narrow majority (56%) say their government is doing "too little" at "reducing the level of corruption in our economic and political life." Somewhat fewer (47%) say the same about official steps to "share the burden of taxes and other obligations to the government in a fair manner." More significant from a policy standpoint, however, is that three-quarters of Saudis agree with this proposition: "It's a good thing we don't have big street protests against corruption, as they in some other Arab countries."
By comparison, just 38% of the public say Saudi authorities are doing "too little" to "deal with our growing economic problems and people's daily hardships." And even fewer (29%) express that negative view of their government's position on "protecting the freedoms and privacy of individual citizens." These findings suggest a major discrepancy between Saudi and foreign perceptions about the salience of such concerns.
On all of these issues, as in the recent past, this survey reveals only very minor attitudinal differences between those over and under 30 years of age—or between Saudi Sunnis and the roughly ten percent Shia minority in the country. Much the same is true regarding generational or sectarian attitudes on foreign policy issues, whether about Iran, Iraq, Israel, or the United States.
Methodological Note
This analysis is based on finding from personal interviews among a representative national sample of 1,000 citizens in Saudi Arabia, as conducted by a highly qualified and experienced professional survey firm in November 2021. The sample was selected through standard geographic probability procedures, yielding a theoretical statistical margin of error of approximately three percent. Strict assurances of confidentiality and quality controls were provided. Additional methodological details, including full questionnaire and demographic breakdowns, are readily available upon request.