New Lebanon Poll: Despite Protests, Most Shiites Still Back Hezbollah, while Sunnis and Christians Turn More Negative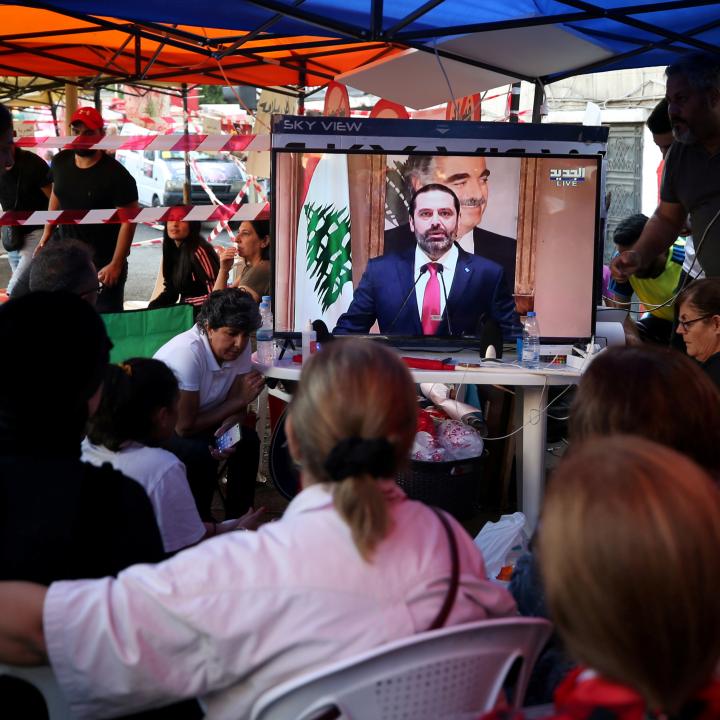 A reliable new Lebanese public opinion poll, conducted in November, shows that a large majority of the country's Shiites retain positive views of both Hezbollah and its Iranian patrons—even as major anti-government protests include many Shiite participants for the first time. This surprising finding casts doubt on speculation that Hezbollah might suddenly be in danger of losing its core constituency. However, it is important to note that some Shiite respondents are likely reluctant to voice more nuanced answers to such blunt, direct questions from a total stranger about these very sensitive and even potentially dangerous subjects.
Among Lebanon's Shiite population today, 75% say they hold a "very positive" attitude toward Hezbollah—down only slightly from 83% in late 2017 and 77% in late 2018. An additional 15% now give Hezbollah "somewhat positive" ratings. This 90% overall positive rating among Shiites has barely changed over the past two years.
Moreover, 70% of Lebanese Shiites still think it "very important" to maintain good relations with Iran, down only marginally compared to 2017 or 2018. An additional 22% now say those relations are "somewhat important." And 73% voice a "very positive" opinion of Iran's Shiite Ayatollah Ali Khamenei, plus 17% more with a "somewhat positive" opinion of him.
In sharp contrast, Lebanon's Sunni Muslims have solidly negative views of all three of these Shiite figures. A full 51% voice a "very negative" attitude toward Hezbollah—a ten-point increase over the past year—plus 38% more with a "somewhat negative" view. Only one-fifth of Lebanese Sunnis say good relations with Iran are even "somewhat important." And only the same small minority express even a "somewhat positive" view of Ayatollah Khamenei.
Lebanese Christians, the third major group in the country, are in the middle, as usual lately. But their views of Hezbollah have taken a dramatic turn for the worse in the past year. Just 33% now have at least a "somewhat positive view" of that organization, compared with a remarkable 82% in late 2018. Similarly, just 33% say good relations with Iran are important. And a mere 17% voice a favorable opinion of Ayatollah Khamenei.
Turkish president Recep Tayyip Erdogan is also a polarizing figure among Lebanese sects, although in the opposite direction. Nearly two-thirds of Sunnis express a favorable view of him, but among Shiites that number plummets to just 4%. Lebanese Christians, again, are somewhere in the middle but close to their Sunni compatriots: 47% voice a positive opinion toward Erdogan.
On the internal issues behind the current mass protests, however, Lebanon's three major communities are practically united. At least 90% or more in every group say their government is doing too little about each one of the following problems: reducing the level of corruption in economic and political life; dealing with growing economic problems and people's daily hardships; and sharing the burden of taxes and other obligations to the government in a fair manner
Aspiring to better relations with Christians is another area of consensual sects: 85% of both Sunnis and Shiites and 100% of Christians agree that "we should show more respect to the world's Christians, and improve our relations with them." In stark contrast, however, a mere 22% of Sunnis, 18% of Christians, and just 2% of Shiites say the same about improving relations with Jews.
Attitudes toward the United States have soured somewhat over the past two years. Among Sunnis, 43% say good relations with Washington are at least "somewhat important," down about ten points since late 2017. Among Christians, that figure is also down about ten points, to 37% today. And a mere 14% of Shiites say the same. By comparison, much higher proportions in each community say it is important to have good relations with Russia—or even with Syria.
Along similar lines, Russian president Vladimir Putin far outscores President Trump in approval ratings across all three major Lebanese communities. And asked more specifically to choose among four priorities for U.S. policy in the region, the most popular selection in each community is "stay out of our region altogether, or at least withdraw from most of it." That option was picked by 71% of Shiites, 48% of Sunnis, and a remarkable 43% of Christians in the country.
These findings are from a survey conducted in November by a highly qualified, experienced, and completely apolitical local commercial market research firm, among a representative national sample of 1,000 Lebanese citizens, with strict assurances of confidentiality. The author personally traveled to the region to consult with the Lebanese project managers during the course of fieldwork. Interviews were done face-to-face, with respondents selected by standard geographical probability methods, yielding a total sample approximately proportional to population distribution: 305 Sunnis, 301 Shiites, 346 Christians, and 48 Druze. The statistical margin of error for the total sample is approximately 3%; for the three major subsamples, approximately 5.5%. Additional methodological details, including sampling protocols, other demographic breaks, and full Arabic survey instrument, are readily available from the author on request.