MENA Already Had a Food Crisis; Polling Shows Majority Agree Russia Is Making It Worse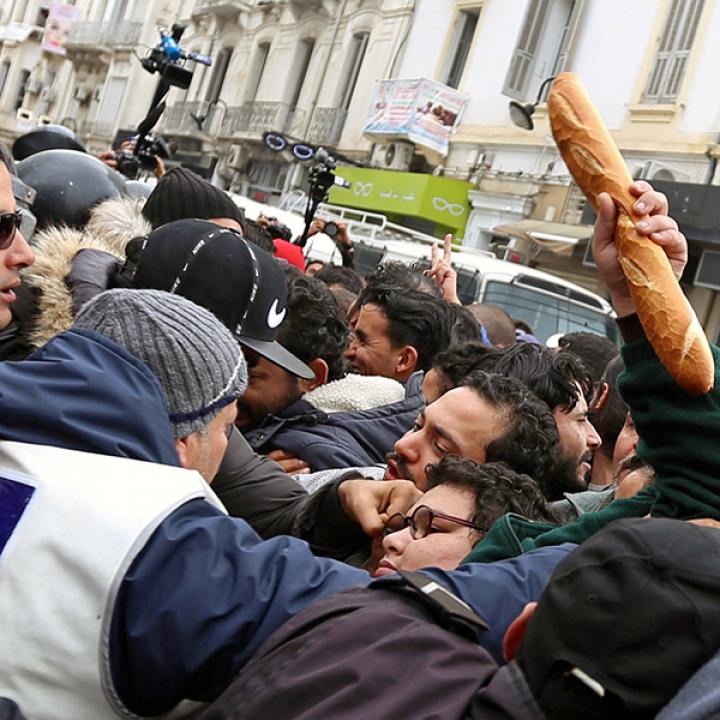 While Arabs polled in March see Russia as responsible for spiking food prices, frustration with prior governance failures and economic challenges are also evident in certain Arab states with struggling economies.
Along with much of the rest of the world, many Arab countries are scrambling to secure enough cereal grains, fertilizer, and vegetable oils to meet their populations' needs as the ramifications of Russia's invasion of Ukraine continue to ripple outward. Meanwhile, prices of these necessities have shot up to levels unprecedented in recent memory. Higher prices are further taxing struggling state budgets, especially those that provide subsidies on basic foodstuffs. On the one hand, much of the public in seven Arab countries agrees that Russia is at fault for rising prices.
TWI polling conducted in March 2022 shows that a majority of publics in all countries polled agree that "the Russian military action in Ukraine is to blame for the recent rise in food prices here." Lebanese are the most likely to agree with this statement, at 70%, while over half of Gulf respondents from the wealthier states of Saudi Arabia, the UAE, Bahrain, and Kuwait concur.
To explore this data and more, access TWI's interactive public opinion poll database here.
Calculating food prices in the Arab world is often complicated by the extensive network of bread subsidies extant in most countries polled. Nevertheless, cracks in this system are showing. Egypt responded to rises in unsubsidized bread prices by setting a price cap after a 25% price jump in March, while Lebanon raised the price of subsidized two pounds of bread to 3,250 lira—rising to more than double its mid-2020 price after a series of price hikes and reductions in the wake of its economic crisis.
That this is just the lates of a series of significant bread price fluctuations in Lebanon highlights that, at least within the MENA region, the war in Ukraine is in fact compounding extant food security and economic crises that many Arab countries outside of the wealthy Gulf states face—with several countries teetering on the edge of mass famine for years. Polling trends show that there was already a significant degree of frustration in several Arab countries with how basic economic challenges were handled prior to the war.
Late last year, respondents were asked to judge how their countries managed "economic problems and daily hardships." On the one hand, a plurality of respondents in the UAE and Qatar actually thought that their countries were doing "too much" to address the problem. Yet in Bahrain (42%), Egypt (47%), Jordan (54%)—and especially in Lebanon (96%)—a plurality or majority of respondents felt "too little" was done to address these pressing issues—views essentially unchanged from when the question was polled previously two years prior.
These ongoing frustrations reflect the compounding challenges of COVID, drought, and struggling economies piled on top of governance issues. Frustration with a lack of basic goods and services have indeed sparked repeated waves of protests over the past five years, with major movements roiling governments in Algeria, Sudan, Iraq, and Lebanon. Moreover, even countries that did not participate had a favorable view of the movements in Iraq and Lebanon; about half of respondents in other countries said the protests were at least somewhat positive when asked in November 2020. These frustrations likewise help explain many Tunisians' initial acquiescence or even support of Kais Said's government takeover.
Despite obvious public frustration in these states, the situation remains dire. And within the sample set of those countries polled in March, large numbers of those more vulnerable Arab publics are again looking towards protest as a means of effecting change. When asked whether they agreed that "It's a good thing we don't have big street protests against corruption," most Lebanese continue to disagree (91%). Moreover, half of Egyptians (52%) and a significant minority of Jordanians (44%) likewise reject this statement.
This is all not to mention the cases of even more severe wartime hunger in Yemen and Syria, or the estimated 64% of Gazans who face food insecurity. Nor are things made better by the ways in which recent severe drought—the worst in decades—continues to decimate domestic agriculture within the Levant and North Africa, further limiting the available foodstuffs in local markets. All these factors demonstrate the weight of a regional food crisis in the Arab world, which the FAO already estimated affected 141 million people back in November 2021.
In response to the coming food shortages, the Biden administration recently pledged $670 million to six countries—including Sudan and Yemen—deemed especially vulnerable to food shortages, while European countries have pledged $244 million in aid to MENA earlier in April in an attempt to engage in 'food diplomacy' and negate Moscow's narrative of the West's actions spiking food prices. These efforts are important, though, as mentioned, majorities of all Arab countries understand that it is Russian actions spiking global food prices. Moreover, less than a quarter of respondents in any country polled saw Russia's "military actions in Ukraine" in an even somewhat positive light. Regional powers are also stepping in—Gulf states' major pledge of $22 billion dollars to Egypt will provide a massive boost to its economy.
What is vital to remember is that this urgent issue will likely have regional ramifications far beyond any conclusion to the invasion of Ukraine. Moreover, reliance on foreign funding may prove more precarious as many countries will be placed in the unenviable position of jockeying for international funds from an increasingly exhausted pool of donor countries during a global food crisis. Ultimately, polling numbers suggest that the resulting frustration is likely to have destabilizing impacts back home if governments ultimately prove unable to feed their people. With significant support already for protest within more economically vulnerable countries, continuing to address and ameliorate economic hardship will be especially vital for these countries in the months ahead.