Lessons on Iran from Putin's Playbook: How to Avoid Miscalculating Khamenei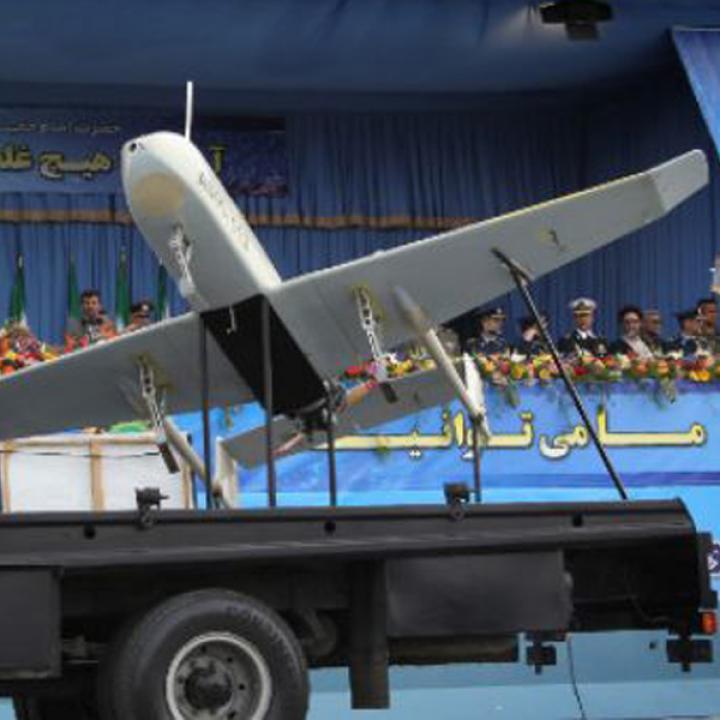 Understanding the mistakes that led to the Russian invasion offers critical lessons for future Iran policy.
On February 24, Vladimir Putin's decision to invade Ukraine caught many in the United States and Europe off-guard. In the preceding weeks, any number of journalists, experts, and policymakers rejected a Russian invasion of Ukraine as implausible—despite clear and publicly stated intelligence suggesting war was imminent. A combination of disinformation, naivety, and selective hearing led Western observers to misread the writing on the wall.
Putin's imperialist designs on Ukraine were hardly secret, nor was the build-up of 75 percent of the Russian army along the Ukrainian border. Hindsight can't help Ukraine, but it can prevent the future misreading of another dictator: Iran's Ayatollah Ali Khamenei. Ignoring the same three factors that led to miscalculating Moscow risks a similar outcome with Tehran.
Acknowledging Propaganda
In the months before Russia's invasion, Moscow launched a propaganda campaign blaming the West for its military build-up. These arguments were given credence by some in the West despite Putin's track record in Georgia and Crimea. A similar, anti-West public relations campaign disguised as research is currently underway with regard to the Islamic Republic of Iran—and just as with Russia, it threatens to cloud our judgement.
Take those who are tirelessly trying to sell the idea that the clerical regime's hostility towards the West began as a result of the policies of former U.S. president Donald Trump, specifically his withdrawal from 2015 nuclear deal. Well aware that both disdain for Trump and viewing the world through a self-loathing post-colonial lens are attractive positions for many in the West, these "analysts"–de facto spin doctors–seek to leverage this mood to win sympathy for the ayatollah.
This false narrative ignores the fact that vehement anti-Americanism has been a main pillar of the clerical regime's worldview since its inception in 1979. From the hostage crisis to Iran's Revolutionary Guard spilling American blood in Iraq and Afghanistan, the ayatollah's core political and ideological message has always incorporated hatred for the West and everything it stands for. 
For the past 43 years, the official slogan of the Islamic Republic has not been "Death to Trump", but "Death to America." As with Putin's Russia, those window-dressing Khamenei's policies are at best apologists, at worst paid operatives. In the West, these individuals come in three forms. The first group typically consists of uninformed individuals who are exploited by propaganda from authoritarian regimes and recirculate misinformation as a result. The second groups consists of illiberal intellectuals who span the political and religious spectrum and oppose the ideology of liberal capitalism in all its forms. These individuals view the U.S. and the West as the ultimate liberal capitalist hegemons and derive their policy preferences accordingly.  Lastly, there are paid operatives: individuals who are paid by authoritarian regimes to tout regime agendas in exchange for material gains. In January 2021, Kaveh Afrasiabi, the U.S.-based political scientist, who shared his Iran "expertise" in the New York Times, Washington Post, The Guardian and CNN, was arrested on suspicion of being a paid agent of Tehran. Collectively, these three groups, which sometime overlap, have a presence across Western academia, think tanks and the media. Distinguishing credible voices from spin merchants is the first step towards avoiding miscalculating Khamenei.
Western naivety is as much at fault as strategic disinformation from internationally-based propagandists–and here we only have ourselves to blame. This naivety is a product of hubris grounded in the perceived inviolability of the post-Cold War liberal, rule-based international order.
A Question of 'Rationality'
Moreover, naivety led the West to arrogantly assume that, despite invading Georgia in 2008 and Crimea in 2014, Russia would basically play by the international rulebook with regard to Ukraine, as anything short of this would be "irrational."
Dictators like Putin and Khamenei have been trying to unravel the international rules-based order for decades. This isn't to say they want anarchy. These authoritarians want rules based on their own worldview. For Putin, it's reviving Russian imperialist glory; for Khamenei, it is building a pan-Islamic order based on his conception of the Shia Imam and Ummah.
The moment Putin deviated from West-centric notion of "rationality," the idea of the Russian megalomaniac going "mad" began to surface, as though he had suddenly embraced a moment of spontaneity. Yet Putin's imperialist intentions for Ukraine were no secret. Despots like Putin and Khamenei are rational within the confines of their own ideologies–put simply, what may be labelled "irrational" may be perfectly logical within their distorted worldview.
As such, these actions should not be seen as surprising based on their other attitudes towards governance. Neither autocrat accepts basic tenants of human rights or equality—simply look at their views on homosexuality, women's rights, and the treatment of ethnic and religious minorities. Persecution of these populations is justified in the name of what they consider "logic."
Hubris impeded the West's ability to predict, plan, and mitigate. It was Western naivety that led to the belief that the Russian military's encirclement of Ukraine was just a negotiating strategy by Moscow because it felt threatened by NATO. This viewpoint became prevalent in spite of Putin's stated views on Ukraine.
This begs the question: are we risking the same in relation to Khamenei and some of his most threatening language? Is the West naive in thinking that the Islamic Republic's encirclement of Israel engineered by Iran's Revolutionary Guard (IRGC) and proxies like Hezbollah is simply a response to the regime in Tehran "feeling threatened"? Or should we take the supreme leader and the IRGC at their word when, for example, they declare the Jewish state a "cancerous tumour that must be eradicated" and pour significant resources towards achieving this objective: from propaganda showing the armed "liberation" of Jerusalem with the words "Final Solution" to building ballistic missiles with "Death to Israel" in Hebrew written on them?  If Khamenei acts on what he's been saying for years—like Putin—will we just say he's "gone mad"?
Messaging and 'Domestic Consumption'
Finally, Putin exploited the West's selective hearing.  Last year, when Putin wrote a 5000-word essay outlining his imperialist ambitions for Ukraine, Western observers were quick to dismiss this as being for "domestic consumption". In 2014, when Russian dissident and U.S. academic Gary Kasparov predicted a future Russian invasion in his book Winter is Coming, he was ridiculed and ignored. This selective hearing backfired. Putin is sometimes a man of his word.
Like Putin, Khamenei has been clear about his vision. In fact, he unveiled a manifesto in February 2019 outlining the regime's direction of travel for the next 40 years titled the "Second Phase of the Islamic Revolution." Given that this was the single most important document published by Khamenei in the past decade, one might expect Western policymakers and Iran experts to have memorized every word. In reality, few have even heard of the "second phase" project, while many who have dismiss it as being merely aimed for "domestic consumption." Regime lobbyists provide a helping hand in this regard. But this overlooks the fact that Khamenei and his hardline circle have spent significant time and effort—along with billions of dollars—theorizing and paving the way for their ideological vision to be made reality. The "second phase", for example, is aimed at "purifying" the Islamic Republic from within and empowering the most committed section of Khamenei's regime, the IRGC—a prerequisite the ayatollah deems necessary for his grand civilisational ambitions.

Until February 24, the idea that a regime could and would launch an unprovoked full-scale territorial invasion of another country in Europe seemed inconceivable. It was thought that this Hitleresque mentality died with the defeat of the Nazis in World War II. Putin's invasion of Ukraine changed that. The West should now recognize another previously inconceivable outcome as a genuine possibility, namely: Khamenei launching a full-scale attack on Israel. It's not too late to prevent a crisis. Rather than listening to Khamenei's apologists abroad, Western policymakers should study the words used by Khamenei himself and learn from history.
Just last month, speaking on Ukraine, the ayatollah declared that Islam was in a permanent war with the age of barbarism/ignorance and that today, "the clearest and complete manifestation of the modern age of barbarism/ignorance is the American mafia regime." Western negotiators in Vienna should be under no illusion: the Islamic Republic's anti-Americanism is here to stay regardless of whether the 2015 nuclear deal is reinstated or not. In short, to forecast the actions of despots like Putin and Khamenei, the West need not have a crystal ball.
Simply paying attention to their own words could be enough. No one knows for sure if Khamenei truly means the apocalyptic words he uses. Our point is simply that it would be unwise to assume he doesn't because the evidence is that it is a deep article of faith for him. In the words of the great 13th Century Iranian poet Saadi Shirazi "I bring the message, whether it give thee counsel or offense."