Learning from an Egyptian Terrorist: Ashmawy's Capture and Trial in Context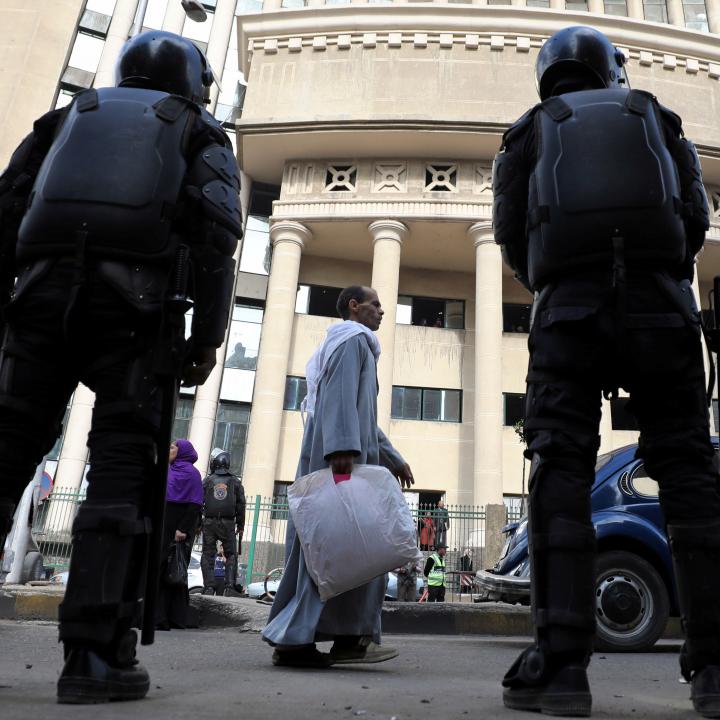 On the early days of October, the Libyan National Army (LNA) raided a residential property in the city of Derna, successfully capturing fugitive Egyptian militant Hisham al-Ashmawy, who has operated as a tactical leader for both Ansar Beit al-Maqdis and its offshoot Al-Mourabitoun. Almost immediately after the news of the arrest broke out, Egyptian authorities, hoping to interrogate Ashmawy for the nearly twenty attacks planned or carried out by him, called for his extradition. Nonetheless, more than a month following Ashmawy's arrest, the LNA has not yet handed "Egypt's most wanted man" back to Cairo. As a matter of fact, according to some sources, Ashmawy may soon find himself facing trial in Libya.
It is not clear how a failure to extradite Ashmawy will affect the relationship between Cairo and the LNA. In recent years, attacks carried out by insurgents in Libya and the general instability in the country have led Egypt to expand the scope of its military operations along the border with Libya and provide support to strategic partners like LNA leader Khalifa Haftar, who has de facto control of Eastern Libya.
In a sense, the LNA's success in arresting a figure like Ashmawy is a testament to the LNA's effectiveness as an ally and provides some indication that Egypt's strategy is paying off. Nonetheless, as the request to transfer Ashmawy came directly from Egyptian President Abdel Fattah al-Sisi, whose government reported that the extradition "will take place within a week" of the arrest, it is possible that the LNA's maneuvers could jeopardize the group's relationship with Cairo. 
Regardless of whether he is extradited to Egypt or tried at a Libyan court, Ashmawy's extensive involvement with terrorist cells in both Egypt and Libya could become a valuable source of information for authorities, who can use this knowledge to boost counterterrorism efforts.
One of the most prominent combatants in the region, Ashmawy is an especially important figure because of his military experience as a major in the Egyptian Thunderbolt Forces. Though dismissed on the grounds of religious extremism in 2011, Ashmawy served in the Egyptian military for fifteen years and received training in the United States through the Navy SEALs program.
As a result of this military experience, Ashmawy helped Ansar Beit al-Maqdis develop combat training programs that incorporated methods such as ambushes and lightning strikes, which have claimed many soldiers' lives. His excellent geographic knowledge of the Western desert has also made it possible for him to smuggle heavy weaponry through the long border between Egypt and Libya. Moreover, Ashmawy succeeded in enlisting a number of other defectors from the Egyptian armed forces, including the former officer Emad Abdel Hamid, who was involved in planning the 2017 Oasis attacks, among others.
Ashmawy himself is responsible for a number of terror attacks, including the Bahariya Oasis attack in October 2017, during which a number of security officers were killed, and one was kidnapped, and the earlier Farafra operation in July 2014, which resulted in the killing of 28 officers and soldiers. Ashmawy has also targeted individual high-level figures, with the attempted assassination of then-Interior Minister Mohamed Ibrahim in 2013 and the successful assassination of the Egyptian Prosecutor General Hisham Barakat near his home in Heliopolis in June 2015.
Through these attacks and others, Ashmawy demonstrated the capability of his forces to combine military tactics with al-Qaeda's ideologies regarding inflicting massive human casualties among the Egyptian armed forces.
Egyptian courts had previously sentenced Ashmawy to death by hanging in absentia given his extensive acts of terrorism. Ironically, Islamic State leader Abu Bakr Al Baghdadi issued a similar ruling because of the latter's commitment to the teachings of al-Qaeda leader Ayman Al-Zawahiri. Ashmawy refused to pledge allegiance to Al-Baghdadi as the Caliph in line with the rest of Ansar Beit al-Maqdis, leading to his split from the group and the formation of Al-Mourabitoun in July 2015.
Indeed, three years ago Ashmawy went so far as to state on his YouTube channel that Al-Baghdadi's caliphate was "not legitimate" and that he "did not recognize that caliphate, and that Muslims should not pledge allegiance to it." Al-Mourabitoun's relative weakness after its split from Ansar Beit al-Maqdis forced Ashmawy to flee to Libya, yet his terrorist activities continued until his recent capture.
Now that Ashmawy is in the hands of the LNA, security forces have an opportunity to learn more about Al-Mourabitoun members, allies, and sleeper cells, as well as about the operations of other Jihadi groups in the region. Indeed, since his arrest, Ashmawy has reportedly disclosed information about over 100 militants currently taking refuge in Derna, a mass grave in the city that contains the remains of prominent al-Qaeda fighters, and the methods al-Qaeda had used to recruit him and form cells within the Egyptian armed forces.
Now, despite pressures to execute Ashmawy, authorities would be wise to keep Ashmawy alive. Given the intimate details and key information Ashmawy could provide about terrorist cell structure, tactical innovations, and recruiting tactics, the Egyptian and Libyan authorities should use Ashmawy as a case study. This terrorist, if kept alive, can help authorities understand the reasons and conditions that enabled al-Qaeda to plant its operatives within the Egyptian army and the success of terrorist groups in recruiting officers in order to prevent the success of this tactic in the future.