Israel at a Crossroad: What Is the Desired Policy Towards Renewed Negotiations with Iran?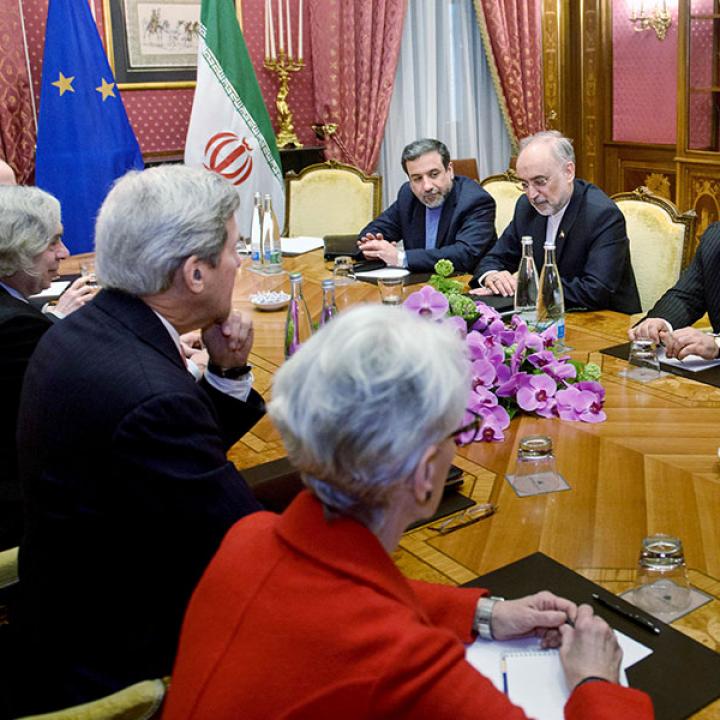 A new Biden administration in the United States could mean a return to negotiations between Iran and the international community over its continued nuclear development. In the case of such negotiations, Israel will have to choose whether it wants to handle these negotiations like it handled negotiations for the JCPOA, digging in its heels and condemning the talks, or if it wants to be a constructive player in the formation of a new agreement, hopefully ensuring that at least some of its concerns are addressed.
The history of the JCPOA and Iran's nuclear program exposes a complex set of factors that Israel will have to handle when approaching the issue of a new nuclear deal between the international community and Iran.
During the 1990's, Supreme Leader Ayatollah Khamenei's Iran sought to obtain a nuclear weapon, and apparently until 2003 was involved in an effort to develop one. However, the U.S. invasion of Iraq (which was a tangible threat to Iran) and the heavy international pressure after various exposures regarding its nuclear program forced Tehran to recalculate, and it opted to expand its domestic enrichment instead, focusing on the development of underground facilities and an (apparently limited) attempt to build an atomic reactor in Arak.
Despite enormous international pressure, along with a number of mysterious attacks on its enrichment facilities, Iran continued to develop its centrifuge infrastructure through the first decade of the 21st century. Iran was, however, careful not to cross "the red line" demarcated by Israel and the international community in terms of the level of enrichment and the volume of HEU (High Enriched Uranium) it accumulated. The very fact that Iran continued to build its nuclear program under this heavy pressure was indicative of the Iranian leadership's consensus that Iran has a right to develop an (ostensibly civilian) nuclear program.
In 2013, an increasing number of events associated with U.S.-Iranian tension over Iran's nuclear development reached a 'critical mass', leading to the launch of direct negotiations between Iran and the United States, mediated by Oman, which eventually concluded with the nuclear agreement known as the JCPOA. Thus, the United States' willingness to recognize Iran's right to enrichment, the election of Iran's President Rouhani (who supported the idea of engaging in the negotiations to promote Iran's reputation in the international community), and the unprecedented readiness of Iran's Supreme Leader to go ahead with such direct talks led to the historic agreement, the negotiations for which, of course, were not without significant challenges.
In the agreement, Iran essentially accepted severe restrictions on its nuclear program for a limited time period, based on the assumption that on conclusion of this period, it would be able to expand its nuclear program under supervision and thus to benefit from the economic gains of the agreement, which were supposed to save its economy. All the while, Israel opposed the negotiation and tried to prevent the P5+1 (U.S., China, France, U.K., Russia and Germany) from reaching any deal with Iran. Israeli Prime Minister Benjamin Netanyahu even went so far as to interfere in domestic U.S. politics in order to halt the agreement. This Israeli approach prevented Israel from influencing the negotiations and left Jerusalem to deal with Iran alone.
As such, soon afterward, Israel happily received President Donald Trump's decision to withdraw the United States from the JCPOA. The Trump administration saw "eye to eye" with Israel regarding the need to impose economic pressure on Iran and abandon the JCPOA.
In that moment, Iran faced a harsh reality. On the one hand, its nuclear program was extremely limited in terms of the volume and level of enrichment it was permitted to produce in its nuclear facilities, and on the other hand it was not enjoying the economic benefits of the agreement. Under such circumstances, President Rouhani, who was relying on the deal for Iran's economic success and the resulting political clout he would attain, was left with no choice but to breach the nuclear agreement.
Despite repeated efforts by senior officials in the international community, the Trump administration remained adamant about leaving the deal and even elected to ramp up economic pressure on Tehran under the assumption that such pressure would cause Iran to abandon its nuclear program altogether. These actions forced Iran into react violently in the Persian Gulf and within its nuclear program. Iran developed a position of "steadfastness", according to which it did not intend to make a single concession regarding its nuclear program.
Today, exacerbated by the outbreak of the COVID-19 pandemic, Iran's economic situation is grave. With such a weak economy, Iran's ability to "extort" significant concessions from the international community that might lead to the removal of the U.S. sanctions and the United States' return to the negotiating table depends almost entirely on its enrichment capability. By expanding its enrichment activity, Iran can signal to the international community the price to be paid if the various parties do not return to the JCPOA.
Any attempt by a new U.S. administration to start fresh negotiations will face significant obstacles. On the Iranian side, there is a number of fundamental obstacles that will make it difficult to resume negotiations. Tehran's current political climate is not as amenable to a deal like the JCPOA as it once was. After incidents like the assassination of Qassem Souleimani, Iranian officials' already limited trust in the United States has significantly eroded. What's more, conservative-moderate political forces like President Rouhani that made the deal possible have waned in power. With Iran's presidential elections on the horizon, it is likely that a new, more conservative political environment will emphasize already stiff demands in any negotiations. These demands include the complete lifting of sanctions, compensation for losses under the sanctions, and permission to retain Iran's existing nuclear capabilities, which many Iranian regime-members across the political spectrum now deem essential to the country's security.
Nonetheless, Joe Biden seems committed to the prospect of new negotiations. Fortunately, despite the challenges, it is likely that P5 pressure and the willingness of the Biden administration, coupled with the pressures of the COVID-19 pandemic, will push the parties to overcome the obstacles and return to the negotiating table
In the face of these complicated factors, Israel needs to decide whether to continue the policy it pursued during President Obama's administration or take a real constructive part in shaping a negotiated agreement with Iran. Given the understanding that Iran and the international community will probably wish to reach another agreement, Israel's presence, at least behind the scenes, is necessary to make sure that any future agreement is in some accordance with its requirements and needs.
Unfortunately, the only possible starting point in these negotiations that Iran would accept may be an extension of the JCPOA restrictions. Despite the increase in Iran's nuclear capabilities, it is unlikely to agree to any tighter restrictions. Additionally, Iran's unwillingness to discuss issues such as its missile array and regional activities as a part of a deal is unlikely to change. But regardless of these difficulties, Israel's lack of involvement in such negotiations could lead to an agreement even worse for its own interests.
When it comes to the positions that Israel needs to present to the P5+1, these should be realistic. A demand such as the dismantling of Iran's nuclear program is consistent with Israeli policy, but it is unlikely to be accepted by the negotiating powers, especially after the United States and the international community have already recognized Iran's right to enrich. Therefore, Israel must insist on a number of fundamental and realistic principles, primarily a significant extension of the of the nuclear agreement conditions, the continued existence of an intrusive inspection regime, and especially a dramatic limitation of Iran's research and development (R&D) capabilities in the nuclear field, so as not to allow it to reach the development of advanced centrifuges that will greatly facilitate Iran's ability to conceal enrichment from international supervision in the future.
When it comes to the question of restrictions on Iran's missile capabilities and Iranian regional activity, it is doubtful whether Israel should insist that these issues enter into the framework of the agreement. Any such demand could appear as a way for Israel to sabotage negotiations, but even more than that, it is important to remember that Iran's direct threat to Israel is primarily a product of its nuclear capabilities. Without considering Hezbollah, Iran's ability to actually threaten Israel with its missile array is highly limited given the geographical distance between the two countries and Israel's advanced anti-missile systems. Furthermore, in the case that these issues become part of a potential agreement with Iran, their solutions are likely to be very limited and will not fulfill Israel's demands. In addition, adding these non-nuclear threats into the agreement would limit Israel's ability to act against them in the future, since any such action would allow Iran to violate the nuclear agreement because of the connection between the various issues and Iran's nuclear program. A future agreement that will severely limit Iran's nuclear capabilities will allow Israel the time and resources to cope independently with other aspects of Iran's capabilities.
Assuming Israel seeks to influence the nuclear agreement, it will have to adjust its demands to fit with the already difficult diplomatic task at hand. If Israeli negotiators make extreme or stringent demands, they risk drawing accusations that their real goal is to obstruct and complicate negotiations. Furthermore, Israeli officials should take the chance of new negotiations in the current political climate to cement an "Arab-Israeli" coalition together with Gulf states, a move that might bring Israeli negotiators more legitimacy in their efforts.
An Israel-Gulf states coalition would have greater weight in pressuring the newly elected U.S. administration to maintain economic and diplomatic pressure on Iran during the beginning of negotiations. Such a coalition could likewise offer the potential for a joint military front, including the United States, as a deterrent to further Iranian nuclear development, and the coalition could work to establish "red lines" over which terms of the new agreement should not cross. Such a coalition would do well to court support from the international community in these efforts.
If Israel decides to become a constructive player and work with the future Biden administration, it may be able to avoid a worst-case scenario in which its greatest ally forms a deal with one of its greatest enemies that harms Israeli interests severely. To pursue such a role in these negotiations, Israeli officials need to start laying groundwork now, working with the Gulf states to ensure that the security interests of these countries are included in any future negotiations while understanding that not all of its demands are likely to be met.