Humanitarian Aid and Russian Blackmail in Syria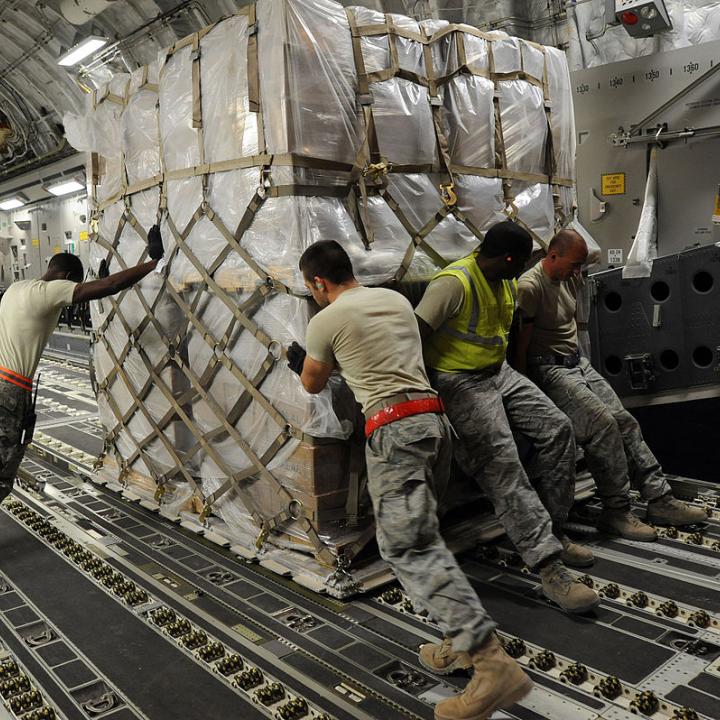 To prevent obstacles to aid delivery in Syria, the United States should invest in local governance and agriculture production in areas outside the regime's control. Doing so is an important step for deterring Russian blackmail, strengthening the Caesar Act, and alleviating the humanitarian crisis.
On October 18, talks in Geneva are again scheduled convene to discuss drafting a new constitution for Syria. Restarting this process, which began two years ago, is an important step in a conflict where politics are prioritized over Syrians' lives. In Syria, the political and humanitarian situation are inextricably intertwined.
By utilizing veto power, opposing the opening of international crossings, and demanding a major role for the regime, Russia, China, and to some extent Iran have effectively blackmailed international attempts to deliver aid in the UN Security Council. Objections to humanitarian aid delivery beyond areas under regime control aim to force international actors to recognize the Assad regime in order to pursue their goal of contributing aid. Russia, China, and Iran hope that this strategy will push these actors to abandon international resolutions calling for regime change.
According to reports by UN agencies, the Assad regime controls fewer than 20 percent of crossings, while commercializing the aid that passes through regime-controlled crossings. If Russia and China successfully blackmail the international community into closing other crossings, more than six million Syrian civilians will be vulnerable to hunger, disease, and medical equipment shortages.
 Syria's humanitarian crisis continued to worsen over the summer through coronavirus, a collapsing economy, and shortages of basic services. This summer, the water tables of the Euphrates river have dropped precipitously, with the Tishreen Dam reportedly at its lowest since completion—contributing both to a water and electricity crisis. The UN humanitarian chief has stated that the humanitarian needs in Syria are now at the "highest levels" since the war began. It is critical to identify alternative methods so that assisting with crucially-needed humanitarian relief for Syrians does not impede vital efforts for the country's political transition.
As the leading international provider of aid to Syria, the United States should shift its approach by investing in resource-rich areas beyond regime control. Specifically, the United States should focus on the areas of Northern Syria held by the U.S.-allied Syrian Democratic Forces, where much of Syria's oil and agriculture are concentrated. The region is considered Syria's bread basket and produced over 400,000 barrels of oil per day prior to 2011.  The United States can deter "Russian blackmail" on the issue of humanitarian aid by developing local, sustainable alternatives.
However, the United States can also help strengthen governance structures, which will allow all Syrians in the region to feel represented and develop greater trust in the region's governing institutions. Some international reports have noted widespread corruption among local organizations in northern Syria, as armed groups control organization funding, causing the organizations to lose their effectiveness and become propaganda tools for the armed actors supporting and directing their work. International stakeholders should monitor these organizations to increase efficiency, protect employees, and decrease internal corruption.
The United States should encourage local councils in SDF- and FSA-controlled areas to hold transparent elections so that council leaders are competent, qualified officials who reflect the desires of the local population. This change would empower local residents, diminish Russian and military influences in regional politics, and root out corruption and weakness in local governance.
These local councils should monitor oil production, replacing the current system of militia-controlled oil well production which currently outputs an estimated 10,000 barrels per day. The councils should distribute oil revenues to public service projects focusing on health, education, and infrastructure, along with local agricultural and industry production, in order to improve quality of life for residents and refugees in northern Syria.
In addition to alleviating the humanitarian crisis facing Syrians in the northern region, these efforts could strengthen the implementation of the Caesar Act by depriving the Syrian regime of the oil revenues it profits from, which are currently supplied through the SDF and sold for low prices, according to American and civil society reports.
Another way to assist Syrians in need of humanitarian aid is to reduce the impact of war profiteers who exploit people's needs and lack of resources by raising the price of goods beyond the capacity of local residents who have lost their livelihoods and been displaced from their homes. In this context, local councils should establish regional agricultural associations to utilize vast, fertile areas known for crop production—especially the Tenth Line areas along the Turkish border—and work to restore agricultural infrastructure destroyed by the war. This development could decrease drug production in northern Syria, which currently runs rampant due to the lack of oversight.
American stakeholders in the Syrian issue have ties to both Turkey and the SDF, and therefore can promote inter-regional trade relations of agricultural and oil materials, and create mechanisms supervised by state actors in northern Syria (Turkey and the USA) and U.N. organizations.
The United States should likewise utilize strategic communications with Turkey, Saudi Arabia, Qatar, and Jordan to minimize the impacts of Russia's inhumane behaviors, which subject Syrians to constant fears of hunger and bombings. By mitigating these effects, the United States and its allies could also stem population drains and subsequent migration to Europe.
Neglecting the development and reconstruction of areas outside regime control will prolong the Russian blackmail of the world and delay implementation of the UN resolutions on Syria. The effects of this are twofold. It will prolong the regime, leaving local residents prisoners to the fear of its return and its bloody, vengeful mentality. Furthermore, it will contribute to a decline in local confidence in the United States, and deter cooperation against remnants of the Islamic State terrorist organization, and IS sleeper cells which crop up from time to time.