Haftar on Algeria: Testing the Waters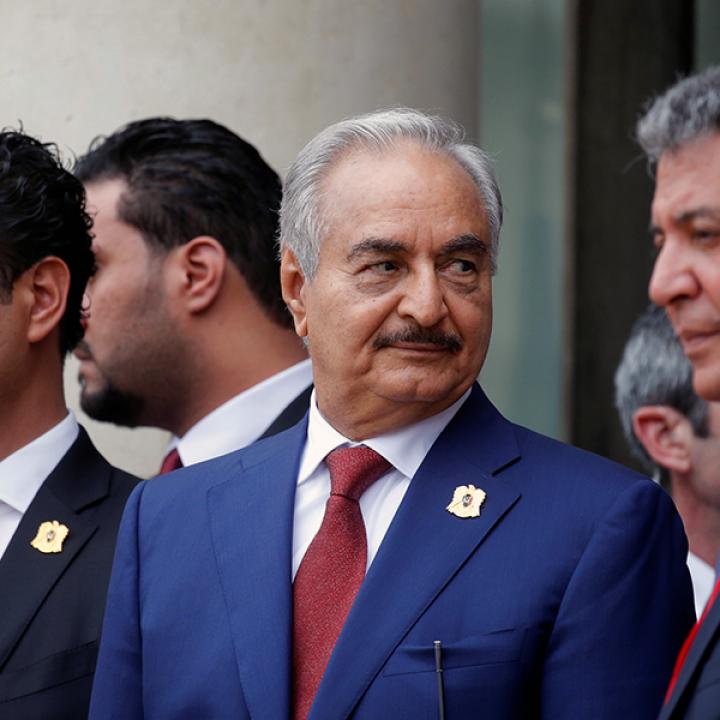 In a September meeting with local dignitaries in Libya, Field Marshal and head of the Libyan National Army Khalifa Haftar accused the Algerian army of exploiting the state of war in order to enter Libya. Haftar claimed to have communicated his objections to Algerian authorities, adding that "Algeria is not showing brotherly behavior, as it is using the war to violate Libya's sovereignty." In the message relayed by Haftar's envoy, the field marshal stated "he was capable of transferring the conflict from Libya to Algeria within minutes," despite Algerian authorities having described the incident as "isolated" and pledging that it would not happen again.
Haftar's remarks, broadcast by Al-Jazeera, have caused a wave of resentment within Algeria itself. Algerian politicians described the move as an act of "unprecedented impertinence," and demanded clarification from their authorities as to the truth behind the incident. And though Haftar's claims have been essentially disregarded by the Algerian government, Haftar's statement provoked considerable public discussion in regards to its meaning, objectives, and timing—one theory is that Haftar is seeking to test whether the Algerian state's perception on him has changed.
Algeria's heated reaction prompted Libya's Ministry of Foreign Affairs to intervene to mitigate the effects of the remark. The ministry renounced Haftar's statement in a phone call between Algerian Minister of Foreign Affairs Abdelkader Messahel and his Libyan counterpart Mohammed al-Taher Siyala, who "disavowed Khalifa Haftar's indecent statement" and affirmed that it would not affect the close ties between the two countries. Yet the traditionally stable relations between Libya and Algeria have been tested by the civil war, with the Algerian-Libyan border closed since May 2014 due to concerns of arms and unrest spilling across the border from Libya.
Haftar's rift with Algeria is one major facet of these shifting dynamics. On December 18, 2016, Haftar was banned from entering Algeria in his military uniform because the country did not recognize him as commander of the Libyan Armed Forces,  as it only recognized the Presidential Council. A year later, in May 2017, Haftar criticized the Algerian foreign minister Abdelkader Messahel for his visit to several Libyan regions where he met with political, military, civil leaders and tribal dignitaries. Haftar even pressed the chairman of Defense and National Security Committee of the House of Representatives to issue a statement describing Messahel's tour as "a blatant encroachment on and violation of the sovereignty of the State of Libya."
And while the recent crisis has been contained, debate in Algeria regarding the meaning behind Haftar's actions persists. Most Algerians believe Haftar's statement was intended as a political message to regional and Arab players; Haftar is bothered by Algeria's efforts to broker a political solution to the Libyan conflict and its rejection of any military intervention.
These suspicions are not unfounded, since behind Haftar's accusations presumably lies his wish to elicit an official response from the Algerian government, which would mean recognition for Haftar as an official spokesman for the Libyan state. However, the country's refusal to answer his threats and provide him with undeserved legitimacy demonstrates how cautious the state remains in exercising any measure of recognition, even in the case of condemnation.
In principle, Algeria discusses matters of security cooperation, coordination, and borders solely with the official, internationally recognized representatives of the Libyan people. Indeed, Haftar does not meet either requirement, and arguably seeks to thwart Algeria's role and influence its vision of a political solution in Libya. Algeria's call for dialogue and a comprehensive reconciliation between all warring parties displeases Haftar, who shares the Egyptian, Emirati, and French stance of excluding Islamists and the government of Tripoli from national dialogue and reconciliation efforts. Yet Algeria has fiercely rejected this stance as much as it has rejected a military solution to the Libyan conflict. Therefore, it is reasonable to view Haftar's latest comments as an attempt to test the waters with Algerian authorities.
Militarily, Haftar's threats are idle, and cannot be taken seriously for one important reason: his army is geographically distant, with his forces positioned in Benghazi approximately 1600km away from Algeria. Further, eastern Libya is not under Haftar's control, and his forces have been unable to enter Tripoli, which make an advance toward border areas highly unlikely, if not impossible.
Moreover, Haftar's allegations against the Algerian army remain unsubtantiated. The Algerian army is committed to the Algerian constitution, which prohibits military action outside Algeria's land borders, and is well-known for its respect of neighbours' sovereignty. Regarding humanitarian aid, Algerian authorities hold a positive track record oncoordination with the tribal dignitaries and municipal officials of Libyan border regions for the supply of food assistance, provisions, and medical treatment to local Libyan populations. This has reinforced cooperation and understanding on matters of border security, terrorist infiltration, and arms smuggling. Moreover, Algerian Chief of Staff General Ahmed Gaid Salah and Prime Minister Ahmed Ouyahia have rejected earlier regional demands for the Algerian army to take part in chasing down terrorist groups in both north Mali and Libya.
Some officials within Haftar's forces have attempted to distance themselves from his statement after realizing the Algerian position on the Libyan conflict is not set to change. Haftar's Battalion spokesman General Ahmed al-Mismari was quick to declare that Haftar's threat to invade Algeria was simply a rumor, accusing Qatar and Al-Jazeera of sowing discord between Libya and Algeria. In truth, this clarification was merely meant to dodge the fallout of Haftar's statement, since his words were recorded in a video broadcasted by Al-Jazeera.
With national dialogue sessions now on hold, renewed violence in Tripoli, failure of belligerents to abide by the latest cease-fire, and upcoming elections hanging by a string, the Libyan crisis is set to drag on. This poses a real threat to neighboring countries given the large quantity of weapons in the region and the flow of illegal migrants into Europe. In light of this situation, Algeria maintains a central role in solving the intensifying crisis. It is neither in the interest of Haftar nor the rest of the parties, or even the countries with influence in Libya, to alienate or exclude Algeria from any political solution. Haftar's efforts to push the Algerian government have failed to bear fruit, and if the general is interested in engagement then he must focus on conciliatory actions, not belligerent words.