Good News from the Gulf, for a Change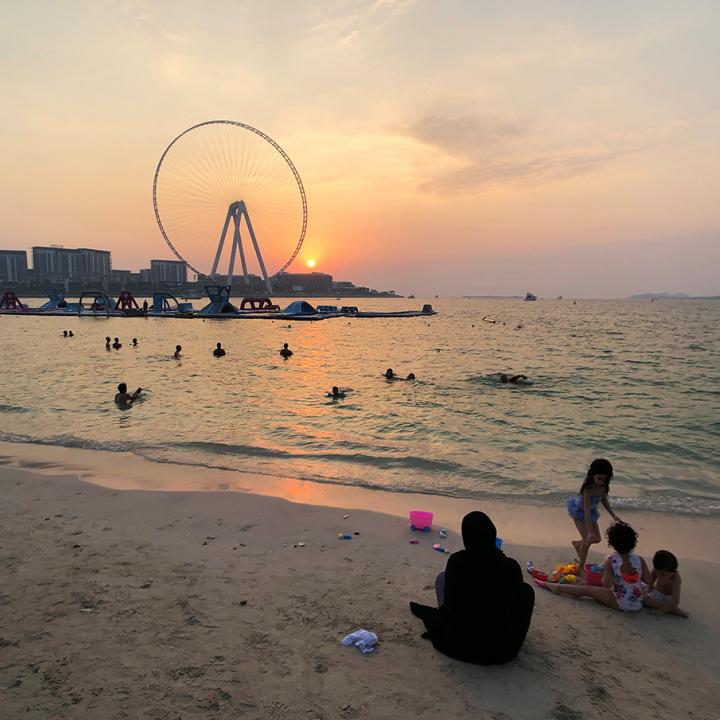 Respondents in local surveys are increasingly expressing pragmatic views on Israeli normalization, Iranian nuclear issues, religious moderation, and other hot topics.
Some rare new polling data about popular attitudes in three Gulf Arab states—Saudi Arabia, the United Arab Emirates, and Bahrain—provide an even rarer commodity these days: relatively good news. Surveys conducted there in June by a credible commercial firm reveal mixed but generally pragmatic views on a host of hot topics, from Iraq to Iran to Israel to Islam. 
The surveys, commissioned by the Washington Institute for Near East Policy, comprised face-to-face interviews with a random sample of 1,000 citizens in each country. Among the surprises: a renewed nuclear deal with Iran, and President Joe Biden, now get at least narrow majority support; the recent conflict in Gaza did not cut into the roughly 40% approval for normalization with Israel; and sympathy for a "moderate interpretation of Islam" is increasing while support for the Muslim Brotherhood is on the decline.
The first crucial finding is simply that people are willing to speak their minds, even on controversial matters, at least in private. So, in sharp contrast to most elite and official media messages in those Gulf Arab states, over 60% of the public in each country say that restoring the nuclear accord with Iran would have a positive effect on the region. Significantly, however, this is not because they see good relations with Iran as important for their own countries. In both Saudi Arabia and the UAE, a mere 10% of all citizens see good relations with Iran as important.
In Bahrain, this figure is similar for Sunnis, although among the Shia majority on the island, that proportion rises to 37%. Yet overall, there are only modest differences in attitudes between Sunnis and Shia in all three countries on a wide range of controversial issues—an unexpected finding that augurs well for social and political stability.
Equally unexpected is the finding that the mid-May armed conflict between Israel and Hamas has had little effect on attitudes toward either party. In a previous poll, taken in November 2020, around 40% in each country backed the Abraham Accords with Israel, with almost as many also accepting "business or sports contacts with Israelis." Those numbers hardly budged at all in this latest poll, taken just a few weeks after the Gaza hostilities ended.
In both Saudi Arabia and the UAE, less than one-quarter report even a "somewhat" positive opinion of Hamas today. But that proportion rises, for unknown reasons, to 44% in Bahrain, where a notable 53% also say that "the Hamas launch of missiles and rockets into Israel" would have at least a "somewhat" positive effect on the region as a whole.
As for views of the United States, again in stark contrast with the dominant local elites, just over half the public in all three countries see the change from the Trump administration to the Biden administration as favorable for the Middle East. And just under half, as in past surveys, see good relations with Washington as important. This figure is roughly on a par with China in recent years, and modestly ahead of Russia.
More specifically, when asked to pick their top two priorities for U.S. policy in their region, respondents are about evenly divided among the four options offered. Only around a quarter pick "pushing for a solution to the Palestinian-Israeli conflict" as their top option, while approximately equal percentages opt for other objectives: containing Iran, ending the wars in Yemen and Libya, or—more surprisingly—"promoting human rights and democracy."
Likewise, a remarkable three-quarters or more of the public in each country agree with this proposition: "Right now, internal political and economic reform is more important for our country than any foreign policy issue, so we should stay out of any wars outside our borders." However, the desire for internal reform does not extend to public protest. Nearly three-quarters in all three countries polled also agree with the following statement: "It's a good thing we don't have the kind of street protests against corruption that we see lately in Lebanon, Iraq, and some other places."
Regarding the even more sensitive internal issues of political Islam, the data shows a similarly moderate trend over time. The past seven years show a slow but steady uptick in the percentages agreeing with this assertion: "We should listen to those among us who want to interpret Islam in a more moderate, modern, and tolerant way." In ascending order, the numbers today stand as follows: the UAE, 33%; Saudi Arabia, 39%; and Bahrain, a whopping 51%.
Conversely, recent years have witnessed a gradual decline in the Muslim Brotherhood's popularity in all three places. Today, its approval rating is a mere 14% in Saudi Arabia, and an even lower 9% in Bahrain. The Brotherhood retains a bit more popular sympathy in the UAE, at 18%, despite its outlaw status there.
A final piece of good news, in the sense of shared friends and adversaries, concerns Gulf Arab perceptions of other Arab countries. Solid majorities in all three GCC states polled say they value good ties with both Egypt and Jordan. Moreover, they say the same about Iraq, notwithstanding its Shia majority rule and close ties with Iran. On the morrow of Iraqi prime minister Mustafa al-Kadhimi's visit to Washington, this is an important data point for discussion. The clear odd man out here is Syria: only a quarter of Saudis, Emiratis, or Bahrainis see relations with that country today as important, presumably due to lasting distaste for the Assad regime.
Altogether, this hard data paints a highly counterintuitive yet convincing picture of Gulf Arab publics open to key U.S. policies on Israel, Iran, and their Arab neighbors, increasingly moderate on Islamic issues, and unlikely to rise up against their own rulers. These countries are not democracies, yet public opinion does matter in setting the broad parameters of government action. The implications for stability and for partnership with the United States and its other friends in the region are therefore both significant and, for once, at least modestly encouraging.
Methodological Note
Each of these three surveys consisted of face-to-face interviews with a true random national sample of citizens (excluding the large expatriate, mostly guest worker population), male and female, over the age of eighteen. The samples were selected by standard geographic probability methods, with interviews conducted in Arabic in private homes by experienced local professionals. The translation from the English original questionnaire was back-checked by native speakers and pretested for clarity and precision. Strict assurances of confidentiality, along with supervisory quality controls, were provided throughout. Additional methodological details are readily available on request.