Doubts About Hezbollah Emerge in Lebanon, Even Among Shia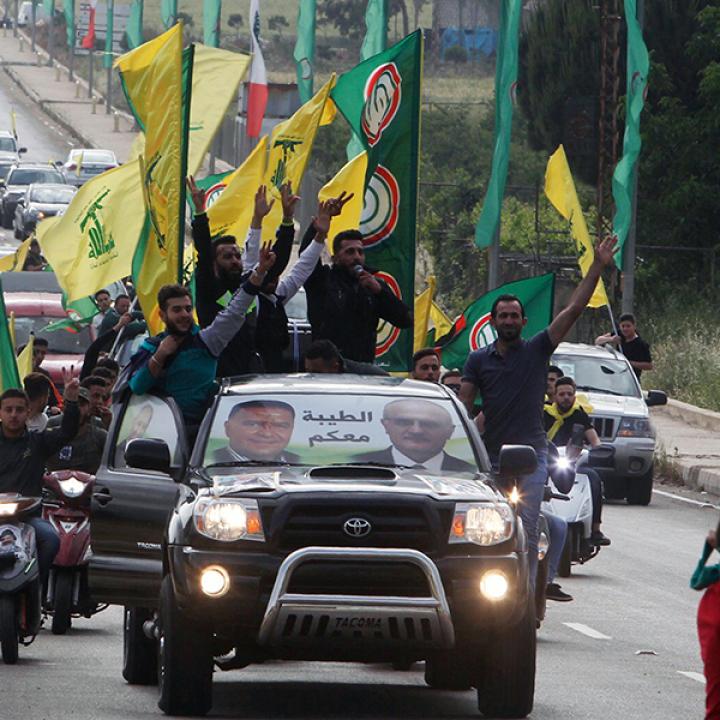 The acute border tension this week between Israel and Hezbollah adds urgency to a closer look at the militia's popular standing in Lebanon—especially in case of war. Fortunately, a reliable new Lebanese public opinion poll shows that some Shia are now voicing reservations about Hezbollah policies—even as Sunnis continue to be solidly negative and Christians divided about the organization. Evidence of these misgivings about Hezbollah among Shia is especially noteworthy given the social taboos and real personal risks they face in criticizing "their own" political/military movement.
Remarkably, according to the data only a third of Shia want Hezbollah forces "to start actively confronting Israel." Even fewer Shia, just one-quarter, say that solving the Palestinian problem should be the top regional priority. On a different but related question, one-third do not fully agree that "Hezbollah works only to protect Lebanon and resist Israel, rather than serving any outside agenda." And the proportion of Lebanese Shia who voice a "very positive" view of Hezbollah today, while still high at 77%, is down somewhat from 83% in the previous poll exactly one year ago.
Even more surprisingly, taken altogether (Shia, Sunnis, Christians, plus the small Druze minority) a narrow majority—53 versus 47%—of the Lebanese public now actually has an unfavorable view of Hezbollah. The almost uniformly negative Sunni views continue to show no sign of softening. Lebanese Christians are in the middle as per usual for the past decade; their attitudes toward Hezbollah are divided between positive and negative.
Significant sectarian polarization is also evident in attitudes toward President Trump and U.S. policy in the region, with Sunnis the most favorably inclined. Among Sunnis, 36% give Trump a favorable rating; among Shia, the corresponding figure is merely 3%. Christians are again in the middle, with 23% voicing positive views of the U.S. president. Half of Sunnis, but a mere 11% of Shia, think that it is important for Lebanon to maintain good relations with the United States. Among Christians, that proportion is once more an intermediate (and unexpectedly low) one, at 38%.
Similarly, when asked to pick their top priority for U.S. Middle East policy, opinions cluster to some extent along sectarian lines. Around 30% of each community pick fighting jihadi terrorism as their favorite U.S. policy option. But on the choice of containing Iran, views are starkly divergent: among Sunnis, 45% select Iran as the best American priority; but among Shia, the corresponding figure is precisely zero and is just 12% among Christians. Conversely, only 9% of Sunnis put solving the Palestinian problem at the top of this list, compared with about one-fourth of both Shia and Christians. The same proportion of both Shia and Christians want the United States to simply "reduce its interference in the region"—but only 10% of Sunnis say the same.
Asked about other world leaders, the data shows sharp sectarian polarization as well, but of a rather different sort. President Putin of Russia earns an 85% approval rating among Lebanon's Shia, but merely 13% among the Sunnis—presumably because of Russia's crucial support for Syria's sectarian Assad regime next door. Christians are again divided: 41% view Putin positively; the remainder do not. This is a similar breakdown regarding Russia overall: nearly all Shia (92%) say it is important for Lebanon to have good relations with that country, compared with just 28% of Sunnis and 53% of Christians.
In a mirror image of this sectarian split, Turkey's Sunni president Erdogan is viewed favorably by two-thirds of Lebanon's Sunnis, but just 7% of Shia. Less easy to explain, however, is the wide sectarian differential regarding China's President Xi. He garners 71% approval among Lebanon's Shia, but just 13% among the Sunnis—possibly because they view China as an ally of the Shia regime in Iran. Christians are almost evenly divided about these two leaders as well.
On a few salient internal issues, by contrast, the Lebanese public exhibits a strong consensus across sectarian lines—although not in a way that should give Beirut government much comfort. Fully 95% of the total population, and the overwhelming majority of every sect, say their government is doing "too little" in "reducing the level of corruption in our economic and political life." In addition, a statistically equivalent total, 92%, say their government is also doing too little to ensure "sharing the burden of taxes and other obligations… in a fair manner." While these are criticisms nearly all Lebanese can agree on, the political paralysis and entrenched special interests spawned by their sectarian differences on so many other issues seem likely to prevent much progress in addressing them.
These findings are from a face-to-face survey conducted by a regional commercial firm among a representative national sample of 1,000 Lebanese respondents in November 2018. The sampling procedure followed standard geographic probability techniques, with no weights applied to the resulting data. The statistical margin of error for each major sectarian subsample is approximately 4.5%. Full methodological details are available on request.