Ahwazi Children in Iran: Starving, Abused, and Forced To Work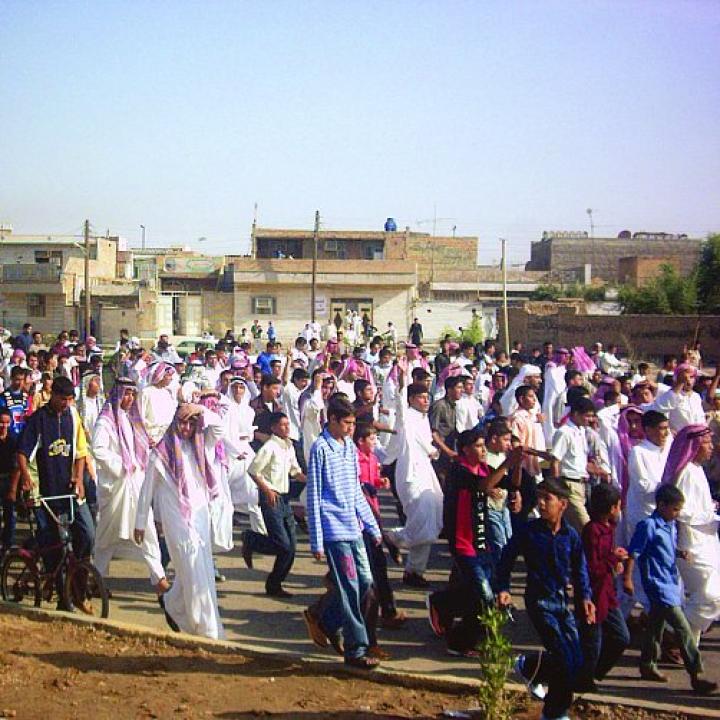 Iran has been hit hard by the COVID-19 outbreak, with more than 11,364 confirmed cases. While Iran struggles to contain the virus, its healthcare system has become severely stressed and public health officials have done little to ease public anxiety. And as the coronavirus epidemic continues to worsen, vulnerable populations living in poor areas will be more susceptible—particularly among working children in the Ahwaz region. 
The Ahwaz region, in what is today southwest Iran, is home to millions of Ahwazis. The Ahwazi ethnic minority faces systematic discrimination, living below the poverty line without access to adequate healthcare services or clean water. In the late 1980s, the Ahwazi people experienced mass displacement as a result of the Iran-Iraq War and were relegated to these run down neighborhoods on the fringes of Iranian society.
Although the Ahwaz region produces up to 70% of Iran's crude oil and contains most of Iran's oil fields, which constitutes a majority of Iran's revenue, the region continues to suffer from rampant unemployment. Teheran's systematic marginalization, paired with high unemployment rates, only reinforce this vicious cycle of poverty. And a sad, but predictable, byproduct of this unfortunate cycle is often child labor. It is becoming all the more common for Ahwazi children to give up their education and find paying jobs to support their families—or in many cases, just to find means of clothing and feeding themselves. However, this issue is by no means limited to the Ahwaz region.Children throughout Iran are working dire conditions, especially in the country's capital of Tehran.
For most Ahwazi children living in these destitute areas, it is impossible to maintain at least a semblance of normality. Ahwaz children are forced to drop out of full-time education, most of them before reaching a secondary level of education, often before they learn to read or write. This has created a sense of learned helplessness and a kind of 'self-fulfilling prophecy,' in which children become afraid to stand up to the authorities.
Some Ahwazi children are forced to look through industrial waste, searching for plastic or glass materials to sell to recycling factories. Other children sell water by hauling it from considerable distances to find buyers. Some children even become street vendors by either selling flowers—often by busy traffic lights or in local cemeteries—or by offering to wash car windshields. The number of children forced into labor is difficult to determine, as statistics are not made available to the public by local authorities or state-run charities, which only track those children who register with it. Charities, such as Toloe MehrAfrinan, only offer around $8 per month along with some limited educational services, which is not enough to alleviate the suffering of these children, let alone their families.
Recently, the author of this article sat down with two human rights activists from Ahwaz, specializing in issues relating to child labor. The activists chose to go by the pseudonyms of 'Ahmad' and 'Adel,' documenting their interactions with child laborers over the past few months. The activists' names must remain anonymous, as Ahwazi civil rights groups are banned and individuals who speak out against the gross mistreatment of this minority group are targeted by authorities. It is important to reflect on the author's interview with Ahmad and Adel, as it paints a sobering picture of the extent of child abuses and human suffering. The stories of these nine children, detailed below, are only a small portion from the hundreds of child laborers in Ahwaz.
Ahmad interviewed child workers from the one of the poorest and densely populated neighborhoods outside of Ahwaz city. In his visit, Ahmad shared the stories of four Ahwazi children—Leila, Maryam, Mousa, and Samer—all under the age of thirteen, who work full time jobs under dangerous conditions to help support their families. What he saw could only be described as "generations of hopelessness, total poverty." In which, children—who should be in school, enjoying their childhood—are instead working full time jobs. He emphasizes how seeing children in these circumstances has become increasingly normalized and most people living in Ahwaz have become numb to the sight of it. 
While visiting Beheshtabad Cemetery—a large graveyard outside of Ahwaz city that hundreds of mourners visit on Thursdays—Ahmad met Maryam and Leila, two twin eleven-year-old girls. Ahmad witnessed them offering to clean mourners' graves for only 1,000 rials (or just 1 US cent). They quickly approached Ahmad, assuming he was a mourner, their hands filthy and cut from cleaning graves all day. They informed him that they clean around 12 graves a day, but the young boys working in the graveyard are much faster than them, allowing them to make more money than the girls. Ahmad was overcome with emotions as he contemplated the reality of these young girls' daily struggles. In an attempt to console him, one of the girls said, " Don't cry—we'll all die," and stretched out her arm, pointing at the sky, "We all go there, to Paradise. Why be upset?"
After explaining to the girls that he was not a mourner, Ahmad asked about their family. The girls informed him that their father died in a horrific construction accident and their mother washes carpets for a living–but that business is slow because of limited access to water in the area. As they said their goodbyes, Maryam and Leila informed Ahmad that they had to leave the cemetery before dark because if they stayed too late, large packs of stray dogs would chase them.
While in Ahwaz city, Ahmad met, Mousa, a 12-year-old boy who shines shoes for a living. Ahmad and his wife later visited Mousa's mother at her house, located in an area with many displaced Ahwazis. His mother explained their family's tragic story; unfortunately, her story is typical for many individuals in their community. Four years ago, without warning, Iranian officials opened nearby dams and told locals to evacuate their homes. The government's promise to compensate these families for loss of livestock, land, and homes proved to be false. After sleeping under trees near the destroyed village for several months, Mousa's family attempted to use their savings to rebuild their family home, but could not afford the costs of construction. And two years later, Mousa's father suffered horrible burns from an automobile accident and died in a nearby hospital, which was known for its inadequate medical treatment.
Today, Mousa and his four siblings work full time to help raise money for their family. Mousa polishes shoes, while Saham, Waleed, Sheima and Khazaal wash graves and car windshields when they can. Working these jobs, especially as children, comes with many dangers. Saham washes graves, like Leila and Maryam, but sells flowers to make a little extra money for her family and she was recently beaten by municipal authorities for picking flowers in the park. When Ahmad asked them if they were in school, Mousa replied, "None of us go to school – how can we go to school? We are fighting to put food on the table. If we do not work, we go to sleep hungry." 
Mousa's mother said that there were others far worse off living in their neighborhood. She took Ahmad and his wife to meet their neighbor, Samer. Samer is a 12-year-old boy and has never even seen a classroom. Samer explained, "How can I go to school while my brothers are suffering from hunger and my mother is in need of insulin?" He noted that he sacrificed his education for the sake of his younger brothers to make their future better. His father was also killed in a car accident three years ago and his mother is chronically ill, unable to work. Samer pointed out that neither the government nor Iranian civil society organizations provided assistance after the passing of his father. Today, Samer spends hours selling gum and begging on the streets to raise money for rent and whatever paltry medical treatment is available.

In the author's interview with Adel, another child rights activist from Ahwaz, he shares the stories of five children that he has documented over the past few months—Yasmin, Raghad, Khalid, Yasser and Jasim. Stories that are heartbreakingly common among Ahwazi people.
Yasmin is a 12-year-old girl that has "never known a childhood, like most children in the West are lucky to have." Adel met Yasmin when she was wandering the streets of Ahwaz, begging every passerby to buy her flowers, posters, or gum.
Raghad is an 11-year-old girl, who also sells flowers to people in the city. Like many Ahwaz children, she is unable to attend school, working long hours to support her family instead. She informed Adel that she must work because her father is unable to, he is ill and both his feet have been amputated.
Khaled, 11, and Yasser, 12, spend hours each day rummaging through garbage bins in search of plastic, dry bread, or anything else they can sell to make a little bit of money for their families. Both boys explained that they were once good students, but had to "quit school and earn a living when their fathers lost their jobs."
Jasim is only 13 years old and sells balloons in the street of Ahwaz city. He informed Adel, "once I sell all of my balloons, I can go home. But Thursday and Friday, I get home very late because I went to many graveyards and washed dirty gravestones." Jasim went on to describe how he has been abused by predators while working late in the graveyards. He told Adel, "I get scared and…I have bad dreams about those cemeteries." Jasim should be in school, getting an education. Not working late into the night, only to experience abuses that no child should ever have to suffer.
Unfortunately, this is the reality for many Ahwazi children—not even 13 years old, compelled to work late nights in cemeteries and left to suffer from endless nightmares. Other children risk their lives to spend their days working as street vendors navigating busy roads, or taking other dangerous jobs with the hopes of scraping together enough money to pay rent, buy food, or medicine—with no chance of receiving an education or experiencing the joys of childhood. This is the life of the Ahwazi child, to be a worker.
The lack of education and socialization among the young threatens to create a lost generation that will propagate a cycle of poverty that could last for generations. The region, already stressed, does not need the added pressures of poverty, disease and hopelessness to become embedded in another minority.