Washington's Stance on Syria and Iraq and The Widening Rift with Kurds in Iran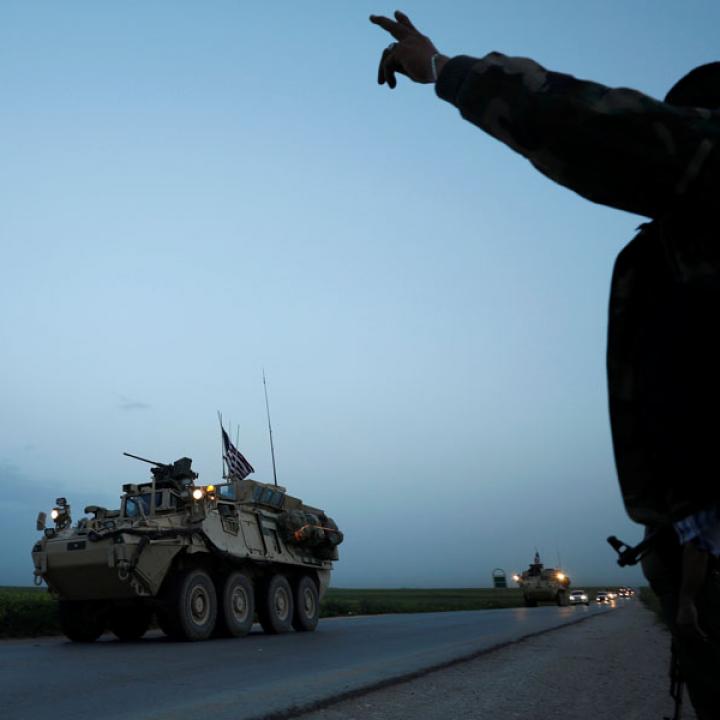 Over the last four years, Kurds in Iran have watched Kurdish communities in Syria and Iraq continue to suffer losses at the hands of hostile forces, disoriented by the turbulent shifts in Washington's decision-making. It once seemed that the United States would support change in Iran beneficial to the country's Kurds, but now a series of decisions by American leadership in Syria and Iraq have left many Kurdish political leaders in Iran afraid and discontented with U.S. policy in the region.
Two moments during the Trump presidency particularly have soured and confused perceptions of the United States among Kurds in Iran. First, Iranian Kurds watched as the Trump administration allowed Shia militias hostile to Iraqi Kurds to take the city of Kirkuk in October 2017. Two years later, Kurds watched again as the Trump administration allowed the Turkish forces to invade northeastern Syria, driving local Kurds to flee their homes.
These two moments pushed Iranian Kurds to doubt Washington's potential contributions to the improvement of Kurdish rights in Iran. There now exists a political rift between U.S. and Iranian Kurdish leadership that may force Iranian Kurds to re-think their diplomatic position. Unfortunately for both groups, it seems that no one will benefit from such a rift—except for the Iranian government.
Dashed hopes
In the perspective of Iranian Kurds, the Trump administration's hardline stance towards Iran conflicts with its abandonment of Kurdish groups in Iraq and Syria, which they see as exposing the fickle nature of U.S. policy.
This was not always the case; the Trump administration's withdrawal from the 2015 JCPOA nuclear agreement early on in Trump's term gave fresh life to opposition groups in Iran. The groups mobilized their bases with renewed optimism, using U.S. actions as proof that positive developments could soon be on their way. The withdrawal from the deal and the re-imposition of American sanctions on Iran burdened Khamenei's regime with major economic and diplomatic setbacks and painful repercussions on the life of the country's vast middle and working classes.  As such, Iranian Kurds saw the potential for U.S. actions to stimulate real change. Rumors even circulated about indirect promises from the Iranian government to establish constitutional rights and local political bodies for regional minorities.
Such hopes evaporated with the fall of Kirkuk and the entry of Turkish forces into northern Syria. After the United States signaled that it supported Turkey, an entity generally seen as hostile to Kurdish interests, Kurds in Iran began to question the wisdom and efficacy of working closely with Washington.
The question of a relationship with the United States now defines much of the Kurdish political discourse in Iran. According to local media outlets, Syrian Kurds have warned Iranian Kurds that they need to be more careful about their relationship with Washington, noting the quick fluctuations in U.S. policy after changes in the Oval Office. From the viewpoint of Iranian Kurds, what was once an opportunity for cooperation has become a case of misplaced trust.
At this point, there does not appear to be any reasonable way to heal the rift in relations between Washington and the Kurds in Iran, even though they have historically been at the forefront of anti-regime political and military dynamics in Iran.
Syria's complex situation signals a bleak outlook for Iranian Kurds
The complexity of the situation in Syria has only grown with time, further complicating the path to safety and political autonomy for Syrian Kurds. Iranian Kurds have noticed the failure of the United States and Gulf powers to protect Kurdish populations in Arab states, which has pushed them to retreat from confrontation with the Iranian government.
U.S. forces have generally given up Kurdish areas in northern Syria while maintaining control of areas surrounding oil fields in Deir Ez-Zor and Al Hasakah. Meanwhile, Turkey, Russia, and Iran have engaged in mutual activity to undermine U.S. efforts in Syria, prolonging conflict there and exacerbating divisions. With the changes in U.S. military presence and the weakening of U.S. operations there, the establishment of a semi-autonomous administrative region in Syria that resembles the Kurdistan Region in Iraq—which the United States supported during its formation in the 1990s—has become highly unlikely.
These various constraints have resulted in a weaker Kurdish movement in Syria and a more dangerous political situation for Kurds in Iran. Kurds in Iran have also realized that promises from Gulf states to stem Turkish and Iranian intervention in Arab countries will not bear meaningful results, particularly after the failure of Gulf states to act in Syria.
Washington's treatment of Syria as a marginal issue likewise sends a clear message that Kurdish autonomy is outside the framework of the U.S. strategy regarding Iran. It seems the United States sees Kurdish influence as waning and is not interested in spending resources on a losing bet.
Yet one outcome that Washington has perhaps not considered is that the Kurdish bloc, which has long carried significant political and military clout in Iran, will no longer be rushing to challenge the Iranian regime as they have before. Kurds in Iran now face an increasingly bleak future, and Washington's decisions in Syria and Iraq are the primary root of their anxieties.
Taking steps to mend the rift
As such, the formation a powerful Kurdish political opposition bloc with robust participation from Iranian Kurds will be impossible without addressing the blunders of Washington's policies in Syria, particularly with regard their local partners, the Syrian Democratic Forces and the Autonomous Administration. These new steps must center on allowing the Kurdish political leadership in Syria to become involved in the current political and constitutional process. Furthermore, the fate of the areas that were occupied by Turkey and the forced displacement operations carried out against Kurdish citizens in Afrin and Ras al-Ayn, among other areas—documented by reputable international organizations—requires Washington to foster genuine solutions for these regions.
Furthermore, the United States should work to strengthen the critical role of civil society in Syrian areas east of the Euphrates and strengthen the diplomatic role of the political wings of Turkish, Arab, and Christian parties in the region in order to produce an acceptable political bloc that is able to engage in dialogue both with the Syrian government and pro-Turkish opposition forces. Washington must then pressure Moscow to push for the Syrian regime to accept a compromise with such a political bloc in northeastern Syria. Ultimately, the security and political normalization that Washington is pursuing for its allies in the SDF and Autonomous Administration must also lead to normalized relations with the Kurdish political bloc in Iran.
Washington's neglect of Syria has allowed Tehran to extend its influence in the region, capitalizing on the narrative that the United States betrays its allies. Iranian Kurds are watching the affairs of Kurds in Syria and Iraq with great concern, and they will make future decisions about their relationship with the United States based on what they see.