Washington's Inevitable Decision on Egypt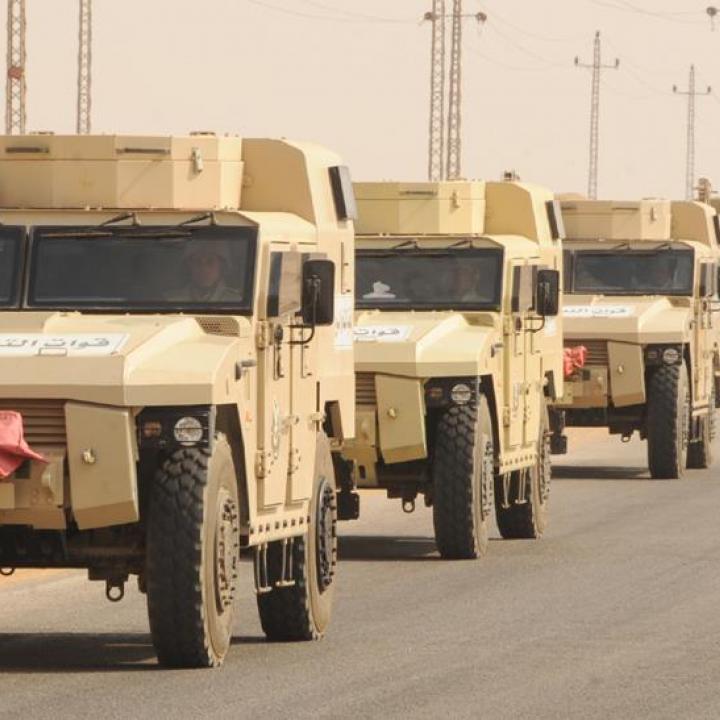 May 1, 2015
The recent decision to deliver F-16 fighter jets, Harpoon missiles, and spare parts for M1A1 Abrams tanks to Egypt puts to rest doubts concerning the Obama administration's support for President Abdul Fattah al-Sisi. Despite the deterioration in bilateral ties over the past two years, the strategic relationship between the United States and Egypt remains strong.
Initially, the Obama administration froze military aid to pressure the government to relax its crackdown on the opposition and supporters of former president Muhammad Morsi. Nonetheless, since becoming president, Sisi has proven to be an effective leader: he has seized control of state institutions, mobilized an Arab military alliance, signed arms deals with countries such as France, and improved the economy.
It has always been a U.S. priority to forge strong relations with whoever controls a country, regardless of the degree to which they embrace democracy. For 30 years, the United States was the main backer of Hosni Mubarak. But once his regime showed signs of weakness, it quickly withdrew its support. As such, it was inevitable that Washington would engage Sisi, in spite of his government's human rights abuses, to secure and advance U.S. interests. The United States sees the rise of groups such as the Islamic State of Iraq and al-Sham (ISIS) and the growth of Iranian influence in the region as necessitating the formation of a strong Sunni alliance that includes Egypt.
When the decision to unfreeze military aid was announced, Sisi released a statement noting that it would help fight Islamic extremists. According to the statement, in a phone call with President Obama, Sisi underscored that "stable U.S. aid to Egypt and the effective resumption of contracted arms deals would help achieve joint strategic goals shared by both countries." In the statement, Sisi also explained that this decision would help "with regards to counter-extremism and counter-terrorism, and with preserving security, especially in Sinai." Meanwhile, Obama justified the resumption of aid for reasons of American "national security." Both sides focused on their countries' national interests—America's security is linked to Egypt's security and that of the Arab world in general.
But if the United States truly wanted to help Egypt fight terrorism in the Sinai Peninsula, it would have been better to unfreeze aid two years ago, before terrorism took hold in the peninsula. Rather, U.S. support is intimately linked to Egypt's role in the Sunni coalition against ISIS as well as Shiite influence in some areas, particularly—and as of late—Yemen. Egypt is playing a large role in fighting terrorist groups domestically and across the border in Libya, and has played an integral role in the Saudi-led coalition against the Houthis in Yemen.
Despite Sisi's repeated promises before he came to power that he would eliminate terrorism, statistics show that the security situation has deteriorated to a degree that is without parallel in Egyptian history. Since Morsi was deposed, there have been about 700 terrorist attacks in Egypt. In the period from June 2013 to July 2014, there were 471 terrorist attacks compared to only 87 attacks from the outbreak of the 2011 revolution until June 2013. The majority of these attacks targeted the army and police, no doubt in reaction to the regime's repressive policies.
If we suppose that cutting off U.S. aid was meant to pressure Sisi's government to respect human rights, then we must concede that the opposite occurred. There has been a spike in violations. According to human rights organizations inside Egypt, there are no less than 42,000 political prisoners since the overthrow of Egypt's first civilian president after 60 years of rule by military men. A recent report issued by the Arab Network for Human Rights Information states that the number of death sentences handed down in 2014 reached 1,473, some of which were successfully appealed.
Contrary to popular belief, halting the delivery of heavy weaponry to Egypt had no connection to human rights violations—as the Obama administration claimed two years ago—since Sisi will not use fighter jets or missiles to stifle demonstrations. But Egypt's security forces can use other types of weapons to repress the opposition, as it did with Shaimaa al-Sabbagh, who was shot in cold blood by the police on the fourth anniversary of the revolution.