Very Cautious Arab Media Reactions to U.S. Syria Exit, Plus Mattis Exit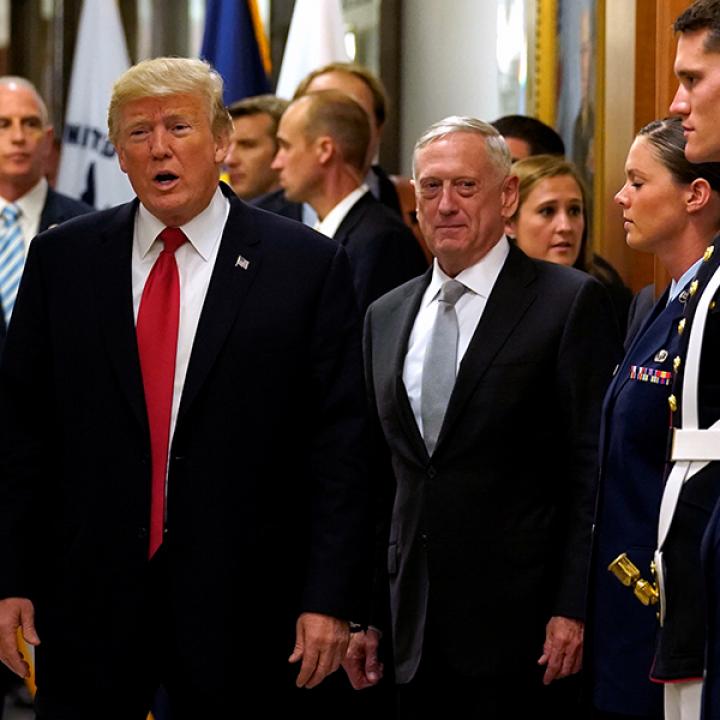 President Donald Trump's sudden December 19 announcement via Twitter that the United States would withdraw its troops from Syria took much of the world by surprise. As both Western and regional analysts scramble to discern how this announcement will shape future developments, including the subsequent resignation of Defense Secretary James Mattis, Arab outlets are carefully framing Trump's words and the potential outcomes in line with their own views on the United States' larger role in the region. Notably, most states not directly involved have very little comment on either Mattis or Syria's exit.
Arab officials are avoiding any explicit criticism of Trump's latest shift—either because they agree with it, as in the Syrian and some Lebanese cases, or because they are reluctant to oppose it publicly, as is probably the case in other Arab capitals that have rooted for the Syrian opposition. Some Arab media, by contrast, is already beginning to react more visibly to this latest U.S. policy twist. These characterizations of the shift—ranging from congratulations on strategically ending a failed U.S. policy, to frustration with NATO's continued presence, to avoidance of any explicit commentary—provide a window into how the Arab media is interpreting a changing U.S. role in the region.  
Extensive Factual Coverage, With Some Speculation on Next Steps
In articles reporting the withdrawal, most Arabic-language news outlets translate the President's tweets in full, with block quotes in some cases making up the majority of the news article itself (see, for example, Al-Arabiya's treatment of the withdrawal), emphasizing the importance these outlets place on the President's Twitter account as an official source of U.S. foreign policy. In particular, Trump's comment that America does not want to be the "police of the Middle East" headlines much of the most recent news on Trump's announcement, with the statement making its way into the titles of the Palestinian Maan News Agency and The Gaza Post, the independent Iraqi news-site Alsumaria TV, Lebanese An-Nahar and PM Saad Hariri-owned Al-Mustaqbal, Tunisian Babnet, the Moroccan Medi1tv, and the independent Egyptian newspaper Dostor.
Notably, these sources translate Trump's rhetorical question: "Does the USA want to be the Policeman of the Middle East[?]" as a statement; variations include 'the United States does not want to be the policeman of the Middle East' and 'we will not be the policeman of the Middle East' or 'we are not the policeman of the Middle East.'
Articles that attempt to contextualize the potential repercussions for the myriad actors involved in Syria are also beginning to appear. Al Jazeera examines the withdrawal's effect on Turkey's operations, focusing on Thursday's statement from the Turkish Defense Minister that a military operation in Manbij is imminent. Egyptian newspaper al-Youm al-Sabaa reports that American officials suggest U.S. airstrikes will also be pulled from the Syria theater, while Al-Arabiya confirms the United States' continued adherence to UN Security Council Resolution 2254.
Reports of Defense Secretary James Mattis' subsequent resignation are also cautious for the most part. A number of news articles drew directly from the Washington Post article on the subject, while others mainly consisted of block quotes from Trump's tweets and Mattis' resignation letter. Al-Arabiya, for example, only provides a small editorializing statement, noting that Mattis had announced in September that he would not be resigning in the near future. ِAl Jazeera's reporting has provided more extended coverage in its articles but is still circumspect, though noting that the resignation was not entirely surprising since Trump had tended to ignore Mattis' advice.
However, there are articles stating a clear point of view. Like English news sources, Arabic news sources are choosing to call Mattis' departure either 'retirement' or 'resignation' depending on the intended angle. Newspapers emphasizing a strategic win for Assad or Russian forces take the strongest stances: the privately owned Egyptian newspaper al-Tahrir declares: "After Mattis' resignation.. The world is waiting for Trump's chaos" while Lebanon 24 promises: "Assad 'Fever' and Attempting to Convince Trump to Stay in Syria… These are the Secrets of Mattis' Resignation!" However, the Saudi newspaper al-Mowaten also appears to be cautiously beginning to contextualize the departure through its own foreign policy lens, claiming that a Saudi military expert predicted Mattis' departure months earlier, based in par on the United States' "imprecise" statements on Yemen.
Arab media is also busy reporting the responses of outside leadership involved in the fight against the Islamic State and the broader Syrian coalition. Official German, French, Russian, Turkish, Israeli, and British responses—both positive and negative—are all reported by multiple sites. Moreover, multiple sources contextualize Trump's tweets through the responses of other U.S. officials, for example the semi-official Egyptian al Akhbar's coverage of Lindsey Graham's statements. Many of these news reports highlight the surprise of other U.S. agencies at the announcement.
Noticeably lacking are corresponding statements by Arab officials outside of Syria. Instead, op-eds in a number of state or state-supported media outlets are beginning to appear, presenting the characteristic viewpoints of their respective countries' foreign policies.
Reporting Reflects Countries' Positions on Syria
So far, no Arab official has released a statement regarding the United States' proposed withdrawal from Syria. However, this is by no means an indication that Trump's decision is taken neutrally: rather, pundits' responses emphasize the complicated web of relationships that shape other Arab governments' attitudes towards the Syrian war.
For Egypt, a country whose government openly supports Russia's position in Syria, non-oppositionist news appears to mildly praise Trump's decision. From Egypt, al-Youm al-Sabaa's Ahmad Jama'a sums up in a lengthy title his perspective on the matter: "The withdrawal of foreign forces is the beginning of the solution to the Syrian crisis… Washington's withdrawal proves its strategic failure and weakens the Kurds' position… Turkey strengthens its military presence along the length of the border strip… and Syrian Democratic Forces: we will respond with force to any Turkish attack." Catering to Russia with language that echoes pro-Assad media outlets' responses (surveyed below), Jama'a characterizes the move as a "major shake-up in political and military circles…that confirms the success of Russia's strategy in Syria."
The Saudi newspaper Sabq agrees with this assessment only in that Trump's statement reflects a drastic change to U.S. policy. However, the shift itself is presented negatively, though carefully worded so that the critiques themselves are cited from American sources. The article describes how "the American president Donald Trump ignored his top national security advisors, surprised American military leaders on the ground, and shocked members of congress and his allies" while citing how U.S. officials believe the new policy will lead to a failure to prevent a return of the Islamic State. Notably, caution is also visible in Saudi state-funded Al-Arabiya's coverage, which as of yet has failed to take a clear editorial stance on this issue one way or another. Ironically, Al-Arabiya's competitor, the Qatari state-funded al-Jazeera, is proving similarly cautious in its appraisal of the issue.
In contrast, the leftist and pro-Assad Lebanese al-Akhbar frames Trump's response quite strongly, suggesting that deep suspicion should be taken in regards to any U.S. stance. One title reads "America 'leaving' Syria: the "Atlantic (NATO)" Occupation Remains" with an emphasis on Syria as an occupied territory. Another of its articles argues that "The White House is commonly said to be in agreement with Ankara, and the vacuum that will be created by our withdrawal (sic) will be filled by an allies of "NATO", not allies of Damascus." Ironically, this argument of a U.S.-Turkish alliance to harm Syria is also echoed by Syrian opposition outlets.
Responses in Syrian Media, Government and Opposition
In contrast to the muted official response of the broader Arab world, both Assad regime officials and the opposition Syrian Democratic Forces spokespersons have issued statements on the issue.
Opposition reports are critical of the U.S. troop withdrawal. Al-Thawara, a Syrian opposition newspaper, characterizes the American withdrawal as an American-Turkish "scheme" demonstrated by Washington's recent agreement to supply Ankara with Patriot integrated air and missile defense systems.
On the Assad regime's official information ministry website, a statement describes the combined statements of Trump, White House spokesperson Sarah Sanders, and Pentagon spokesperson Dana White on the issue, while emphasizing that "Syria has always demanded the departure of foreign forces illegally on Syrian territory without the concerns of the Syrian government." Much of the second half of the article emphasizes recent Russian responses to the issue, highlighting in particular official Russian statements on how the United States has finally recognized that its opposition to the legitimate efforts of Russia, Iran, and Turkey are hurting the United States' own interests.
Predictably, other pro-government news outlets follow and elaborate on the regime's line. State media organ SANA casts U.S. forces in Syria as sponsors of terrorism. The article appears to welcome the departure of "the illegal presence of U.S. forces in Syria… that committed dozens of massacres against civilians and destroyed infrastructure, especially in Deir al-zour and Raqqa, under the pretext of combatting the terrorist organization 'Da'esh,'" although the article ends by noting Russian President Vladimir Putin's expressed skepticism that such a withdrawal will actually occur. SANA also characterizes Trump's withdrawal as in response to "Washington's loss of its stakes and failure of its plans in Syria, which lasted for years, and included support for terrorist organizations and extremists." The pro-Syrian regime JP News echoes this reliance on Russian official statements—including from Russian Foreign Ministry Official Maria Zakharova—to contextualize the potential of a withdrawal.
Television Pundits' Responses Give Extra Air Time to Russian Analysts
Major Arabic television channels lost no time in putting Russian Arabic-speakers on air to boast about this "major achievement" for Moscow's Mideast policy. On both Sky New Arabia and Al-Arabiya on December 19, the Russian Arabist Vayecheslav Matuzov, among the most vehement defenders of the Assad regime, boasted at length about how much he welcomed the U.S. withdrawal from Syria. This, he claimed, is a prelude to normalizing the "legitimate government in Damascus" and extending its control over every inch of Syrian territory.
In a typical response, one Lebanese professor appearing on Al-Arabiya agreed that the U.S. withdrawal would probably open the door to Assad, to Russia, and also to Iran and Turkey to fill the resulting vacuum. But, he added, the Islamic State and other jihadis would not be far behind in reinvigorating their bloody campaigns inside any areas vacated by the departing U.S. troops. And the Syrian Kurds, he continued, would pay the heaviest price of all, with little choice but to bargain from a much weakened position for whatever political or economic crumbs they could now wrest from the Assad regime.