U.S. Withdrawal, Arab NATO, and How America Can be a "Force for Good"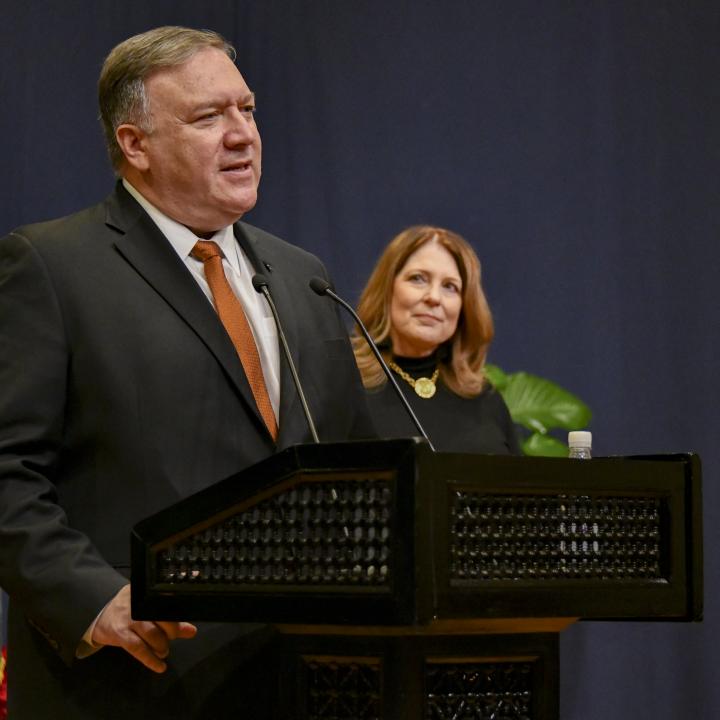 As many anticipated, U.S. Secretary of State Mike Pompeo's January 10 speech in Cairo focused on three main themes: the Trump administration's unconditional support for Israel, an emphasis on decisively confronting Iran, and the continued intention to combat the Islamic State (IS) and radical Islamism. Pompeo presented these themes in an attempt to convince the Arab and Islamic world that the "new beginning" promoted by President Obama during his famous 2009 speech in Cairo did not bear fruit, and that in contrast, the Trump administration is establishing the true new beginning, enhancing bilateral relations and burnishing America's presence in the region.
Indeed, Pompeo appears to promise an American vision for the Middle East founded on involvement, stating that in the past decade, "We learned that when America retreats, chaos often follows. When we neglect our friends, resentment builds." It is difficult to square these promises with the vacuum that will be left by the United States in Syria, which many see as majorly beneficial to Russia and Iran rather than American allies.
Ironically, the major policy shift behind Pompeo's speech—President Trump's decision to remove American forces from Syria—actually reads as an echo of Obama's attempts to reduce U.S. military involvement in Iraq and Afghanistan. In fact, the recent breakthrough in negotiations between the United States and the Taliban only solidifies this image of a continuing policy of military withdrawal.
Thus, as regional observers attempt to square Pompeo's vision with the United States' on-the-ground actions, many are trying to identify unspoken motives behind the administration's apparent policy contradiction. For example, given Trump's widely recognized and self-promoted identity as a businessman, rumors have emerged that a U.S. withdrawal of forces has an intentionally destabilizing effect actually intended to give momentum to the conflict in the Middle East. Increased instability would provide President Trump with an excuse to increase military support to U.S. allies; this in turn would prompt new of arms deals between the Gulf and the United States, thus benefiting the U.S. economy.
A more coherent explanation is that a military withdrawal may be intentionally designed to push U.S. regional allies into a role long advocated by Trump: forcing through necessity the launch of the Arab Middle East Strategic Alliance (MESA), also known as the 'Arab NATO.' This organization would presumably be led by Egypt and Saudi Arabia to combat Iran and its expansionist strategy in the region.
This alliance has been a talking point of the U.S. State Department for months: in July, the U.S. National Security Council spokesperson defined the Middle East Strategic Alliance (MESA) as "a bulwark against Iranian aggression, terrorism, [and] extremism" designed to promote regional stability, while in September Pompeo met with his Arab counterparts in New York to encourage such a move. Nonetheless, despite Washington's willingness to sponsor this alliance, divisions and policy conflicts in the region have reduced the likelihood of such an alliance coming to fruition. The United States may be attempting to jumpstart a regional alliance by sending the message that its allies cannot rely on indefinite U.S. military involvement in the region. Ironically, this concept itself originated during the Obama-era, during which there was an attempt to form a similar alliance through the already extant Arab League forces.
Yet even if MESA does begin operating this year, as the Bahraini Foreign Minister has stated, it will have to contend with the optics of Iran as victor in Syria in light of the U.S. withdrawal. This dynamic could lead the region to the brink of another war, negating MESA's capability to serve as a deterrent to military action. Even as Trump insists that U.S. presence in Syria should be defined primarily in terms of IS presence, it is easy to imagine that future Islamist groups, which may be even more powerful than their predecessors, will take this as a cue that they can operate in the war-torn country.
If the United States wishes to avoid this scenario, and if its own military involvement is now off the table, then it must support its regional allies and promote stability in a different manner. For example, the United States should use diplomatic pressure to de-escalate the intra-Gulf conflict and bring an end to the war in Yemen. These are two of the most intractable challenges to any successful 'Arab NATO,' and will continue to drain the attention and resources of the United States' strategic allies while creating further instability in the region MESA is being designed to protect.
Moreover, U.S. policy must also work to serve as a 'force for good' for the Arab people if it is to encourage stability on a macro level. There was a noticeable lack of reference in Pompeo's speech to U.S. support for democracy and human rights, suggesting that the Trump administration is more concerned with its relationship with Arab rulers than the welfare of the Arab public. If the U.S. administration supports only the leadership of the Arab world, it will place itself in a quandary, both in terms of regional public opinion and its own moral justification for past involvement in the region. As a country that has long rationalized its engagement in the Middle East through claims of just principles, a tacit relinquishing of these values can deeply undermine its credibility in the region and give Arab rulers a tacit 'green light' to violate human rights at an even greater level.
In a sense, Pompeo's speech underscored the uneasy duality guiding U.S. foreign policy under the Trump administration. But while it is possible to reconcile the United States' desire to maintain its place at the forefront of world affairs with President Trump's increasing proclivity towards military withdrawals,  deft negotiation and a commitment to support the people of the Middle East are required if U.S. policy is to promote the stability promised by Pompeo. Without such measures, not only is it likely that the military withdrawal will be insufficient to jumpstart MESA, but it may also present any 'Arab NATO' with obstacles for years to come.