UAE Public Privately Split on Key Issues, New Poll Reveals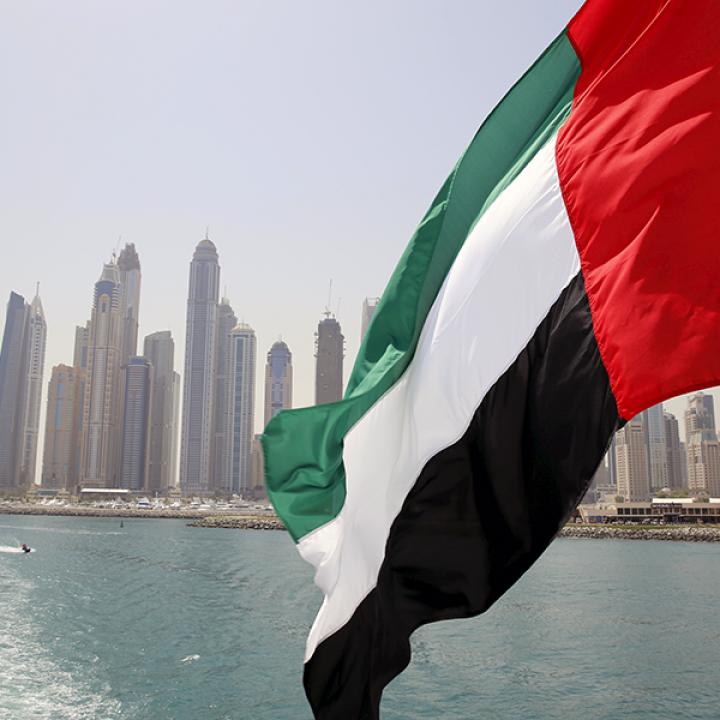 Data from a rare public opinion poll conducted in the United Arab Emirates in November shows its citizens more divided than often assumed on a number of topical issues, both foreign and domestic. These issues include women's rights, cooperation with Israel, and even the UAE's close ties with the United States. While nothing in these findings suggests mass popular discontent, they do help quantify the balancing act that the government must perform to deal with these crosscurrents in popular attitudes.

On internal social and economic issues, the UAE portrays itself as an oasis of tolerance and modernity—but around half the public disapproves of much of the reforms underpinning this reputation. For example, 47 percent say their government is doing "too much" in "promoting opportunity and equality for women." 52 percent say UAE authorities intervene too heavily in domestic economic affairs in their attempt to "share the burdens of taxes and other obligations to the government in a fair manner."
 Even more tellingly, two-thirds disagree that "we should listen to those among us who are trying to interpret Islam in a more moderate, tolerant, and modern direction." And just 28 percent, very low by regional standards, feel strongly that "right now, internal economic and political reform is more important for our country than any foreign policy issue." Overall, then, Emiratis tend to be socially traditional and conservative politically, despite the glamour and glitz of downtown Abu Dhabi or Dubai.
Regarding other domestic policies, the government fares better in the eyes of respondents. Only one-third of the public considers UAE efforts inadequate at "reducing the level of corruption in our economic and political life." The same relatively low proportion thinks their government is insufficiently concerned with "protecting the freedoms and privacy of individual citizens." By comparison, these numbers are considerably higher in neighboring Saudi Arabia, especially when it comes to corruption.
A potential sore spot, though, is the persistence of some underground popular sympathy for the Muslim Brotherhood, which the UAE government labels a 'terrorist' organization. Fully one-third of the country's Sunni citizens (90 percent of the total population) continue to have at least a "somewhat positive" attitude toward the Brotherhood. That number has not budged in the past three years, despite a vociferous and at times heavy-handed official campaign against the group. While this level of passive support for the Brotherhood does not appear to pose an urgent threat, it does help explain the government's vigilance against the organization—and the potential backlash that these policies could conceivably create among a minority of the public, if other conditions allowed.
In foreign policy, one recent high-profile issue is the UAE's increasing informal cooperation with Israel—symbolized during the period when this poll was conducted by the playing of Israel's national anthem in public, when a visiting Israeli team won an international judo competition on UAE soil. But most of the country's public is not impressed: just one-fifth, about the same as in other Arab societies recently surveyed, want to "work with Israel on other issues like technology, counter-terrorism, and containing Iran." About twice as many, 38 percent, have a favorable opinion of Hamas, which rejects peace with Israel altogether.
But if there are peace talks between Israelis and Palestinians some day, the solid majority of UAE citizens (72 percent), as in the other Arab countries polled in the past three years, would like their government to "play a new role… offering both sides incentives to take more moderate positions." This offers some hope for the Trump administration's concept of mobilizing outside Arab support for Israeli-Palestinian peacemaking. However, this is not the highest U.S. policy priority for the Emirati public. A mere 23 percent pick "push harder to resolve the Palestinian-Israeli conflict" as their top choice from a list of U.S. objectives in the region, with others focused more on Yemen, Iran, or counterterrorism.
More broadly on relations with the United States, half of Emiratis see those ties as important for their country—including one-quarter who call them "very important." Nevertheless, just 12 percent have a positive view of President Trump. These figures are fairly typical of other recent Arab survey findings, suggesting that these publics are quite capable of differentiating between countries and their leaders.
On one final crucial foreign policy question for the UAE today, that of Iran and its regional allies, the public is solidly supportive the official line—with the minor exception noted below. Only 13 percent of Emiratis now consider good ties with Iran important, notwithstanding their formerly extensive business connections. Even fewer (6-8 percent) have a positive view of Hezbollah—or of the Houthis in Yemen, against whom the UAE is currently waging a full-scale war. Still, the small Shiite minority of UAE citizens have substantially different views, with up to half privately voicing approval for all three of these coreligionist parties.
These findings are from a personal-interview commercial survey conducted by a highly experienced and reliable regional professional firm from among a representative national sample of 1,000 UAE citizens.  Sampling followed the standard geographic probability method. The statistical margin of error is approximately plus or minus three percentage points. Full methodological details are available on request.