Russia's Energy Goals in Syria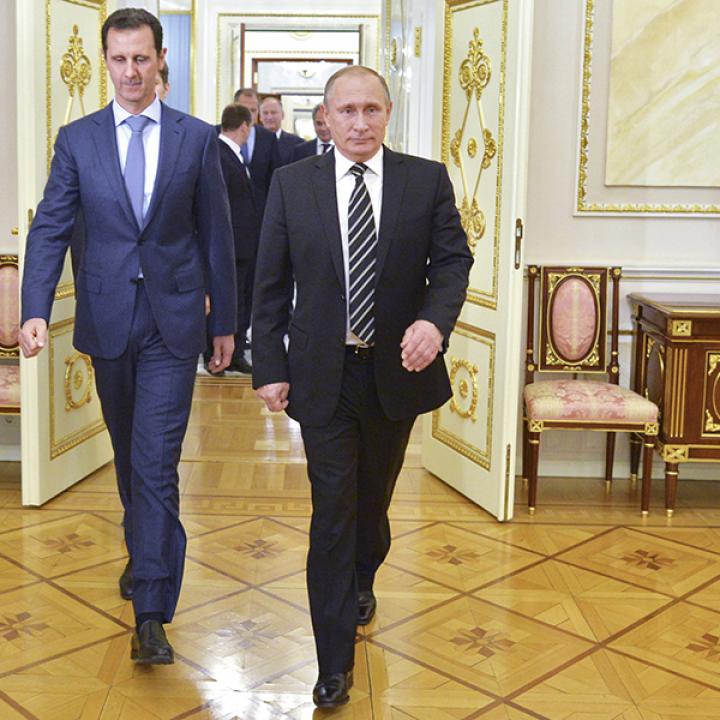 August 30, 2017
When Russia began its military intervention in Syria, it was motivated more by political incentives than economic ones. However, now that victory increasingly favors the Assad regime, Russia has found new opportunity to bolster its foothold in the region. With the opposition forces relatively subdued and prospects for stability appearing more realistic, Russian energy companies are looking to renew and expand their investments in the Syrian energy sector. But their aim is not to explore and extract Syria's modest petroleum reserves—Russia has plenty. Rather, they seek to actively participate in rebuilding and operating Syrian oil and gas infrastructure. By undertaking such a massive endeavor, Russian energy companies hope to control significant portions of pipelines, liquefaction facilities, refineries, and terminals, thus capitalizing on Syria's potential as a transit hub for regional oil and gas heading to Europe. In doing so, Russia will not only expand its dominance in the Eastern Mediterranean, a dream since the Caucasian Wars of the nineteenth century, but also solidify its stranglehold on the European gas supply.
Regional Interests
From a production standpoint, Syria never had much value to the Russian petroleum industry. Syrian oil reserves are at 2.5 billion barrels, only .2 percent of the global share, while its 8.95 billion cubic meters (bcm) of gas are insufficient to meet even domestic demands. Nevertheless, in 2010, Tatneft entered the Syrian market with a development in the South Kisham field near Deir-ez-Zor, which is believed to contain 4.9 million tons of oil. In 2013, with the war entering its bloodiest period, Russian company Soyuzneftegaz won an exclusive tender to explore and develop Syria's offshore gas reserves in Block 12, adding to the company's modest holdings near Syria's border with Turkey. Both companies have since suspended their operations, blaming security concerns for their decision. However, Russian energy companies are determined to return.
In 2015, executive director for the Union of Oil and Gas Producers Gissa Gutchel announced, "When the fighting stops and the situation in Syria is stabilized, Russian companies which had to freeze their operations due to the civil war will be ready to quickly resume their operations and fulfill contracts signed before the war that are valued at minimum at $1.6 billion". By 2016, an indiscriminate Russian air campaign and a steady stream of arms and aid tipped the scales heavily in favor of the Assad regime and reduced future political uncertainty, ensuring Gutchel's goal could soon be realized. With the Syrian army on the offensive, the Assad regime began to offer Russian companies unprecedented access to its energy sector.  In February of that year, a Syrian delegation travelled to Moscow to meet with the Minister of Energy and the heads of the petroleum industry where they asked Russian oil and gas companies to help restore Syria's destroyed energy sector. The Syrian Minister of Foreign Affairs, Walid Muallem, said his country was ready to offer "all possible incentives" to companies participating in the reconstruction. Such an approach may explain, at least in part, why in July 2017 the Syrian government offered 25 percent of profits from oil and gas fields freed from the Islamic State to Evro Polis, a Russian military contractor allegedly owned by Evgeniy Prigozhin, a close friend of Putin's.
Syria's Value to Russia
Before the war, Russian oil and gas companies faced stiff competition from Iran, which planned on building an Iran-Iraq-Syria pipeline, from Qatar, which sought to connect its gas fields to Turkey by pipeline through Syria, and from Egypt, which hoped to expand the "Arab Gas Pipeline" from Jordan to Turkey. Russia's energy sector needed a Syrian strategy that would, according to Jeff Mankoff of the Center for Strategic and International Studies, "make sure that other people aren't increasing supply in a way that competes with them". Recognizing Syria's value as an oil and gas transport hub rather than supplier, Russian petroleum companies hunted for a way to participate in Syrian energy development rather than compete with it. With Syria's invitation in 2016, such an opportunity presented itself. If Russia's energy companies accept Syria's request, they will gain significant control over Syria's energy sector, as they would demand the bulk of shares in ventures for which they provide manpower and supplies. In doing so, the Russian oil and gas industry would ensure that any country seeking to ship its petroleum products through Syria's ports and pipelines will be forced to consider Russia, if not outright negotiate with it. As a result, Russian oil companies would minimize any competition from Iran, Iraq, Qatar, or Saudi Arabia. Furthermore, having control over such projects means Russia will have at least partial access to approximately 50.5 bcms/year of natural gas exports, 5.5 times more than all of Syria's reserves and approximately 27 percent of Russia's annual LNG exports.
Furthermore, investing in Syrian energy infrastructure can help secure Russia's oil and gas interests in neighboring Iraq. Stroytransgaz signed a deal with the Iraqi government to rebuild the Kirkuk-Baniyas pipeline, which would connect Lukoil fields near Basra and Gazprom fields near Kirkuk with the friendly Syrian Port of Baniyas, 35km north of Russia's naval facility at Tartus. The project was shelved in 2011 due to growing instability in the region, but there has been little indication that it was fully abandoned. If it is resumed, Russia could have a near-monopoly over its interests in the region, as Russian companies could send their oil and gas through Russian-built pipelines to be shipped from a port defended by the Russian navy.
Finally, a significant Russian investment in Syrian energy developments would justify a maintained military presence in the area, as the Russian navy and air force are not planning to leave Syria soon. In January 2017, Russia and Syria agreed on a forty-nine-year deal allowing Russia to maintain its navy at the Port of Tartus, which it plans on expanding to house eleven warships as well as nuclear submarines. While in July, the Duma ratified a bill establishing a new Russian air base in Syria. By controlling significant portions of Syrian energy infrastructure-a crucial industry for the Syrian economy-Russia can not only rationalize its military presence as a defense of its economic interests, but also exert greater influence over the Syrian government, securing the regime's support for any favorable policies.
Risks and Rewards
The greatest challenge to Russia realizing such a goal is its own floundering economy. Low oil prices and fast-evaporating cash reserves prevent Russia from pursuing a costly reconstruction. Such an undertaking also requires a level of political stability yet to be attained. However, domestic economic improvement and Syrian stability are not a fantasy. Analysis by the World Bank predicts that by 2019, Russia's economy would be in full recovery from its years-long recession while commodities traders, encouraged by anticipated OPEC austerity measures against over-producers, are cautiously optimistic about a rise in oil prices. This coincides with a Russian election which Putin is all but certain to win, ensuring that his regime can continue pursuing an increasingly aggressive foreign policy. Meanwhile, Syrian ceasefires and de-escalation zones, while tenuous, have provided the clearest path to peace since December 2016. Thus, when the time comes, Russian oil and gas companies will capitalize on their country's commitment to the Assad regime, thus ensuring Russia remains a dominant player in the region for years to come.
Doing so will bring Russia closer to realizing some of its long-term geopolitical goals. First, along with the "Nord Stream-2" and "Turk Stream" pipelines through the Baltic and Black Seas respectively, control of the Syrian "tap" would complete a trident of petroleum export routes through which Europe receives its gas. Not only would Russia circumvent Eastern European countries, thus avoiding transit fees, but the EU would also be unable to purchase gas from any exporter, including those in the Middle East, without direct or indirect dealings with Russia. Second, a long-term presence in Syria would increase Russia's dominance in the Eastern Mediterranean. A naval base and airfields capable of hosting the largest Russian military presence outside of its borders will present a significant challenge to both Western energy companies operating in the region, such as Noble Gas, and to the military support that comes with them. Thus, Russia will be one step closer to the multi-polar global power-balance which is has sought since the fall of the Soviet Union.