Riyadh Mends Fences with Doha as it Braces for the Biden Administration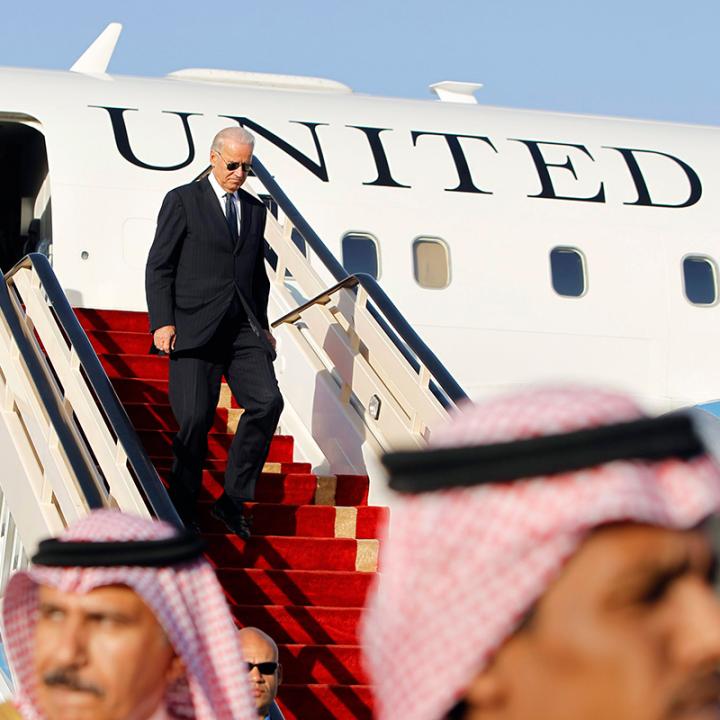 Qatar could serve as a valuable intermediary between Saudi Arabia and a Democratic White House.
Leading up to and during the annual Gulf Cooperation Council (GCC) summit in early January, 2021, Saudi Arabia expressed a sudden passion for reconciliation with Qatar that seems, in many ways, to work against its own interests. Even as Qatar has made no indication that it will comply with any of the terms set forward by the quartet for the restoration of diplomatic ties, Saudi Arabia is leading the other quartet countries to reconciliation with great gusto and determination. Because this effort promises few benefits in the arena of regional politics, it is likely that Saudi's interest in reconciliation is an effort to improve relations with the newly instated Biden administration in Washington.  
Notably, this year's GCC summit, held in Al-Ula, Saudi Arabia, saw none of the usual working sessions or bilateral meetings between delegation chiefs. Instead, delegates limited the proceedings for this year's summit to a single session at which delegates signed a reconciliation deal ending the diplomatic crisis with Qatar, along with the summit's closing statement. Both had been prepared in advance, with Kuwait mediating between Saudi Arabia and Qatar under the watchful eyes of the other Gulf states and Egypt.
The reconciliation deal marks the end of a three-year feud between Qatar and a Saudi-led bloc that includes the United Arab Emirates, Bahrain and Egypt. In 2017, the four members of the bloc (known as the 'Arab Quartet'), citing, among other issues, Qatari support for the Muslim Brotherhood and ties with Iran, imposed a stringent blockade on Qatar and severed diplomatic ties with the tiny, oil-rich emirate. As part of the blockade, the quartet states presented a list of thirteen demands, which, when met, would allow Qatar to restore ties with quartet states and end the blockade.
Now, even with no mention of the thirteen demands, Saudi leadership's behavior and the structuring of the GCC summit have indicated keen Saudi interest in mending fences with Qatar. Reports suggest that Riyadh had pushed for mediation to renew ties with Doha and asked outgoing President Donald Trump to intervene and pressure Qatar to accept the deal, which Qatar did only on the condition that the blockade was lifted. Indeed, according to Saudi Foreign Minister Prince Faisal bin Farhan, the reconciliation deal means that all four boycotting states will restore diplomatic ties with Doha and reopen their airspace for flights to and from Qatar. Saudi Arabia will also open its land borders with Qatar, granting Qatar renewed use of its only land-border.
As part of Saudi Arabia's new enthusiastic approach to relations with Qatar, Saudi Crown Prince Mohammad bin Salman, who represented Saudi Arabia in King Salman's conspicuous absence (assumedly due to illness), gave Qatari Emir Sheikh Tamim bin Hamad al-Thani an effusively warm welcome at the summit. Upon Sheykh Tamim's arrival in Al-Ula the Crown Prince met him with hug on the tarmac. Bin Salman also took his guest on a tour of Al-Ula's archaeological and natural sites.
Strangely, the Crown Prince's warmth did not correlate with any public mention of Qatari commitments towards Saudi Arabia and its allies in exchange for the reopening of borders and restoration of severed diplomatic ties. Instead, Bin Farhan said both sides had agreed to turn the page on the past and to refrain from infringing on each others' sovereignty or security. They pledged not to interfere in each other's national unity or social fabric in any way, but to stand firm against anything that could harm their national or regional security. Bin Farhan also cited commitments to resolving differences through bilateral talks aimed at strengthening cooperation, especially in the realm of counterterrorism and organized crime.
Neither government has released details on any mechanism by which the parties had resolved their differences or tackled accusations that defined their bitter relations over the last three years. Instead, as mentioned, they simply stressed the need to refrain from interfering in each other's internal affairs, stop hosting each other's political opposition figures and put an end to hate campaigns against each other's regimes. This means that all the controversial points of dispute that led to the crisis with Qatar will be now subject to examination and negotiations. First among them will be claims that Doha was interfering in its rivals' domestic affairs.
This lack of concrete action on major issues of dispute has meant that, despite signing the deal, Riyadh's three allies in the quartet appear to be unhappy with it. The deal imposes no conditions on Qatar other than commitments to end media attacks on the quartet states and to drop its lawsuits against them. Qatar's Foreign Minister Mohammad bin Abdulrahman Al-Thani told journalists after the Al-Ula summit that he hoped Riyadh's allies "will have the same amount of political will as the Saudis," but without the tangible benefits to quartet states that they demanded in exchange for reconciliation, this deal is unlikely to spur enthusiasm on their part.
The reconciliation deal can therefore only be described as a Saudi capitulation from its maximalist demands. This move seems counterintuitive and contradictory to Saudi interests when viewed from a regional perspective, especially considering the attitudes of other quartet states. So why did Saudi Arabia alter its aggressive stance against Qatar and back down on its conditions, and those of its allies, for ending the boycott?
While some Gulf analysts see the move as preparation to strike a "painful" blow against Iran, it also appears that Riyadh is repositioning itself to forge better relations with the incoming Biden administration. Saudi Arabia believes that Qatar's relations with Washington will be much better under Biden than they were under Trump. As a result, Riyadh does not want a continued standoff to allow Qatar to build ties with the White House at Saudi Arabia's expense. Rather, Saudi leadership may want Qatar to serve as a bridge to the Biden administration that allows Riyadh to express its concerns without being crippled by the current anti-Saudi attitude among Democrats in Washington.
As seen in Saudi statements following Trump's defeat in the 2020 presidential election, Saudi Arabia believes itself to be indispensable to Washington's strategic interests, even if no U.S. administration will be truly friendly towards Riyadh. Nonetheless, Saudi Arabia knows that the new U.S. administration, Biden himself and senior Democratic Party officials have little affection for the Crown Prince, especially given his cozy relationship with Trump. Riyadh knows that Democrats were most vocal about the murder of journalist Jamal Khashoggi at the Saudi consulate in Istanbul two years ago, and that senior Democrats regularly bring up the cases of political prisoners and other human rights issues in Saudi Arabia. As for the cases of human rights detainees, it has been noted that Riyadh is rushing to wrap up these cases by ending the trials of figures like Ahmed Fitaihi and Lujain Al-Hathloul, whose detention caused a loud uproar in the United States.
As a result, Saudi officials fear they will have difficulty creating a strong bond with the new administration, not least because Biden wishes to renegotiate the Iran nuclear deal, from which Trump had unilaterally withdrawn in 2018, a move welcomed by Riyadh. Saudi leadership worries that Biden could bring Iran in from the cold, lifting the tough sanctions imposed by the Trump administration.
As Saudi Arabia looks toward what could possibly be eight years of Democratic control over the White House, it understands the implications this may have for its strategic interests in the region, especially regarding Iran and the war in Yemen. Therefore, this move with Qatar, while certainly an effort to further isolate Iran, is likely also a maneuver to grant Saudi Arabia better communication and access to an otherwise unfriendly administration in Washington.
Given Antony Blinken's recent comments on a review of U.S. support for the Saudi campaign in Yemen, the relationship between Washington and Riyadh is already experiencing strain. It remains to be seen whether Saudi leadership can recover much goodwill in its relationship with its most important international backer.