Regional Water Cooperation in the Middle East and North Africa: Transitioning from Conflict to Stability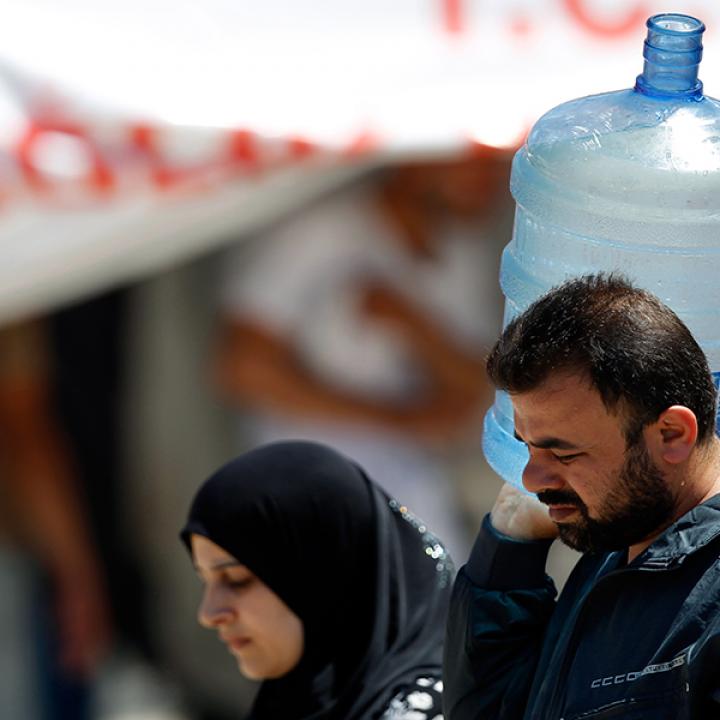 With rivers and lakes drying and record breaking droughts, there is a dire need for greater regional cooperation on water issues.
The Middle East and North Africa (MENA) is one of the most water-scarce regions in the world. Although the region contains 6 percent of the world's population, it holds only 1 percent of the planet's renewable freshwater. As a result, nearly two-thirds of its population live in areas with high water stress. This is a catastrophic indicator, particularly when compared with global averages of 35%. Making matters more dangerous is that by 2025, the region's renewable freshwater supply will have fallen to less than a third of its 1970 levels, while the region's population is expected to grow by about 2 percent per year, with urban populations projected to double by 2050. By then, the total demand for water will rise by 58 percent from 2010 levels, yielding a huge gap between supply and demand for water. 
Perhaps the most stark image is the region's drying lakes and rivers. This month, Turkey's second largest lake—Lake Tuz—has completely receded, completing a drop in water levels that was first recorded in 2000. Lake Tuz was just one of five major lakes in the region at risk of disappearing. Rivers such as Syria's Knabour river are also running dry, while the Euphrates is facing record low water levels. 
Beginning Tremors of Water-based Conflict
Water scarcity has led to serious and occasionally violent crises, emphasizing that water shortages will continue to pose a significant threat to regional stability and security during the coming period. In recent years, water shortages led to severe droughts, food crises, and resulting migration. The ensuing poverty has driven a move away from agricultural lands that no longer provide livable yields. Farmers and rural youth are now adding to the region's major unemployment crisis, and are vulnerable to recruitment from armed extremist groups. Shortages have also caused waves of displacement out of water-scarce areas, leading to overcrowding in cities, increased pressure on basic services, and internal turmoil. 
Moreover, water scarcity is beginning to drive the internal conflict. In Yemen, there were reports in 2013 of a conflict between two neighboring villages near the city of Taiz because of competition over a water well there, resulting in the killing of two people. As of 2019, more than 62% of Taiz residents were unable to access potable water. Nearly four years ago, the people of Zagora in southern Morocco likewise came out to protest, demanding their right to safe drinking water. 
Though these signs of potential conflict over water have been years in the making, despair appears to be on the rise in response to dwindling access to water. Last July, hundreds of Iraqis protested in Baghdad because of water shortages, calling on the government to solve the crisis—while inhabitants of Basra have periodically protested decades of poor water access. Iran's Khuzestan province also began major protests in the summer that seemed poised to spark a national movement but were quickly repressed, with three citizens killed in the process. And since November 9, thousands of Iranian citizens have once again gathered to protest—centered in Isfahan province—to decry a situation where the Zayandeh Rood river has been essentially dry for twenty years. 
In North Africa, there are Egyptian-Sudanese fears of the negative effects of the Grand Ethiopian the GERD Dam on the water security of both countries, the North Darfur-Abu Zereiga areas and South Kordofan's Nuba Mountains in Sudan saw widespread protests last May due to water scarcity. Protesters shut down the streets, calling on the authorities to provide them with access to a water supply. And in Algeria, during June of last year, three people were killedin Tamanrasset province in clashes with security forces during protests that their water had been cut off. UNICEF recently warned that Libya is likewise susceptible to a severe water crisis as the result of approximately 4 million people being deprived of access to clean water, and risking the lives of millions of children due to the risk of contracting cholera, hepatitis A, and diarrhea. 
Cooperation Cannot Wait
Clearly, the coming water crisis is a threat to the entire region, and consequently necessitates all parties' attention. The time has come to set aside all differences and disputes and foster cooperation between the region's countries, with international encouragement and sponsorship, to reach swift and sustainable solutions. Water diplomacy is a crucially needed step to provide safety and security to the region's inhabitants. Notably, Jordan and Israel have made positive steps in this direction. The just-signed deal brokered by the UAE allowing a trade for Israeli desalinated water and Jordanian solar energy is one example of the benefits of inter-state cooperation on this crucial issue, but much more remains to be done across the board.
In addition to reducing political disputes between countries, water cooperation can bring about advancements in domestic economies and citizens' livelihoods. For example, dam projects have historically been national projects with limited cooperation between downstream neighbors. This is especially notable in the cases of the Tigris and Euphrates, where Turkey and Iran control much of the water flow into Syria and Iraq. In contrast, joint dam projects in border areas between Iraq, Iran, Jordan, Lebanon, Syria and Turkey could have a "combined hydropower capacity of 1,400-1,600 megawatts, and the potential to provide water to irrigate thousands of hectares of land." Coordinating dams and sharing in the benefits could help reduce the water and food crises for the inhabitants of these countries.
Another area of potential cooperation is to establish a regional electricity network by linking the hydroelectric power generated by these dams to each other, an issue intricately connected to responsibly managing water usage. That in turn would provide significant investment opportunities to establish industrial and production projects, which would contribute to economic development and raise citizens' standards of living. The feasibility of this type of cooperation became clear recently after the United Arab Emirates, the United States, and Israel announced the establishment of two tripartite working groups, one of which concerns the water and energy sector.    
Regional cooperation could also help solve the problems of misused natural resources and water losses. A World Bank report indicated that the region is experiencing the highest water losses in the world, amounting to 80-177 cubic meters per capita each year. Thus, cooperationon this issue could change consumption patterns and limit the crisis, especially given that shared groundwater basins cover approximately 58 percent of the region. This shows that the plethora of opportunities for water, agriculture, and investment cooperation should outweigh countries' motives for conflict.
Agricultural cooperation between the countries of the region will be the biggest challenge, but has the potential to save more than 55 million people, about 20 percent of their population, from the threat of hunger. The matter is getting worse year by year due to water scarcity and climatic changes devastating to agricultural crops in the region. Therefore, during the coming period, there will be no alternative but for the countries and peoples of the region to achieve integrated agricultural and food cooperation. Integration would allow countries that have fertile agricultural lands to make partnerships with countries that have an appropriate water surplus with the help of countries that have advanced agricultural technology. This should be in parallel with the establishment of a periodic agricultural forum that allows the exchange of experiences and investments between the countries of the region that includes not only governments but businessmen and workers in the field.
Governments should likewise establish joint agricultural and food projects, as well as work towards developing a common vision to confront climate change, water shortage, and food security challenges. Such efforts, though difficult, will have major returns: they will help activate trade exchange between the countries of the region, contribute to providing job opportunities and reducing the regional challenge of unemployment. With greater cooperation on water management and agriculture, everyone will benefit so that they can develop their natural and human resources in the best possible way, while avoiding waste or conflict driven by scarcity.
MENA countries have a strong potential to cooperate on water and food issues if they make it a priority. If they choose to do so, regional leaders can change the lives of their people for the better. Some of the region's countries are rich in agricultural resources, while others are rich in labor, and still others possess advanced technology. If these countries work together through shared irrigation projects, modernizing infrastructure, improving administrative competencies, and raising the efficiency of farmers and agricultural and water practices, then perhaps the region will be able to avoid its current trajectory towards water scarcity, food shortages, and conflict over natural resources.