Qatar Poll Shows Public Is Content, Not Pro-Iran, a Third Accept Some Israel Ties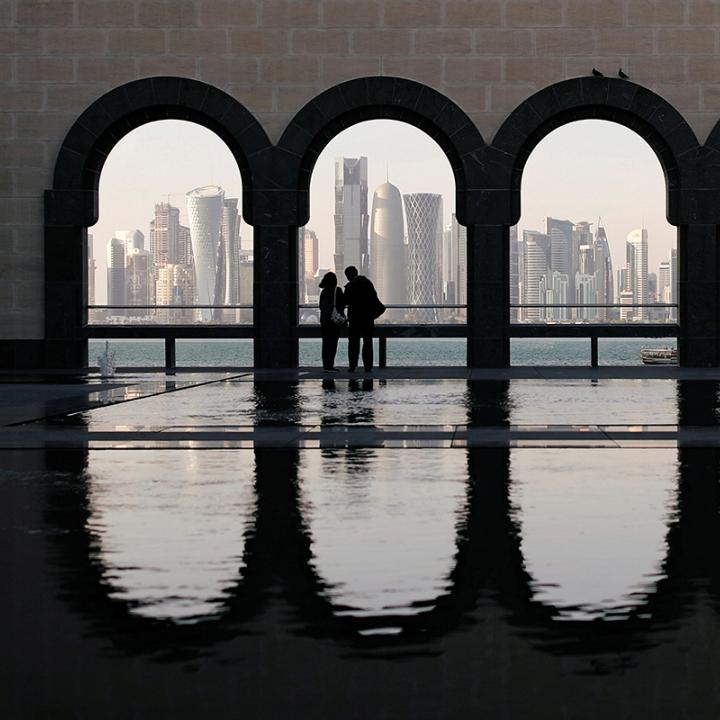 Qataris voice favorable views toward rapprochement with Turkey and see the United States, China, and Russia as equally valuable partners.
A rare new public opinion poll of Qatar's roughly 350,000 citizens, commissioned by The Washington Institute and conducted by a regional commercial firm in November 2021, reveals a large majority rejecting public protests against corruption. Moreover, just 30% say, even privately, that their government is doing "too little" to control corruption—by far the lowest percentage compared with parallel survey findings in Saudi Arabia, the UAE, Bahrain, Egypt, Jordan, and Lebanon. On broader economic and other domestic issues, the proportion of Qataris who say their government is doing too little dips to just one-fourth, or even lower.
While it is not clear how much attention this wealthy monarchy's rulers pay to public opinion, these findings suggest little reason for concern about popular protests. It should be noted, however, that the vast majority of the country's residents, over one million expatriate guest workers, are not included in the survey.
On foreign policy issues, only 16% of Qatari's say good ties with Iran are important—a notably low proportion, considering Qatar's relatively "pro-Iran" reputation among some critics, and its economic dependence on the giant South Pars offshore gas field shared with Iran. By comparison, half the Qatari public say good relations with the U.S. are important to their country. And a bit over one-third, almost as many as in the UAE, Bahrain, or Saudi Arabia, now approve Arab economic relations with Israel. A mere 14% of Qataris, however, predict a positive impact from the formal Abraham Accords with Israel, signed by four Arab states about a year ago.
Qatar's Citizens Overwhelmingly Reject Protests Against Corruption, Unlike Other Arabs Polled
Asked first about several domestic issues, only small minorities of Qatar's citizens fault their government for doing too little about them. The list includes: "dealing with … economic problems," 11%; "protecting the freedoms and privacy of individual citizens," 20%; and "sharing the burden of taxes and other obligations to the government in a fair manner," 24%. Topping this list, but at just 30%, is "reducing the level of corruption in our economic and political life." 
At the same time, a whopping 86% of Qataris, far more than in any of the other six Arab societies polled, agree with this proposition: "It's a good thing we don't have big street protests against corruption, as in some other Arab countries."     
Surprisingly Large Majority Say Relations with Iran Are Not Important
Regarding foreign relations, the most striking finding from this poll is the very low proportion (16%) of Qatar's citizens who value good relations with Iran. Moreover, only a minority (43%), remarkably, predict positive results from "recent Iranian-Saudi diplomatic talks." Contrast this with the three-quarters who anticipate good things from "the gradual steps to improve Arab relations with Turkey"—a particularly close friend of Qatar in recent years.
As for Syria's Assad regime, Iran's leading regional ally, only an astonishingly tiny minority (7%) of Qataris say "the moves by some Arab governments to restore relations" with him will have any positive effects on the region. Furthermore, the majority (59%) of Qataris expect a negative impact from "the election of Ebrahim Raisi as Iran's president." A similar majority (56%) even agree with this deliberately controversial statement: "Wherever Iran intervenes, it hurts the local Arabs and doesn't help the Palestinians."
A caveat concerns Qatar's tiny minority (probably around ten percent) of Shia citizens, who voice views somewhat more sympathetic to Iran. Two-thirds of them disagree with that last, negative view of Iranian interventions. Nevertheless, just one-fourth of Qatari Shia say they value good ties with Tehran.
U.S., China, Russia All Tie As Perceived Qatari Partners, But Few Want U.S. Troops in Region
To put those numbers in perspective, exactly half of the overall Qatari public say that good relations with the United States are important for their country. China and Russia are both statistically tied with the United States on this question. That equivalence is little changed over the past few years.
Of greater concern is the response to this purposely provocative assertion, asked here for the first time: "Our country cannot count on the United States these days, so we should look more to Russia or China as partners." The narrow majority (56%) of Qataris currently agree with that unfavorable judgment about American reliability.
In addition—and ironically, in view of the giant Al-Udeid airbase on their soil—Qataris sound wary about the American military presence in their region. Most (70%) foresee a positive impact from the U.S. troop withdrawal from Afghanistan. Conversely, just 19% expect a good outcome from "the U.S. agreement to keep a few thousand military advisers in Iraq." 
Few Back Abraham Accords with Israel, Yet Around One-Third Say Economic Ties All Right
A mere 14% of Qataris anticipate positive regional effects from the late 2020 "peace accords between Israel and the UAE, Bahrain, Morocco, and Sudan. (In the UAE and Bahrain, that figure is roughly double.) Still, 38% of the Qatari public agree that "people who want to have business or sports contacts with Israelis should be allowed to do so." In fact, some Israelis do visit Qatar, despite the absence of formal diplomatic relations. A third of Qataris (34%) also expect some good results from "the recent economic deals between Israel, Egypt, and Jordan." And almost as many (30%) foresee a positive impact from "the replacement of Netanyahu as Israel's prime minister," with 10% opting not to offer an opinion on the matter.
Younger and Older Adult Qatari Citizens Largely Agree, Contrary to Common Misconception
A counterintuitive finding—but one replicated both across the six other societies polled, and in previous years—is that there is almost no generational difference in reported attitudes on such questions. For example, among Qataris above or below 30 years of age, the percentage who voice favorable expectations from the Abraham Accords with Israel is exactly the same: 14 percent. Similarly, business or sports contacts with Israelis are acceptable to 38% of younger Qataris; among the older generation, that number is just one point lower, at 37%. Much the same pattern of generational consensus exists on the other topics covered in this highly unusual survey.
Methodological Note
This analysis is based on a personal interview survey among a representative national sample of 1,000 Qatari citizens, conducted in November 2021 by a highly qualified and entirely apolitical regional commercial firm. The sample was selected according to standard geographical probability procedures, yielding a statistical margin of error of approximately three percent.
The pollster provided strict assurances of confidentiality, quality controls, and Coronavirus safety protocols throughout the fieldwork. The other Arab polls cited here for comparison followed very similar procedures. Additional methodological information, including full Arabic and original English questionnaires, detailed sampling frame, demographic breaks, and other details are readily available upon request.