The Price of Corruption in Iraq: Kadhimi Faces the Challenge of Systemic Reform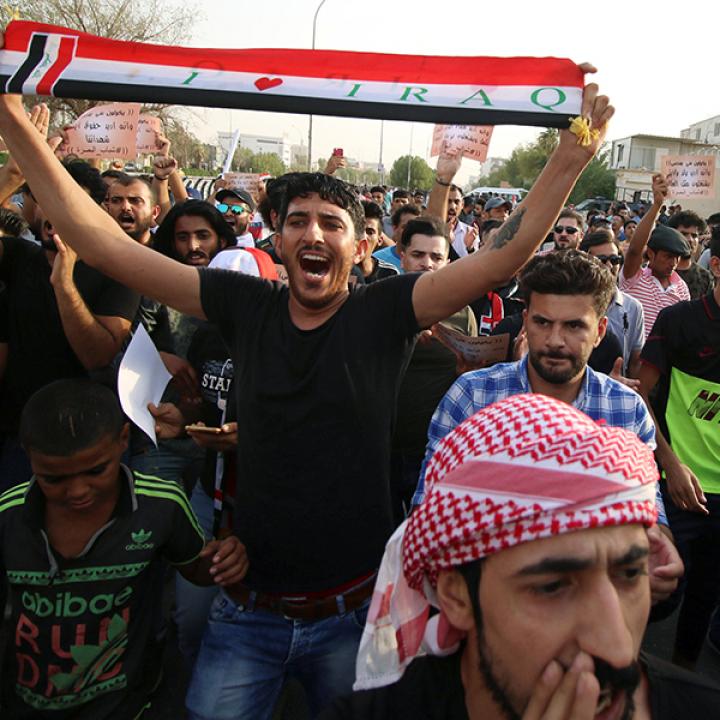 On August 27, the government of Prime Minister Mustafa al-Kadhimi formed a committee to investigate major cases of corruption in Iraq, acknowledging the ongoing frustration among Iraqis with the rampant corruption that has plagued the country.
Successive Iraqi governments after the U.S. invasion and the fall of Saddam have proved unsuccessful in managing the country's economic and security issues, advancing living conditions for Iraqi people, or improving public services. Rather, year after year, corruption in the Iraqi system has increased poverty and unemployment while syphoning of billions of dollars of public money into the pockets of government officials and special interests, with Iraq now listed as the twentieth most corrupt country in the world.
There are reasons to be hopeful that Kadhimi's committee is indeed doing what it has promised to do. In September, Kadhimi took several steps against Iraqi financial officials on corruption charges, including former director of the National Pension Authority, Ahmed al-Saadi, who was arrested by Counter Terrorism Service forces in Baghdad. Meanwhile, security forces arrested the director of the Qi Card Company, Bahaa Abdul-Hussein, at Baghdad International Airport, on allegations of his involvement in a major money-laundering network used by Iraqi politicians. Likewise, the Integrity Investigation Court in al-Karkh issued a travel ban on the former Iraqi minister of electricity, Luay al-Khatteeb, and the former head of the financial and administrative department at the Ministry of Electricity on corruption-related charges.
Notably, even those within Kadhimi's inner circle do not appear to be immune. On November 4, Iraqi security forces arrested Raad Al-Haris based on a complaint from the permanent investigation committee. The arrest warrant for the former deputy minister of electricity occurred despite Raad al-Harris's current position as adviser to Kadhimi.
Yet it will take more than individual arrests to tamp down corruption in Iraq. Corrupt dealings and competition between political blocs help drive corruption within the government. Often, Iraqi political blocs pressure each other into accepting self-interested deals or offering concessions to one another that benefit those blocs more than they benefit the Iraqi state and its people. This tyranny of competition between political parties and blocs naturally has negative consequences for the improvement and maintenance of state services and therefore the living conditions of Iraqi people, impacting access to basic utilities, education, and healthcare. Without addressing the systemic impacts of corruption, Iraqis will continue to be frustrated with how the system negatively impacts their lives.
The electricity crisis is one of the most notable instances of corruption in post-2003 Iraq. In 2016, the administration of former Prime Minister Haidar al-Abadi announced the construction of a $400 million, 500-megawatt electric power plant in Basra. But the new plant bafflingly ran on gas instead of oil, despite Iraq being an oil-producing country, costing Iraq millions of dollars annually in gas imports. In deals such as these, the mafias controlling the ministries and the government decision-makers that benefit from such corrupt deals that have weakened the state, bankrupted the treasury, and led the country to a high rate of foreign borrowing that has increased already substantial debts that the Iraqi state is still paying off.
Kadhimi was quoted by his own office in an official statement saying that "billions of dollars were spent in the past years on [the electricity] sector and were sufficient to build modern electrical networks, but corruption, financial waste, and mismanagement prevented solving the electric power crisis in Iraq." The statement came in the summer of this year as citizens suffered through the Iraqi heat without reliable power. Meanwhile, an Iraqi official noted that the scale of corruption in the Ministry of Electricity has reached nearly $41 billion since 2003.
Iraq's corruption likewise cripples the country's health institutions, whose fragility and defects have become apparent during the COVID-19 pandemic. Iraqi citizens still lack access to adequate treatment and health care in government hospitals. In 2019, during a time of comparative security and stability, Iraq's budget was $106.5 billion, but the Iraqi government at that time allocated only 2.5 percent of the budget to the Ministry of Health, while giving 18 percent to security and 13.5 percent to the Ministry of Oil.
According to a Reuters news agency report, which referenced World Health Organization data, the Iraqi government has spent a much smaller amount on health care per capita than much poorer countries over the past ten years. The Iraqi per capita share of this spending was approximately $161 on average, compared to $304 in Jordan and $649 in Lebanon.
Corruption has also affected educational institutions. After leading the region in the field of education during the 1970s, Iraq has since neglected its education system, and the country was absent from the global education quality index issued by the World Economic Forum in Davos for 2015-2016. Corruption in the Ministry of Education could be a major factor.
As a result of the corruption and neglect that have led to the low level of education and the lack of job opportunities for Iraqi university graduates, graduates are often choosing to work in fields other than what they studied at the university or institute, with many students opting to leave school in favor of the job market. As an added impediment to employment, the Iraqi government's sectarian quota system, allows some Iraqis obtain government employment through relationships or connections based on religion or party affiliation, while other qualified applicants struggle to get a job because they lack such connections or partisan affiliation.
Iraqi youth have therefore watched unemployment in their country increase under corrupt governance. In 2018, the poverty rate in Iraq was about 20 percent, but it has increased in the current year to 31.7 percent, according to a media statement by Iraqi Minister of Planning Khaled Battal al-Najem. The poverty rate is notably increasing in the already poor southern governorates: in Muthanna Governorate, the poverty rate has hit 52 percent and the unemployment rate increased from 22.6 percent in 2018 to 40 percent this year.
Other consequences of corruption in Iraq include security instability and fear on the part of international companies to enter Iraq for investment after many of them were subjected to blackmail and forced to make phony deals. This complicates the process of developing the country, especially in areas devastated by recent armed conflict. Cities remain in ruins, and the process of rebuilding them is faltering. Meanwhile, the current government has presented a white paper on reforms to solve the country's economic and financial problems, and political blocs are relying on this document, hoping that it will find a way to cut through the tangle of corruption inherited from previous governments.
Despite efforts to curtail corruption and revitalize the Iraqi economy, many Iraqis with whom I've spoken believe that Kadhimi's actions to eliminate corruption are just a media show with no convincing weight behind them. Although steps have been taken, they may struggle to find success against persistent corrupt trends and the resource-endowed strongmen of the Iraqi system known as "crocodiles of corruption" who will surely try to obstruct Kadhimi's anti-corruption efforts. With this institutional pushback and with a concurrent struggle to reform the Iraqi economy, the Kadhimi government may be hard pressed to fulfill popular demands.
In the meantime, the continuing impact of corruption will likely continue to drive Iraqis into the streets in an ongoing movement that began in October 2019. Despite the rising rates of coronavirus infections, demonstrators are continuing their popular movement in order to speed up realization of their demands that previous governments failed to achieve. Most notably, they are demanding the elimination of corruption and job opportunities at a time when state institutions suffer from the presence of idle workers who were hired according to partisan quotas and favoritism or by religious and sectarian affiliation.
Iraqis are looking for basic rights: safe drinking water, uninterrupted electricity, health care, infrastructure, and job opportunities, but these will not be possible without the dismantling of chronic corruption. Efforts on this scope will be difficult—especially since those who profit from corruption will work hard to keep the systems that benefit them in place—but necessary for the Iraqi people to gain more trust in the government.