Israel Faces a Biden Administration: Expected Disputes, Needed Adjustments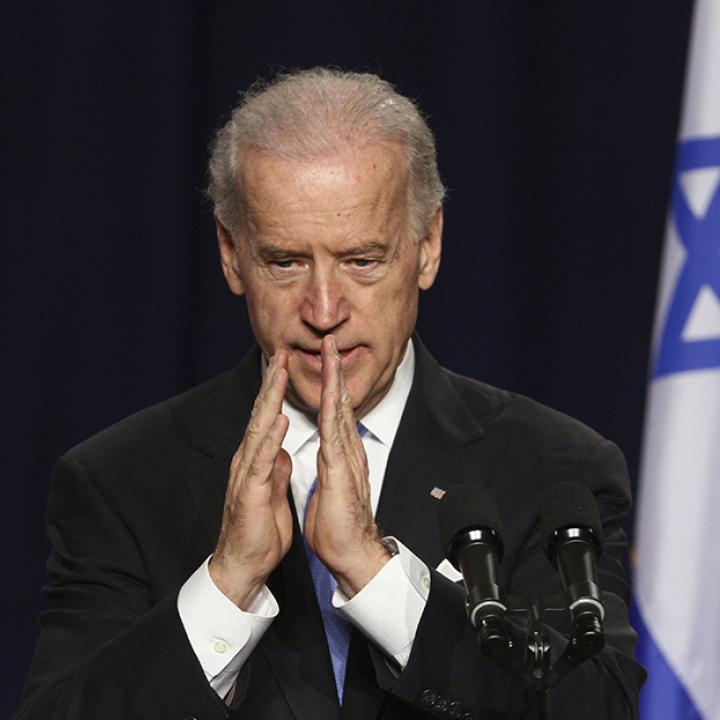 The election of Joe Biden as president of the United States requires Israel to reexamine its policies and modes of engagement with his new administration. No one denies that, throughout his years as a politician and vice president, the president-elect has displayed empathy and commitment towards Israel, its security needs, and its interests. At the same time, Israel and Israeli leadership have gotten used to a presidential administration very different from that of Barack Obama during the past four years. During the Trump administration, Netanyahu and Trump matched one another's positions so frequently that Jerusalem seemed to be heavily influencing, if not directly determining, U.S. policy in Israel and the Middle East at large. With a new administration, the two countries will need to relearn how to work together.
From Israel's standpoint, it will be imperative to narrow the gaps now apparently starting to open between the two countries. And, at least in the beginning, both countries will probably want to avoid publicly emphasizing such discrepancies and making them harder to bridge.
Establishing a Relationship
First and foremost, both sides will have to overcome parts of their past legacy and rebuild necessary trust. Biden will need to turn a new leaf regarding the Israeli government and its leader, refraining from calling them to account over accusations leveled against them during the Obama era. For its part, Israel's government will need to quickly internalize that realities have shifted, and that it should adjust its behavior to an emerging new U.S. policy.
To this end, Israel's government will need to quickly identify, preferably in a discreet way, the proper means of conducting a serious professional dialogue with the Biden team, even if not yet at the official level. This kind of communication is an urgent necessity, and there is no room to hesitate or wonder about President Trump's potential reactions. Prime Minister Netanyahu did well to congratulate Biden. Notwithstanding Trump's attempt to dispute the election, Israel should demonstrate in practical ways that it intends to greet the advent of the new administration with good will and clean, open hands.
This also means that Israel should resist taking any measures that might appear like attempts to grab last-minute favors from the outgoing administration or to hamper the incoming administration's ability to pursue its goals. Israel should also refrain, at least in the first few months of the new administration, from publicly criticizing the administration's decisions. Additionally, Israel should certainly refrain from getting entangled with Congress, especially if the Republican Senate majority remains.
Receding U.S. Involvement in the Middle East
The reality is that uncertainty will remain even if the necessary steps are taken during the transition period to progress mutual cooperation. The main test to their cooperative ability will be the capacity of both parties to work together in close concert. At the moment, it is hard to discern whether such cooperation will take place, and to what extent buried problems of the past might overpower mutual understanding and common interests in advancing cooperative modes of action.
Israel is well aware of a trend that began back in Obama's presidency, continued during Trump's, and will most likely persist during Biden's term in office: to limit, to the greatest possible extent, the United States' military interventions in the region. Israel cannot stop this development. Yet from Israel's own perspective, probably along with that of its Arab partners, it is vital that this process not damage the U.S. image as a leading power in the region, and that it not be taken as eroding the U.S. commitment to its allies therein.
This is because the contrary scenario would lead both to encroachments by other major powers such as Russia or China—who are even now working to find new paths of regional access and activity—and to even tougher postures by regional powers such as Iran as they seek to challenge their rivals and test the United States' willingness to respond. It is therefore incumbent upon Israel to try and convince the new U.S. administration to invest more policy and diplomatic attention in the Middle East. Otherwise, as a sense of waning U.S. attention to the region develops, local actors will look for alternative allies to secure their own interests irrespective of those of the United States.
Navigating the Question of Iran
Most notably, the issue of Iran will lie at the very center of any future tension between Israel and the incoming U.S. administration. The approach of the Trump administration closely resembled that of Netanyahu and of the Gulf Arab leaders, who all took care to maintain tight coordination with Trump over the past four years and played a significant role in pushing the Trump team's hardline posture toward Iran.
At first glance, one might imagine some Israelis fear the Biden team would like to simply skip over the past four Trump years, turn the clock back to where it stood at the end of Obama's term, and go on from there. But this is not a feasible prospect, as neither the Biden team nor the Iranian regime can ignore existing realities.
Instead, the key question lies in how to leverage sanctions in order to resume negotiations and thereby advance the goal of reaching a better, more comprehensive agreement than the JCPOA. In this context, Trump's policy actually serves the interests of the incoming administration by providing it with the means to exert economic pressure on Iran and perhaps to influence its behavior. Biden and others have already previewed the essence of their prospective policy in various published articles. Yet it is still not clear from any of those sources precisely how they intend to persuade the Iranian regime to come to the table as the regime persists in its refusal to restart negotiations.
The details of how this might play out are beyond the scope of this short essay. But the danger of a confrontation on this issue between Israel and the new U.S. administration is high. It will prove a real test for both sides to avoid getting into a struggle over Iran policy, which would yield no benefit for either party. In the end, the correct formula must be one that will make real to Iran's Supreme Leader the severity of the threat against him, while at the same time offering him a way to "climb down from the tree" and justify, to himself and to others, the necessity of resuming negotiations.
For now, Israel should focus on strengthening the core agreement signed in 2015, insisting on the following: extending its expiration date of the sunset provisions, reinforcing its inspection provisions, especially regarding military sites, and including the issue of Iran's missile array in a new agreement.
The Peace Process and Normalization
Naturally, there are some additional issue sets on the Israeli and U.S. agendas with the potential to spur debate. First and foremost is a resolution of the Palestinian problem and its linkage to the new process of normalization that has begun between Israel and several Arab states.
The Biden administration is expected to emphasize the principles laid down by previous Democratic administrations, starting with adoption of the principle that "two states for two peoples" is the preferred solution to end the conflict. In any case, it is highly likely that the Biden team will be more sympathetic to the Palestinian leadership than the Trump administration was. Nevertheless, one should not anticipate that this issue will garner top priority in Washington considering the plenitude of other challenges, including foreign policy issues, confronting this new administration.
The process of promoting a settlement with Palestinian leadership, of course, is subject to internal debates within Israel itself. Israel's current unity government makes it possible to offer the administration a bit more in practical terms, perhaps in exchange for a tougher U.S. policy on Iran. That being said, the chances are higher that at least PM Netanyahu will try to evade or delay the whole issue. This will certainly be the case if Israel is to face another round of elections in 2021.  
At the same time, the normalization process enjoys broad Israeli support. It is reasonable to suppose that the Biden administration will also continue to attach importance to this process. Biden can be expected to keep backing a process of advancing Israeli normalization with Arab states—even if his administration may be less generous regarding the "price" the United States pays for such arrangements.
Of note, Biden's attitude toward Saudi Arabia—considered the central, most important player in completing this process—is more critical than Trump's attitude was. Despite that colder approach, however, Saudi Arabia may well be inclined to offer the new president the "gift" of normalization precisely in order to improve its good graces with the incoming team, especially in the wake of severe criticism from Democrats over the Saudi government's engagement in the war in Yemen and the murder of Jamal Khashoggi, among other issues.
Clearly, progress in this channel will exact some costs from both an Israeli and an U.S. perspective. Israel's interest will be that, while one should respect values and human rights concerns, one must also appreciate and encourage Arab leaders who dare to normalize relations with Israel—even at a certain price. This argument will likely go with the notion that normalization contributes to regional security and to the collective capacity to cope with threats—with the emphasis on those emanating from Iran. 
Looking forward, there are a number of potentially thorny questions the two sides must now navigate, and realities in the Middle East do not allow the two parties much time to make these adjustments. Fortunately, due to the two countries' special relationship and mutual commitment to defending against possible threats from other states or terrorist groups, the potential to bridge these gaps exists. And there are steps available to both governments that will smooth the way in securing such a cooperative relationship.
In any event, one must not approach this transition in terms of "good" or "bad," either for Israel or for the United States. Rather, the correct course is to examine the opportunities that both countries can develop while preparing to deal with the potentially difficult and numerous challenges that may arise in their relationship. If both governments can take a pragmatic, realistic approach to the current moment, a continued healthy alliance is well within reach.