Is Iran Close to a Major War in Syria?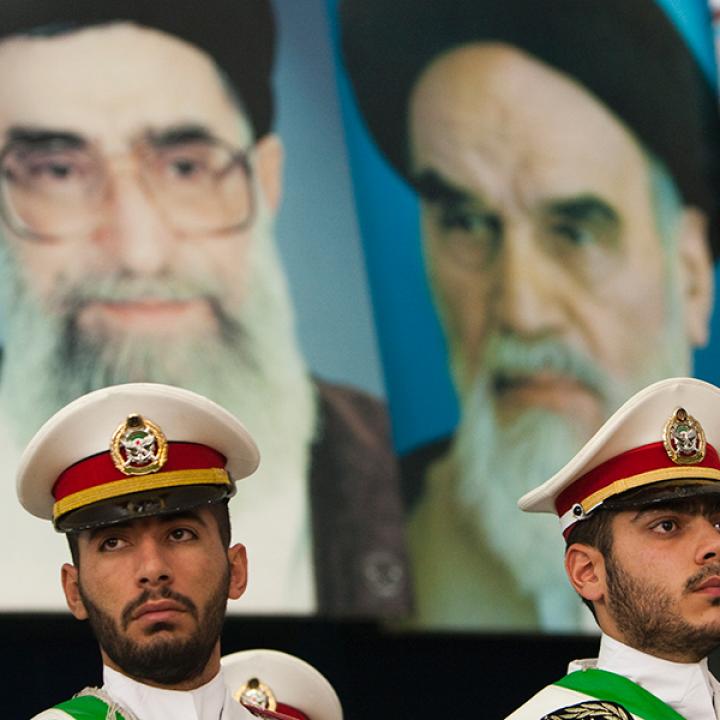 The latest exchanges of missiles between Iran and Israel inside Syria are a vivid symptom—but not the root cause—of the looming specter of large-scale armed conflict in that theater. In fact, quite apart from this week's U.S. decision to withdraw from the Iran nuclear deal, other recent regional and international developments have indicated that conditions are ripe for a war against Iran. Here we must emphasize that the concept of war does not necessarily mean that Iran itself will be hit first with bombs or missiles, but that the mere sense among Iranian political decision-makers that Iran or its regions of influence face imminent conflict is itself leading toward this war. A review of internal and external developments in Iran suggests that something like this will happen.
On the domestic level, the internal political conflict between Iran's various political movements has reached its most intense stage. On one hand, the Iranian Revolutionary Guard is no longer convinced by the actions of President Rouhani's government, especially with regards to security and the economy. At the same time, the doctrine of Vilayat-e Faqih now requires a reconsideration of how much legitimacy Supreme Leader Ali Khamenei actually enjoys within the Iranian state hierarchy, given that he has become the focal point for all criticisms directed at the political regime in Iran. This has been the case especially since the protests Iran witnessed in December last year. Ali Khamenei was not spared from criticism, whether from Ahmadinejad, the reformist leadership, the Shirazi movement, the Nehzat-e Azadi (the Freedom Movement), or others – all of which suggests that a great rift has begun to open up within this regime.
The Iranian people are also still waiting for the economic and social promises made by the Iranian government to materialize. So far, nothing has been implemented except more doses of anesthesia, which aim to absorb the growing popular anger of the Iranian street – which seems to be waiting for the right opportunity to interact with an international effort to bring down Iran's political regime. The economic crisis has now reached its nadir after the sharp decline in the value of Iran's currency against the U.S. dollar, which appears set to continue in the coming days. This has come alongside other challenges, including the escalation of international sanctions against Iran. In addition, the Iranian Revolutionary Guard is smuggling a great deal of its capital outside the country, which has affected the value of Iranian currency and the liquidity of hard currency inside Iran.
Iran is also suffering on a social level: after the hijab protests and the Telegram app crisis, as well as the new restrictions on social freedoms, protests are still smoldering in majority-Arab Ahwaz and other outlying provinces. All of this confirms beyond any doubt that there is a major crisis that the Iranian regime is unable to confront. Even if the regime survives, its apparent internal contradictions add to outsiders' temptations to strike a military blow against its overextended foreign interventions.

Moreover, time may be running short. The newspaper Shargh, which is close to the reformist movement, has reported that political arrangements have been underway behind the scenes to make early preparations for the post-Khamenei stage, whereby the Revolutionary Guard will swoop into power in order to maintain its authority by appointing a new Supreme Leader subject to its orders. In this context, we must not forget that a religious figure cannot become the Supreme Leader in Iran without going through the Revolutionary Guard's channels.
The newspaper also reported that conservative movement leaders in Iran, along with the pillars of the deep state, have become convinced that if internal and external affairs continue on their current track, the next president of the republic must be a military figure. This was expressed by Hossein Allahkaram, a professor at Islamic Azad University, who said that the next president should be a strategic military figure and offered a number of options, such as Qasem Soleimani (head of the Quds Force), Mohsen Rezaee (former commander of the Revolutionary Guard and the Expediency Discernment Council), Mohammad Bagher Qalibaf (previous commander of the Revolutionary Guard Air Force, director of Khatam al-Anbia, and mayor of Tehran), as well as other personalities who may be close to the conservative movement, such as Hossein Dehghan, Masoud Jazayeri and others. If this were to happen, the closest, it seems, would be Qasem Soleimani, by virtue of his internal relations with Iran's deep state, as well as his foreign relations with various political and armed movements in Iran's orbit.
At the international level, to be sure, the United States has suggested it may eventually pull out of Syria. But if so, this may be less a sign of strategic retreat than a tactical way to distance American soldiers from any possible retaliation Iran might undertake if it faces a full-scale war. The major influx of fighters from IS into the Syrian Badia region has, in turn, threatened Iran's logistical supply lines for its militias in Syria. And weeks before the latest Israel-Iran missile exchanges, the Israeli newspaper Maariv published an intelligence report indicating that there has been Israeli-American coordination to carry out military attacks on Iranian militias in Syria.
These developments cannot be separated from the previous round of chemical attacks by the Assad regime against the remaining rebels near the capital of Damascus. What is most important is not the attacks themselves, but who gave the order to carry them out. As is well-known, the ones who make the security decisions in Syria are Russia and Iran. Russia has long viewed Iran as a burdensome ally in Syria for many reasons, chiefly because Russia views the crisis in Syria differently from Iran. Yet Iran knows that without its presence, Russia would not be able to function inside Syria, given that it is Iran that controls the ground while Russia is limited to the air. What can be learned from this strategy is that the upper hand belongs to those who control the ground, and it seems that Russia understands this fact well. This may be what has pushed Iran to behave indifferently, so long as those fighting in Syria are not actually Iranian, but Iraqi, Afghan and Pakistani militias and the regime army, with Iran only sending advisers from the Revolutionary Guard who linger on the rear lines.
It seems likely that Iran gave the order to carry out the chemical attack on Douma, given that the reasons driving Iran to carry out this act are greater than those which would have pushed Russia to do so. Given that the Jaysh al-Islam rebels in that area have had somewhat good relations with the United States, Iran believes their presence in Douma could open a new front in Damascus if Washington considers it worthwhile to do so. The forces would also comprise a major obstacle to achieving Iran's project of demographic change in the area. Iran does not want to see any armed Sunni rebels near Damascus for many reasons, including that they could play a role in any war that Israel might carry out against Iran and its militias in Syria due to the magnitude of the damage Iran has inflicted on them.
The United States and its Arab allies should consider a limited, punitive strike against Iran's presence in Syria during the coming stage and afterwards switch to a larger, deterrent blow as needed, while leaving Israel the task of demonstrating its absolute military dominance in the vital southern theater. There is also a need to cut Iranian logistical support routes in the areas of southern Syria up to Qalamoun, which Iran uses as a route to deliver military aid to Hezbollah. Furthermore, the Kurds have a major role to play. In particular, they should be given room to maneuver in areas close to the cities of Deir Ezzor and Raqqa, especially after Iranian Revolutionary Guard forces withdrew from these areas in April 2018 following secret negotiations with the Russians. The United States will also need to put greater pressure on the Iraqi government to accept these military operations, or at least to prevent Iran's militias from crossing into Syria.
In summary, it can be said that the conditions today have become ripe to finish off the Iranian project in Syria. Yet it can also be said that Iran's insistence so far on adhering to the nuclear deal, despite the U.S. withdrawal, could be the last straw saving it from major destruction. On balance, however, the international and regional situation today has become more conducive to a war against Iran's legions in the Levant. Relevant factors include U.S.-British-French alignment on containing Iran's regional adventurism, the growing Israeli appetite for a war in Syria against Iran, and Saudi Arabia's increasingly activist foreign and security policies. Saudi Arabia, bolstered by growing U.S. support, has turned confrontation against Iran in Syria into its established military doctrine, as the Kingdom believes this is the best framework for confronting Iran's project in the region as a whole.