How Qatar Seeks To Establish New Trade Routes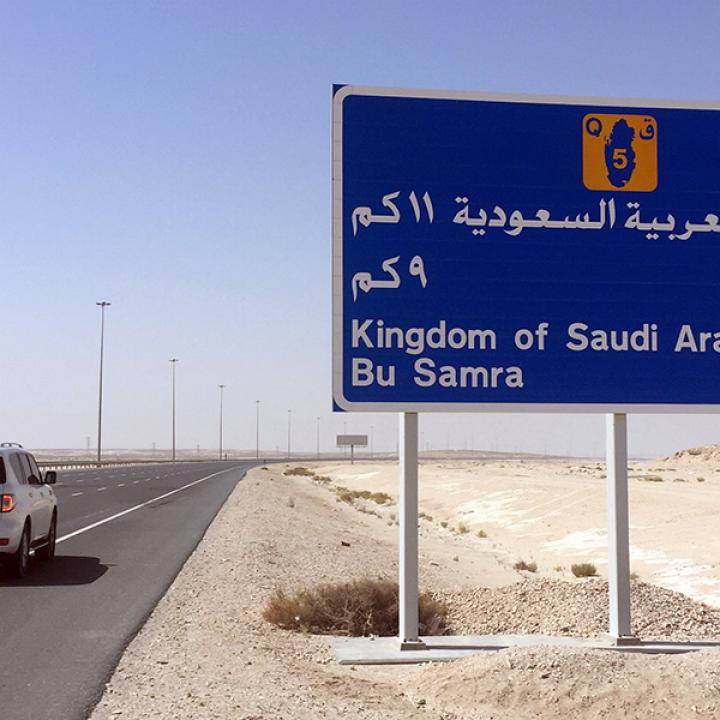 September 13, 2017
On June 5, Saudi Arabia, the United Arab Emirates, Bahrain, and Egypt severed diplomatic ties with Qatar over allegations that Doha is supporting terrorism and that it embraces Iran and its regional agenda. The Saudi-led quartet (Quartet) also imposed an economic embargo of Qatar — which includes cutting off all food supplies and access to medicine — by closing off land and maritime borders. Towards that end, the Quartet also closed down all air routes to and from Doha from their respective countries, which has dramatically impacted Qatar Airways' ability to compete against its regional competitors.
Furthermore, all Qatari citizens have since been expelled from Saudi Arabia, Bahrain, and the UAE, and their citizens living in Qatar were provided a fourteen-day deadline to leave the besieged country.  Egypt, however, has not placed any travel restrictions on its citizens residing in Qatar, nor has it expelled Qataris living in Egypt or imposed an economic embargo on Doha.
For its part, Qatar has not expelled any citizens from the Quartet, and the government has taken concrete steps to ensure that the supply of food and medicine had minimal disruption on its people by expanding trade with Turkey, Iran, and Oman.
The Quartet has taken all escalatory measures available to them against Qatar, short of military measures. Qatar cannot be expelled from the Gulf Cooperation Council (GCC), as it would require unanimous consent, including from Doha. In the case of the Arab League, Qatar's membership could be suspended but it appears that Washington intervened when President Donald J. Trump called his Egyptian counterpart, Abdel Fattah el-Sisi, on July 5 to prevent the Quartet from doing so.  The prospect of a Qatari expulsion from the Arab League has not been discussed since.
The Blockade's Economic Impact
The impact of the blockade to date has had little visible impact on life and business on the ground, as the government has sought to portray a sense of normalcy despite Doha's regional isolation by using its significant reserves to manage the impact.
The Central Bank of Qatar has an estimated $340 billion in reserves. 
The fundamentals of its economy remain strong and the Qatari banking system is well capitalized and has sufficient liquidity. It also helps that its banking system is not dependent on any of its neighbors.
Furthermore, through Qatar's sovereign wealth fund, the Qatar Investment Authority, it has invested billions of dollars in the international market over the past decades. 
The blockade has nonetheless been a costly experience for the government as Saudi Arabia cut off all foods supplies, including dairy products, chicken, and meat through its land and maritime blockade, which forced the Qatari government to secure its food supplies from elsewhere.
In order to secure immediate food supplies, during the first day of the blockade, June 5, the Qatari government dispatched two of its C-17 Globemaster military transportation aircrafts to Turkey to load up basic consumer goods. Qatar's fleet of C-17 transportation aircrafts also contribute to the U.S.-led global coalition against the Islamic State by carrying soldiers and supplies from the al-Udeid Airbase to Iraq.
Qatar simultaneously announced on June 4 that it would increase its output of liquefied natural gas (LNG) by 30 percent over the next five to seven years. The announcement confirms that Qatar — already the world's biggest producer of LNG — is not only determined to shift back into a phase of rapid production expansion after years of little growth but is also preparing itself for the possibility of a drawn-out and costly embargo. The increase in LNG production was welcomed respectively by China and Russia, which in turn could strengthen Doha's relationships with Beijing and Moscow as indications suggest that the GCC crisis is not about to be resolved anytime soon.
As part of the Qatari government's apparent objective to keep up the morale of its people while facing extreme uncertainty during the initial phase of the blockade, which coincided during the fasting month of Ramadan, it deliberately chose not to impose any restrictions or rations.
Towards that end, the government set a goal for itself that all supermarkets should be fully supplied for the morning of June 6 – which included dairy products, chicken, eggs, and vegetables – so that the consumer would not be impacted. Qatar was able to achieve this goal because of its food banks, which provided the necessary space to pursue alternative supply chains.
While the Qatari government continues to closely monitor the food prices and absorb what are believed to be costs pertaining to securing basic supplies from third parties, no official data has been released of the cost to the Qatari treasury.
Eager to enter the Qatari market, the Turkish government ordered Turkish suppliers to take advantage of the GCC crisis by increasing prices.  The Turkish government is also applying diplomatic pressure on Doha to select Turkish vendors and to sign long-term agreements. Through its enormous agricultural sector, Turkey quickly demonstrated its capacity of meeting Qatari market demands – 200,000 tons of vegetable per day and an unspecified amount of dairy products per day. Logistic costs pertaining to food transportation remains a long-term challenge, but the Qatari government has not released any official data on the matter.
In order to secure food supplies, the Qatari government has established the following trading routes:
Route 1:  Sea route from Turkey to Doha
Route 2:  Land route through Turkey and then over sea to Doha
Route 3:  From Aqaba, Jordan and then by sea to Doha
Despite the crisis, the Qatari government anticipates that any of the three transport routes will become more efficient over time.
As part of Doha's strategic decision to relinquish its dependence on food supplies from Saudi Arabia, the government seeks to diversify its supply chain.  However, a key lesson learned from the blockade is that Qatar wants to ultimately become self-sufficient when it comes to meat, dairy products, fruit, and vegetables. As part of that effort, Qatar has expanded its food bank reserves and established storage for grain.
In the meantime, imports via Hamad Port and Hamad International Airport continue to operate normally.
Qatar has also removed its supply-chain from the Jebel Ali Port (UAE) to the Omani ports of Salalah and Sohar, which has strategic implications for the Qatar-Oman relationship. Oman, long-considered an outlier within the GCC, has sought to protect its policy of neutrality and non-interference by calling for a peaceful resolution to the crisis. For decades, Riyadh has repeatedly sought to use its diplomatic leverage to convince Oman to take its lead on regional matters, which Muscat has resisted. The Qatar crisis, therefore, has also unnerved Oman, as it fears it could face Saudi pressure over its historic relationship with Iran.
Exports
Qatar's trade with Saudi Arabia, the UAE, and Bahrain accounts for less than 8 percent of total exports, according to Qatari government data. This includes gas exports to the UAE, which Qatar continues to honor as it is preparing legal action against the Quartet with the World Trade Organization over its economic embargo.
Under the various commercial agreements with the UAE, Qatar provides Dubai with 80 percent of its power supply; and provides 40 percent of the UAE's power supplies.  Given its planned WTO complaint against the UAE over its decision – among others– to cease Qatar-bound cargo at the Jebel Ali Port, Doha is unlikely to cut off its energy supplies to the UAE.
Despite the blockade, Qatar remains the world's largest exporter of LNG and has not missed or delayed a single shipment, according to the Qatari government.
Exports to Asia, including Japan, India, South Korea, and China, account for nearly three-quarters of Qatar's exports – QR150.1 billion out of QR208.4 billion. Trade with these nations – which include the export of LNG, oil, and petrochemicals – remains unchanged, according to Qatari government data.
Aviation
The Quartet's initial decision to close down all air routes to and from Doha from their respective countries could be a strategic game-changer to the detriment of Qatar Airways. By forcing the airlines to re-route over Turkey and Iran, its costs are not only increasing in the short-term but it could lose its market position within the GCC altogether, especially in the event that the crisis drags on.
As Emmaline Ivy Johnson and Grant T. Huxham argue in a recent essay for the International Policy Digest,
Airlines operate on thin-margins; with an industry fact that profits are generated by business and first-class seats, and economy making a contribution towards covering operating costs. The Partnership for Open & Fair Skies observed that Qatar Airlines had declared a $703 million operating loss for the fiscal year ended 2017, and that was after receiving nearly $500 million in subsidies. Further, "Airline Weekly noted on June 19, 2017…that Qatar Airline had the 4th worst performance in the entire global airline industry"[Emphasis of Open & Fair Skies]. The key issue here is that this lackluster financial performance occurred before the restriction of air-rights. And this restriction makes air-travel much more expensive for Qatar Airline today.
While the government of Qatar has sought to downplay the risk of the crisis to its economy, and to its signature carrier in particular, by emphasizing that only its GCC business has been impacted and that all transcontinental flights –connecting Doha to the Americas, Europe, Africa and Asia– are unaffected, Qatar Airways could fall victim to the crisis whether it means being forced to scale back on its global routes or even face the prospect of bankruptcy. Observers will likely look to Qatar Airways for clues on how Doha manages the economic challenges prompted by the boycott, and as a barometer for the country's overall economic health.
Acknowledgement: 
This analysis draws heavily on interviews with the Qatari leadership conducted while on a trip to the country funded by the Qatari government. Given the sensitivity of the subject matter, these officials requested that their comments and insights be used on a not for attribution basis. Names and affiliated organizations of these individuals have therefore been omitted from the text. However, any mistakes made are entirely my own, as is all analysis.