Erdogan's Influence in Europe: A Swedish Case Study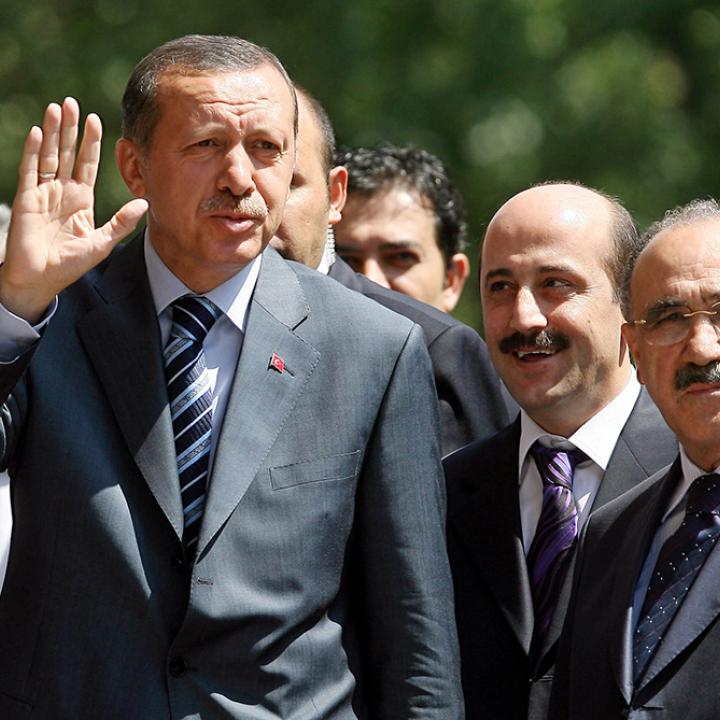 In August 2019, Mikail Yüksel—a Swedish politician of Turkish origin—founded a new party in Sweden called 'Nyans' (Nuance). Yüksel, formerly a member of Sweden's small liberal, slightly left-wing, Center-party, started the new party after being forced to resign on the cusp of Sweden's elections to the European Parliament, where Yüksel had been a leading candidate. Yüksel had been pushed out for alleged connections with the Turkish Grey Wolves, the militant youth wing of Turkey's ultra-nationalist MHP, of which his father is a member and coalition partner to President Erdogan's AKP. Yüksel has started Nyans as a party specifically focused on issues that its founders view as affecting Muslims in Sweden. 

Nyans and its founder makes such an interesting case study as the party presents a new data point in a concerning trend in European politics: Erdogan and Turkey's political leadership appear deeply invested in a number of small European parties that align with Erdogan's own political vision he is enacting in Turkey. In Europe, this is taking place as part of Turkey's deep investment in maintaining political connections with—and preferably control over Europe's large Turkish diaspora.

Erdogan's government has been very assertive in building economic, social, and religious bridges to European parties it views as politically in alignment with its own interests. Erdogan openly outlined this policy on Albania TV in June 2017, stating that there is nothing wrong with supporting political parties in the Balkans and other European countries that share an ideology similar to that of his Islamist AKP, and that "nobody should be bothered by this effort."

Turkey under Erdogan has also been very assertive in building bridges through various NGOs, religious movements, and social clubs, emerging most notably through reports that European-based Imams supported by the Turkish government's Diyanat—Turkey's religious affairs office—have acted as spies against oppositionist Gulen supporters—accused of starting the 2016 coup attempt.

Apart from ties with already well-known Islamists in Sweden, such as former Housing Minister Mehmet Kaplan and activist Yasri Khan (formerly with the Green Party), the platform of Nyans also emphasized themes common to extant European Islamist parties that Erdogan has viewed as beneficial to his own interests. The platform pushes for Muslims to become an official homogeneous minority based on a specific definition of Islam; to give Muslims (according to this specific definition) a preferred and protected status currently possessed by Jews and indigenous Swedish populations but not other minorities; to make criticism of Islam a hate-crime; and to make Islamophobia a specific crime. Nyans is not the first example in Sweden of a party focusing specifically on these issues, as it was preceded in 2017 by a party called 'Jasin,' which explicitly stated that it intended to follow sharia law. However, Jasin failed to receive the necessary amount of signatures to participate in Sweden's subsequent national elections. These parties should not be assumed to necessarily be representative of Muslims as a monolithic entity; a large majority of Sweden's Muslims are not members of any Muslim organization. 
Sweden also saw political efforts from Islamists during the 1999 deal between the Social-Democratic movement 'Tro & Solidaritet' (Eng. 'Faith & Solidarity') and'Sveriges Muslimska Råd', SMR (Eng. 'The Moslem Council of Sweden'), which several observers have argued has some roots with the Islamist Muslim Brotherhood (MB). Under this agreement, the SMR received a number of safe spots on party-lists on condition that it promoted the Social-Democrats. Since then, MB-affiliated movements and groups have multiplied, receiving funding from the public coffers, and established themselves as the 'go-to' Muslim representation in Sweden. 
Yet in Sweden's current political environment, Nyans stands a far better chance than Jasin did at achieving political representation, and will begin by running in parliamentary elections and local elections in Stockholm, Gothenburg, and Malmö, all scheduled for 2022. Nyans' advantages are based on the strength of local organizations in these three main Swedish cities, as well as in smaller cities like Örebro and Växsjö, in which it also plans to participate.
Moreover, Yüksel's response to his removal from the Center-Party has been a case in point for his continued connections to Ankara. After his dismissal, Yüksel naturally tried to spin his forced exit, but notably has directed that spin to a pro-Erdogan Turkish audience. In an interview with the Turkish state-run news Anadolu Agency, he claimed that the Center-Party had attempted to force him to speak out against Turkey. When he refused, he faced troubles within the party that led to his dismissal. He also claimed that he had been asked to speak against Turkish President Erdogan directly, which he again refused—according to the interview, these were the reasons why he faced a negative campaign in Sweden.
It is significant that these claims were staked in Turkish rather than Swedish media; had such allegations been widely known in Sweden, they would have been easy to dismiss. For a Turkish audience, however, such claims, especially without any additional context, were more plausible. It is also safe to assume that Nyans' platform will never engage in criticism against Erdogan's Turkey.
Yüksel's story bears similarities to several generally outspoken pro-Islamist individuals that are active in Sweden's party-politics outside of the Center-party. One well-known example is Omar Mustafa, who was on the cusp of being elected to the ruling council of the Social Democrats in 2013. Protests from both within and outside the party pointed out his many ties to Islamists, including Anti-Semitic and homophobic Islamic preachers, leading to his resignation from the party. Another example is the above-mentioned former Swedish Minister of Housing Mehmet Kaplan, who also had to resign when it was reported that he had ties with the Grey Wolves after photos emerged of him attending a dinner with them in Sweden. Other examples from local party-districts have surfaced from time to time, and the National Swedish Committee Against Anti-Semitism  in particular has pointed out that Anti-Semitism coming from politicians and activists affiliated with political parties are often overlooked by party-leadership in Sweden.
In other European countries, parties such as the Denk party in the Netherlands have faced criticism from several notable Dutch politicians for their close ties to Turkey. Denk leaders have rejected multiple opportunities to criticize Erdogan's poor human rights record, especially since the 2016 coup attempt.
But Yüksel's ties to Turkey and the AKP are notable for how deep they run, and his election bid for the Center-Party (for the European elections) has received wide coverage from Turkey's state-run news Anadolu agency. Most overtly, he campaigned in the town of Kulu, located in Turkey's Konya, notable for its thousands of former residents who have since migrated to Sweden. Yüksel's father, Orhan Yüksel, is the former mayor of Kulu (1999-2004) and a major figure in the ultra-nationalist MHP. Though Orhan has also run in subsequent mayoral elections in 2009 and 2014, he has lost on both occasions.
Orhan's response to his son's challenges in Swedish politics has been to blame Turkish opposition, further underlying the perceived ties between Turkish politics and those in the diaspora. Orhan has publicly stated that Turkey's main opposition party, the CHP, and campaigns by the outlawed Kurdistan Workers' Party (PKK), which Turkey has designated a terrorist organization, were responsible for his son's political controversy in Sweden.
Yüksel may also find more electoral support in the future as Turkey ramps up its indirect involvement in Swedish politics. This involvement is already visible: during Swedish elections, Turks with Swedish passports are encouraged to vote in Turkey. This is done under the supervision of Turkish intelligence and politicians such as Yüksel and Kaplan who have traveled to and campaigned there as well. Parties deemed supportive of Turkish interests and government may also receive aid in various forms. According to former Ankara head of the now-shuttered Today's Zaman, Abdullah Bozkurt, who has lived in Sweden in exile since 2016, Turkish state-supported voting is also a common occurrence throughout Europe.

Such efforts echo earlier tensions surrounding Bulgaria's 2017 elections, where reports of a Turkish minister lobbying for the Bulgarian DOST party among Bulgarian citizens living in Istanbul. Moreover, Turkey has ensured closer political ties with dual nationals by allowing any Turkish citizens abroad to vote in Turkish elections since 2014, a practice it actively encourages among the Turkish European diaspora, which is often perceived as pro-AKP. Indeed, this policy payed off during the last Turkish elections in 2018; nearly half of Turkish citizens living in Sweden eligible to vote who voted in the Turkish election gave the AKP and MHP their votes.      
Erdogan's support for European parties aligned with his interests and has bolstered another trend in European politics: the rise of Islamist parties supporting an inclusion of Islamic legal traditions in secular state law. The Muslim Brotherhood has played a key role in this spread in Europe, as it has been very successful in presenting itself as the key representative of Muslim communities in various European countries. This influence is most visible in the MB-founded Federation of Islamic Organizations in Europe, which supervises dozens of organizations throughout Europe. Small parties such as the pro-Sharia ISLAM party of Belgium has also raised concerns about the ways in which Islamist parties prioritize religious law in their political platform.
This trend is occurring despite the fact that contemporary European political parties, particularly in Scandinavia, often base themselves around  core features of ideas and ideology—notwithstanding examples such as the parties aligned with the Christian Democrat movement or the linguistic-political divide in Belgium. But the MB, as one of the most organized voices in the European Muslim world, have successfully represented themselves as the sole representative of Europe's Muslim communities across Europe's ideological spectrum—aided by the recent political focus on identity politics and intersectionality. The Federation of Islamic Organizations in Europe (FIOE) is a prime example of this intersection.      
Turkey under Erdogan, who himself has shifted Turkey's notably secularist political character closer towards Islamism during his tenure, has been quick to see the political benefits of soft power and influence among Islamist politicians in Europe. Political parties such as Nyans appear set to draw the benefits of those processes and enter legislative assemblies locally and perhaps also nationally. It is quite possible that in a few years time, Nyans could take votes from the Social-Democrats, the Greens, and the Left-party and enter parliament or, at least, local assemblies. It is likely that Erdogan will interpret this shift in Swedish politics—or any similar developments in other parts of Europe—as a win for his own policy towards Europe. 
As such, Erdogan likely sees parties like 'Nyans' as an effective way to influence European countries via political proxies that retain close ties to Turkey. This doesn't mean that the parties don't have legitimate issues to pursue or real questions that need to be addressed. Apart from issues of discrimination (real or imagined), issues of segregation and lack of integration in parties are legitimate points of debate in Swedish politics. Yet almost 40 years of an official policy of encouraging multi-culturalism putting the collective ahead of the individual—and thereby contradicting ideas of integration and assimilation also on display—have made it easier for parties such as 'Nyans' who argue for making—in this case—one's religious affiliation, the deciding factor in politics. 'Nyans' can therefore show up as the 'real deal' and appeal to voters who otherwise might have chosen another traditional party.
These developments suggest that polities in Europe will have to take a long hard look on how its democratic structures should handle misuse and hostile attempts—notably by foreign powers—to force unwanted labels on its Muslim populations.