The COVID-19 Crisis: An Opportunity to Transition to a Post-Oil Economy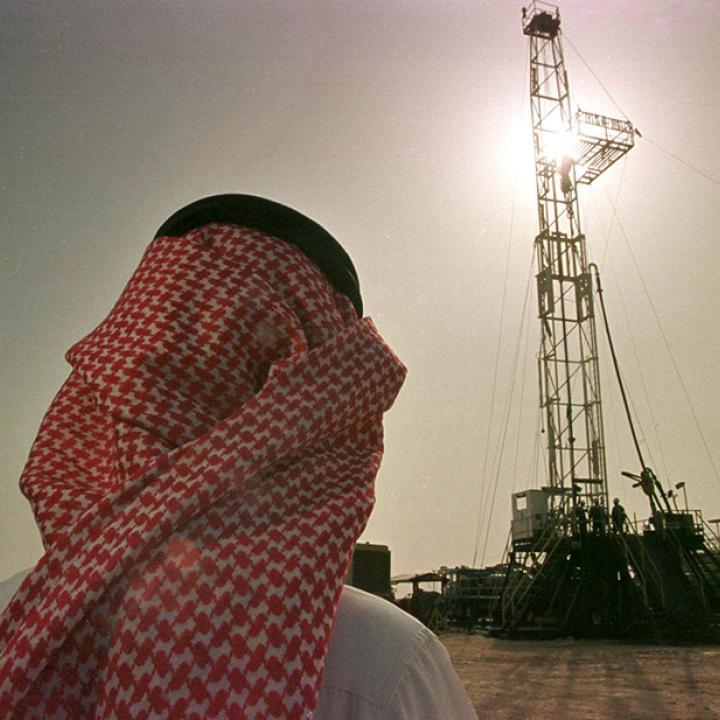 Oil resources have wrought unprecedented developments in Gulf society, but these successes have been tainted by what is known as the "oil curse." The past several years have given the Gulf an opportunity to change this trajectory.
The gains made by the Gulf over the past several decades due to its oil wealth are tremendous, especially when it comes to the development of reliable infrastructure and progress in economic and social issues. However, the region also suffers from the negative repercussions of oil—reliance on this resource has prevented the diversification of economic activity and presented limited incentives for becoming competitive in foreign markets. As a result, the social and economic performance of many countries with abundant natural resources has been lower than that of comparable nations that lack these resources. In other words, the "oil curse" scenario has become the rule; it has only been a blessing in exceptional cases in which countries have put these resources to good use for development, such as Malaysia and Chile.
The "oil curse" phenomenon is linked to what is known in economics as the "Dutch disease." This latter term refers to the negative ramifications of the discovery of natural resources such as oil, natural gas, or minerals. These discoveries often lead to currency appreciation because of foreign funds channeled into investment in these new resources. As a result of these inflows of remittances, the value of local currency rises, which prevents the country's non-oil exports from becoming competitive. What makes matters worse is that natural resources do not provide incentives for investment in alternate economic activities, innovation, and does not result in competitiveness in foreign markets. In this scenario, businessmen pursue lucrative private sector projects, while most local workers prefer to work in public institutions rather than the private sector.
When the golden age of oil ended with the collapse of prices in mid-2014, many countries adopted strategies to diversify their economies, such as the Saudi "Vision 2030" and the "UAE Beyond Oil" initiative. However, the ongoing repercussions of the COVID-19 pandemic might provide a new opportunity for economic reform in preparing for a post-oil era.
Crises often provide a window of opportunity for leaders to carry out necessary reforms that would be difficult to pursue under normal circumstances. For example, Chile enacted reforms in the early 1970s under General Augusto Pinochet during an acute crisis that led to a military coup against the elected government of socialist leader Salvador Allende. There were also "shock therapy" reforms adopted in eastern Europe after the fall of communist rule, and more recently, reforms in Greece after its foreign debt scam crisis. All these reforms would have been difficult to enact without a crisis scenario that forced the political authorities to face the economic realities. And while these crises had numerous repercussions, the positive impact of these economic reforms have stood as a marker for other countries as well.
To be sure, the current situation in the Gulf is not exactly a crisis. Negative economic growth was recorded for non-oil activities in 2020, an inevitable result of the COVID-19 pandemic. IMF reports indicate that the non-oil GDP contracted by about 2.5 percent in Saudi Arabia, 6 percent in the UAE and Bahrain, 3.9 percent in Oman, 2.7 percent in Qatar, and 9 percent in Kuwait during this period. However, all these countries recorded positive growth for their non-oil GDP in 2021: 4.9 percent in Saudi Arabia, 2.8 percent in Bahrain, 2.7 percent in Oman and Qatar, 2.2 percent in the UAE, and 1.8 percent in Kuwait. Although the global situation has deteriorated again due to the ongoing pandemic and the war in Ukraine, it is likely that the Gulf will in fact benefit from rising oil and natural gas prices. Meanwhile, travel and tourism are beginning to return, which will also give various sectors of the economy a significant boost.
However, Gulf countries should nevertheless see this period as a chance to continue the work begun in 2014. Most oil-producing countries in the Gulf have pursued economic reform and diversification strategies for many years, so there is no need to come up with further programs or strategies now.
The UAE has made the most progress in economic diversification so far, while Saudi Arabia has the largest economy in the region and its own ambitious reform program, Saudi Vision 2030. The vice-president and prime minister of the UAE, Sheikh Mohammed bin Rashid Al Maktoum, launched UAE Vision 2021 in 2010. The strategy's main goal was to achieve a competitive knowledge economy grounded in innovation. Saudi Vision 2030 was officially unveiled by Saudi Crown Prince Mohammed bin Salman in his capacity as the deputy prime minister and the chairman of the Council of Economic and Development Affairs. These leaders have clearly indicated that they intend to provide opportunities to ensure the success of their ambitious plans. If these plans were to fail, it would have negative implications both for the countries' reputations and the credibility of future economic and social reform programs.
The plans' Key Performance Indicators help give a sense of what has been accomplished thus far. The UAE Vision 2021 focuses on several priorities, including a sustainable environment and integrated infrastructure as well as societal reforms. Saudi Vision 2030 includes various programs such as the Public Investment Fund, which aims to become the largest sovereign wealth fund in the world and approaches the question of investment from a strategic angle. It also focuses on fiscal sustainability programs that aim to improve government performance with regards to efficient spending, increased revenue, and managing risk, as well as pursuing human capacity development programs so that all citizens can develop the skills they need to compete globally.
Vision 2030 also includes programs to develop the financial sector so that it can become more diverse and provide incentives for saving and investing, through developing and expanding banks and financial institutions as well as expanding the stock market to play a complementary role to that of banks and financial institutions. The National Industrial Development and Logistics Program has also been set up to transform Saudi Arabia into a leading industrial power by developing local content for manufacturing through drawing upon the natural resources available. This program aims to make Saudi Arabia a global logistics hub that would be able to compete with the likes of Dubai.
As one would expect, the reform process has also experienced some challenges. The workforce previously relied upon comfortable public-sector positions, and it will not be easy to retrain these workers to meet the needs of the private sector. Public sector wages have either fallen or been frozen in order to streamline spending and reduce the public debt burden, which has negatively impacted public opinion. This could result in government institutions losing workers that they desperately need, and teachers or doctors moving to the private sector that offers a more flexible and competitive work environment.
Now, the focus needs to be on how these countries can make the most out of the current crisis, which may allow a more swift implementation of these already proposed reforms. Other key reforms that are not strictly economic in nature also deserve attention. These include reforming educational sectors to ensure that it aligns with the demands of globalization, as well as developing vocational training within educational institutions. A unified investment law (for both local and foreign investment) could also be adopted, and barriers to conducting business can be removed.
Effective implementation can be achieved through public, official commitments to a reform agenda with a set timeframe. Appointing a task force of leading experts in the field to carry out the task will also help bolster the reform programs' credibility. This task force could prepare reports on progress achieved during the reform process, which would help avoid potential delays. It could also compare outcomes and expectations and modify the trajectory of the reforms as needed.
Given that governments are already committed to ensuring the success of these reforms, there is no choice but to patiently follow the progress of these programs and deal with issues as they arise. More importantly, these various challenges, including those resulting from the COVID-19 pandemic, can in fact provide an opportunity to move forward in putting natural and human resources to their best use in transitioning to a competitive knowledge-based economy, now that the Gulf has learned to manage the most severe repercussions of the pandemic and is turning again towards the question of the future.