Could Assad and Russia Expel Iran from Syria?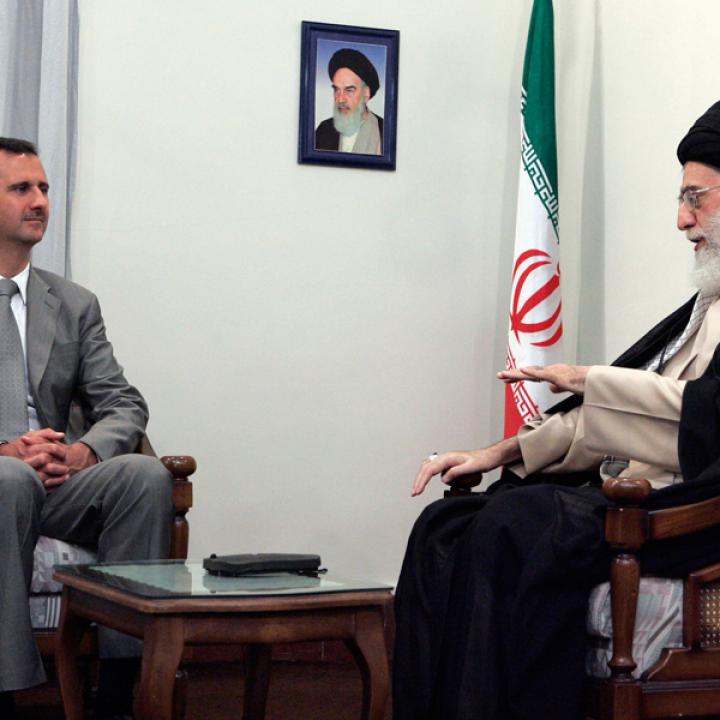 Since the triple missile strike carried out by the United States in cooperation with France and Britain, Israel has escalated its attacks against Iranian military bases in Syria: airfields and Iranian bases in Damascus, the Syrian Air Force T-4 military airbase, and Hezbollah militia units in the Quneitra area have all served as targets so far.
Israel, aiming to reduce the threat to its national security posed by Iran, justifies these attacks by arguing that Iran has crossed a red line through its ever increasing involvement in Syria. But while there is nothing new about the hostility between Israel and Iran, due to an agreement just recently reached with Russia, Israel can now launch air raids against Iranian bases so long as the Syrian Army is not implicated in these strikes.
It is clear that Israel's recently increased aggression is designed to exert pressure on Syrian President Bashar al-Assad and push him to help expel Iranian forces from Syria. In this manner, Israel is signaling that it would tacitly accept the continuance of the Assad regime if and only if Assad works to remove Iranian forces from the country. According to some reports, Israeli Prime Minister Benjamin Netanyahu directly communicated this message to Russian President Vladimir Putin during a recent visit to Moscow.
Since Russia has few allies in the region, and as Iranian forces have helped Russia's military establish its presence in Syria, many analysts believe that a rift with Iran would be deleterious for Russian interests. Nonetheless, in the context of Russia's goals in Syria, the agreement between Russia and Israel is hardly surprising. In the long run, Iran poses a threat to Russia's military and political intentions in Syria: whereas Moscow would prefer Syria to be a secular and federal state able to maintain its coastal military bases, Tehran is interested in expanding its regional influence through a sectarian Syrian state controlled by Iran's ideological counterparts.
Therefore, although Russia is not expected to go so far as to remove Iran from the scene entirely, it is likely to try to curtail the latter's influence in Syria. Thus, Russian forces have stopped responding to Israeli raids, thereby sending the message to Tehran that without Russian backing, it is at risk of being targeted.
The current dynamic between Russia and Iran puts Assad in a precarious position: while he recognizes that his alliance with Russia is more important than the alliance with Iran, Assad is also aware that unlike Tehran, which has a vested interest in keeping him in power, Moscow is indifferent as to whether or not he continues to rule Syria after the presumed transitional phase.
Consequently, despite Russia's efforts, it is unclear to what extent Assad can be convinced to limit the presence of Iranian forces in Syria, especially since Iran can grant him some degree of protection against Russian pressure. Moreover, Assad's ability to take action against Tehran's interests is largely constrained by the latter's military and economic leverage in Syria: since the beginning of the crisis, Iranian militias fighting in Syria have become an integral part of the Syrian army through mergers carried out under Iranian direction. Furthermore, according to Syrian opposition Iran has succeeded in tightening its grip on Syria's economy through economic agreements with the Syrian government over oil, agriculture, the financial market, real estate, phosphate investment, and other major projects.
In light of the above, it appears that in order to secure its interest in Syria, Moscow may have to guarantee Assad's future in Syria in order to convince him to fully support a removal of Iranian forces from Syria. Meanwhile, Israel's operations around Damascus and in the north and east of Syria may signal to Iran that its regional hold is at risk. In this case, Assad may be sidelined entirely if Iran itself decides to join the negotiation table.