Cairo and the Reconfiguration of the Palestinian Landscape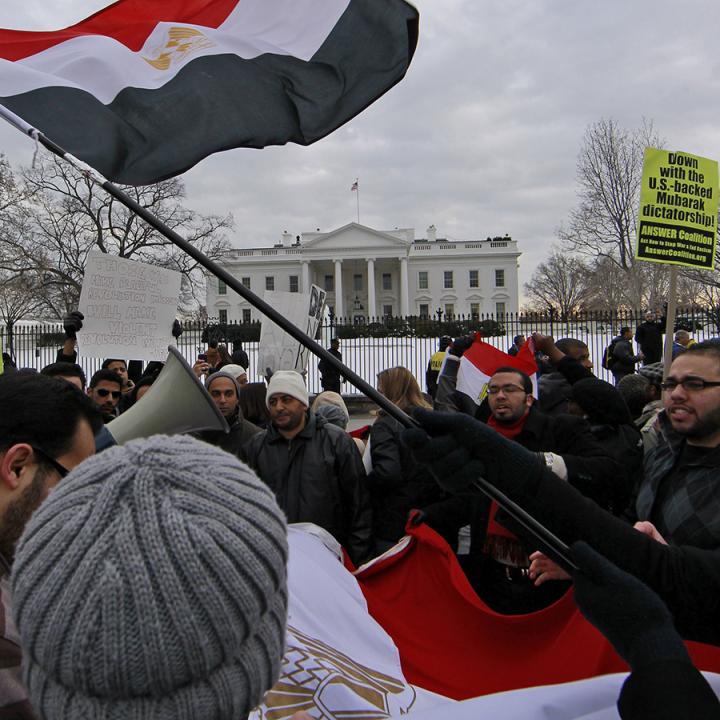 November 8, 2017
Beginning when the Muslim Brotherhood came to power in Egypt in the summer of 2012, the Hamas-Egypt relationship deepened significantly. The relationship went beyond the General Intelligence Directorate's coordination of security matters, to include coordination among political leaders Mohamed Morsi and Ismail Haniyeh. The strong relationship between Egypt and Hamas was reflected in Egypt's decision to withdraw its ambassador to Israel, and send the Egyptian Prime Minister, Hisham Kandil, to Gaza during Israel's military operation there in 2012. During the Israeli war, Kandil expressed the support of the Muslim Brotherhood regime in Egypt for Hamas. After the intervention of the Egyptian military establishment–under the leadership of then-Minister of Defense, Abdel Fattah al-Sisi–and the dismissal of President Mohamed Morsi and the Muslim Brotherhood organization from the Egyptian government, the relationship between Egypt and Hamas immediately deteriorated. Official Egyptian media sources became highly critical of Hamas, to the point that they accused Hamas of supporting terrorism and participating in the armed Islamic insurgency in Northern Sinai. The Egyptian courts also issued a decree which deemed Hamas a terrorist organization.
The degree of internal Egyptian hostility towards Hamas caused it to challenge Cairo's role as the principal negotiator on Palestinian matters, especially with regards to reconciliation between Fatah and Hamas, and negotiation between Israel and Hamas. Those decisions were evidence of Egypt's regional stance, which treated political Islam and affiliated organizations as an existential threat to Egypt and the stability of the regime. In the summer of 2014, one year after the ouster of Mohamed Morsi and the Muslim Brotherhood's regime, Egypt's relations with Hamas took another direction when Egypt hosted the ceasefire negotiations between Palestinian factions and Israel during Operation Protective Edge. Egypt's initial ceasefire proposal was initially rejected by Hamas, only to be accepted shortly thereafter.
Israel, Saudi Arabia, the United Arab Emirates, and the Palestinian Authority supported Egypt's role as a negotiator in the cease-fire talks. Prior to that, American Secretary of State John Kerry made unsuccessful efforts at the Paris conference–attended by Qatar, and Turkey–to establish a cease-fire framework which would exclude any role for Cairo. Cairo ultimately made several gains, the first of which was reaffirming its active role in Palestinian matters after a period of instability in the wake of the Muslim Brotherhood's ouster. Cairo also benefitted from the Palestinians turning the Rafah crossing over to representatives of the Palestinian Authority in Ramallah. There were also immediate gains from Israel destroying a number of tunnels between Gaza and the Sinai; this dashed Hamas' hopes of eliminating Cairo's role in managing Palestinian affairs, as Cairo typically has.

In 2015, Egypt's relations with Hamas improved, as the Egyptian court ruling labeling Hamas a terrorist organization was suspended, and Hamas leadership figures started to be invited to speak with authorities from Egypt's General Intelligence Directorate. The main agenda for those meetings revolved around security coordination against the Islamic State in the Sinai, ensuring that Gaza would not be used as a waystation for Islamic State fighters, stopping the media escalation against Hamas, and dealing with Hamas separately from its parent organization, the Muslim Brotherhood of Egypt. Hamas has, in fact, condemned the political assassinations in Egypt (Hamas had been accused of involvement in the assassination of Prosecutor General Hisham Barakat) and removed the poster of Mohamed Morsi from the center of Gaza, replacing it with a large sign which read, "Hamas does not fight outside of Palestine."
Under pressure from increased terrorist attacks on Egyptian soldiers and police in North Sinai, Egyptian intelligence services began restoring Egypt's relations with Hamas and working on a rapprochement between the former Minister of Preventive Security, Mohammed Dahlan, and Hamas. Hamas and Egypt's security relations expanded during their coordinated efforts against members of the Islamic State (Wilayat Sinai). In December of 2016, Egypt launched a security crackdown on the cities located between al-Arish and Sheikh Zuweid. On the other side of the Sinai – Gaza – the Islamic State declared a blockade in order to prevent smuggling via illegal tunnels. Thereafter, Hamas arrested Mohamed Armelat, Wilayat Sinai's delegate in Gaza. Tensions escalated between Hamas and Wilayat Sinai. and the head of the Wilayat Sinai, Abu Hajar Al-Hashemi, accused Hamas of killing members of Wilayat Sinai. In exchange for Hamas' tough stance on Wilayat Sinai, Egypt permitted many SUVs to enter and allowed freedom of movement on the Rafah crossing for three days in December. Fear of jihadists spreading within Gaza led Hamas to coordinate security activities with Egypt in order to diminish the presence of Wilayat Sinai. Egypt announced in February of this year that it would oversee agreements between Mohammed Dahlan and Hamas. At that time, Egypt opened the Rafah crossing so that Dahlan's followers could attend his conference, titled, "The First Youth Conference."
In the months following Dahlan's conference in Cairo, Hamas enacted key changes in its structure by issuing a policy document for the Islamic movement. Hamas' document included elements such as its belief in establishing a Palestinian state along the 1967 borders, without recognizing the state of Israel. It also removes any indication of Hamas' origins in Egypt's Muslim Brotherhood. In Qatar, Khaled Mashal spoke about Hamas' new orientation, saying that, "Hamas chose a new approach, which is development and flexibility, without compromising its fundamentals and rights."
Changes in Hamas' top leadership followed these restructurings, including the election of Ismail Haniyeh as Hamas' political chief, succeeding Khaled Mashal, and the election of Yahya Sinwar as Hamas' leader in Gaza. This came after numerous meetings between Egyptian intelligence services and Hamas leadership to reach a comprehensive agreement to dissolve Gaza's administrative committee and recognize the Palestinian reconciliation government, led by Prime Minister Rami Hamdallah. This government will now administer Gaza, eleven years after the Hamas coup. Khaled Fawzi, the director of Egypt's General Intelligence Directorate, entered Gaza along with the Palestinian Authority's delegation, and officially announced the Palestinian reconciliation. Egypt's intelligence services were in a celebratory mood, due to the assurance of Egypt's role in managing Palestinian affairs and the success of its Palestinian reconciliation. Previously, those efforts had faltered for years while countries like Qatar and Turkey increased their support for Hamas, and fought both Egypt's interests and those of the Palestinian Authority in Ramallah. It is clear that Egypt seeks to appear as the key player in Palestinian affairs via Ismail Haniyeh's message about Egypt's role in the Middle East, and the statement from Egyptian media figure Amr Adib, that, "Egypt is the maestro of the region."
The major constraints against the success of Palestinian reconciliation are regional and domestic groups working with an armed Hamas, given the regional pressure–especially from the Emirates–to disarm Hamas in order to achieve reconciliation. That pressure was strengthened by Mahmoud Abbas' statement about disarming Hamas. Cairo considers this–as stated by Khaled Fawzi, head of Egypt's Directorate of Intelligence–to be a breach of the reconciliation agenda. Yet naturally, Hamas is not willing to discuss this point. As for the positive factors that Cairo depends upon for success in Palestinian reconciliation, there is the declining role of the two regional powers (Qatar, Turkey) in Palestinian matters. Qatar is preoccupied with the Gulf and Egyptian embargo, efforts to change its system of government, and the collapse of the Muslim Brotherhood, with which it had been involved since the 1990's. Those factors reduced Qatar's influence on Hamas. As for  Turkey, it is not opposed to Cairo overseeing the Palestinian reconciliation due to its current rapprochement with Russia and its co-ordination with it regarding Syria and the Kurds. Russia supports Cairo's role in the Palestinian reconciliation, in order to limit Turkey's influence on Hamas which in turn will strengthen Russia's new status as a major power in the Middle East, one that balances the fighting among regional powers.
Sisi's strategy in 2017 resembles that of Mubarak's regime in the 1980's, seeking to change the structure of Palestinian factions in order to reach a settlement on the Palestinian-Israeli question. Mubarak clearly succeeded in containing the Palestinian Liberation Organization (PLO) under Yasser Arafat. He set the PLO on its trajectory towards the Oslo Agreements, which included accepting a form of limited self-government in the West Bank and Gaza. Sisi still faces several obstacles before he contains Hamas, as Mubarak contained Fatah. The most important obstacle is Hamas' jihadist Islamic configuration, and its strong ties to regional powers, such as Qatar, Turkey, and Iran. Those powers refuse to see the Palestinian question undermined and redirected towards a Cairo-based settlement.