The United States and Saudi Arabia Have More In Common Than Mere Interests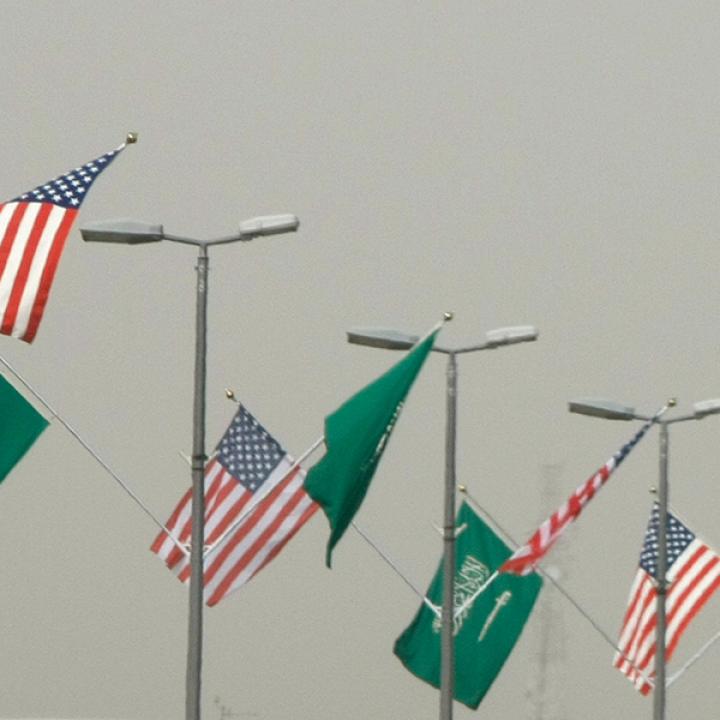 July 12, 2017
The conventional wisdom in Washington has long been that the United States and Saudi Arabia have important mutual interests that sustain their bilateral relations, but they do not adhere to the same core values. That assumption is in need of reassessment. Over the past two decades, Saudi Arabia has undergone a gradual but important shift in political culture and has created new institutions that have made the kingdom more open, more inclusive, and more tolerant. The introduction of an ambitious package of economic and social reforms known as Vision 2030 by now Crown Prince Mohamed Bin Salman last year has accelerated this change. That bodes well for U.S.-Saudi relations going forward and is key to their endurance.
The rise of the Islamic State and the attacks it has inspired in the United States, France, Britain, and other Western nations have led many to search for answers. For some, it has been tempting to look for an easy answer. They maintain that Saudi Arabia is to blame for "exporting" an intolerant strain of Islam to countries that had long practiced a tolerant brand. However, this grossly oversimplifies a complex and often lengthy process through which an individual or group becomes radicalized.
Scholars of terrorism have long reached a consensus that radicalization is seldom caused by a single factor, including ideology. They maintain that it is usually a confluence of factors and that there are different pathways to radicalization. There is ample evidence suggesting that many of the terrorists who carried out attacks in France, for example, were not particularly devout or well versed in Islamic doctrines of any sort. Interestingly, Tunisia, which has long been regarded as one of the more secular Arab countries, has had even more of its citizens join the Islamic State in Syria than Saudi Arabia or any other foreign country.
In 2015, The Washington Institute for Near East Policy commissioned a survey to gauge support for the Islamic State in a number of Arab countries. The poll in Saudi Arabia found that ninety-five percent of respondents had a negative view of the group. This finding casts serious doubt on the notion that the doctrines that Saudi educational and religious institutions are teaching are the primary cause of radicalization.
In addition, critics who allege that Saudi Arabia supports educational and religious institutions abroad that propagate an intolerant understanding of Islam seldom cite specific examples. The examples they do cite are often institutions in developing countries that already have a history of civil, ethnic or religious strife such as Pakistan and Bosnia-Herzegovina. On other occasions, critics will point to institutions in minority Muslim communities in Western nations such as France that many scholars maintain have long encountered myriad difficulties assimilating in their adopted homelands or have faced institutional marginalization or both. Critics further fail to acknowledge the many positive changes and reforms that have been implemented in Saudi Arabia over the years and what Saudi educational and religious institutions in the kingdom actually propagate today.
It is often argued that unlike in the United States, where the separation of church and state is an essential feature of the political system, religion permeates all aspects of life in Saudi Arabia. That is true. However, unlike the hackneyed view that Islam as practiced in Saudi Arabia - pejoratively called Wahhabism – is an austere and intolerant form that has inspired violent extremists like the Islamic State, the narrative that is propagated by the kingdom's most senior political and religious leaderships - and its educational and religious institutions - maintains that Islam is a religion of peace, moderation, and toleration.

In addition, Saudi Arabia has supported a number of global initiatives that promote interfaith dialogue, including a UN-sponsored conference in 2008 and the King Abdullah Bin Abdulaziz International Center for Interreligious and Intercultural Dialogue, based in Vienna, Austria, which opened its doors in 2012.  It is also worth noting that the late King Abdullah met with Pope Benedict in 2007 and current King Salman met with Coptic Pope Tawadros when he visited Egypt last year.  These initiatives should not be dismissed as mere empty gestures.
Locally, the King Abdulaziz Center for National Dialogue has organized multiple events that bring together Saudi youths from different regions and sects in an effort to embrace the kingdom's diversity. During his recent visit to Riyadh, President Donald Trump attended the inauguration of the Global Center for Combating Extremist Ideology, which is one of several institutions created to counter violent extremists' online presence and recruitment.

The Saudi government has made a sincere effort to reevaluate what is being taught at its schools and what is being promoted by its religious institutions. An effort to overhaul Saudi Arabia's education system is well underway and the revision of its school curriculum is near completion.  In addition, there are an estimated two hundred thousand Saudi students of both genders enrolled at colleges and universities all over the world. Many of them have played a constructive role in bridging the gap in understanding between the West and Islamic world by engaging not only their peers at academic institutions but also the wider local community, joining various volunteering programs to help those less fortunate.

At the same time, the Saudi government has also taken a closer look at what is being preached at its mosques. Mosque imams, just like teachers, are monitored and those who espouse extremist views are either retrained or dismissed. In 2008, the government launched a program to retrain an estimated 40,000 imams. In addition, Saudi Arabia's religious authorities have regularly condemned all terrorist attacks regardless of the religious or political affiliation of the victims. They have also discredited terrorist groups on religious grounds.
As the birthplace of Islam and the location of Islam's two holiest sites, Saudi Arabia has a special status among Muslims. The argument that its prohibition against the establishment of public places of worship for non-Muslims is justified because of its Vatican-like status, resonates widely in Saudi Arabia and in other Muslim-majority countries. Nevertheless, non-Muslims are free to practice their faith in private. Allegations that non-Muslims are deported for holding private religious services have decreased dramatically. There is evidence that non-Muslims do hold regular religious services, some with a large enough congregation as to blur the line between private and public.
There is no doubt that the Saudi king wields great political power, but Saudi kings have never ruled in a political vacuum; they have always been keen on consensus-building.  Initially, this was among relatively few notables but today, the political decision-making process includes a large swath of Saudi society. There is a cabinet composed of experienced bureaucrats and a consultative Shura Council that has expanded from its original 60 members to 150 members today, including 30 women. It also represents all regions of the country and has several members from the Shia minority. It has become a robust deliberative body that debates issues that were once only discussed in private gatherings. In addition, Saudi Arabia has held several nationwide elections for municipal councils. Last year, women not only voted but also ran for seats, with about twenty of them winning contests.

Gender equality has a ways to go in Saudi Arabia. However, there is a growing awareness that the future of the country depends on providing women with the necessary opportunities and tools to reach their full potential.  Almost a third of Saudi students abroad are women and there are currently more Saudi women attending university in the kingdom than men. More recently, a woman was appointed to head a major bank and another was elected to lead the Saudi stock exchange. A recent royal decree related to the male guardianship system will make it easier for women to obtain government services. The fact that women do not drive is the subject of intense debate among the Saudi public, the media and the Shura Council. However, it is unfair to dismiss all the advances that women have made until that issue is resolved.
On human rights, the kingdom has taken concrete steps to raise awareness about the many civil rights that are protected under Saudi laws and regulations. Towards that end, a Human Rights Commission was established in 2005, which investigates allegations of human rights abuses against citizens and non-citizens. In addition, the kingdom has signed several human rights conventions and has allowed UN rapporteurs to visit and to report on a number of issues.

Finally, there is the remarkable transformation of the Saudi media. Not only have media outlets increased exponentially over the past two decades, but their scope has greatly expanded to now include subjects that were deemed too sensitive in the past. From government inefficiency and corruption to domestic and drug abuse to religious extremism, all these issues are being debated in traditional and social media.

Many of the discussions at the three recent Riyadh summits centered on shared concerns. However, at the wider meeting that brought leaders from the United States and Arab and Islamic worlds, the importance of inter-religious and intercultural understanding and peaceful coexistence was the central theme. President Trump's visit highlighted a reality that many visitors to the kingdom have already realized: Saudi Arabia has more in common with most countries, including the United States, than it does differences.