The Turkish 'Safe Zone' and Erdogan's Territorial Ambitions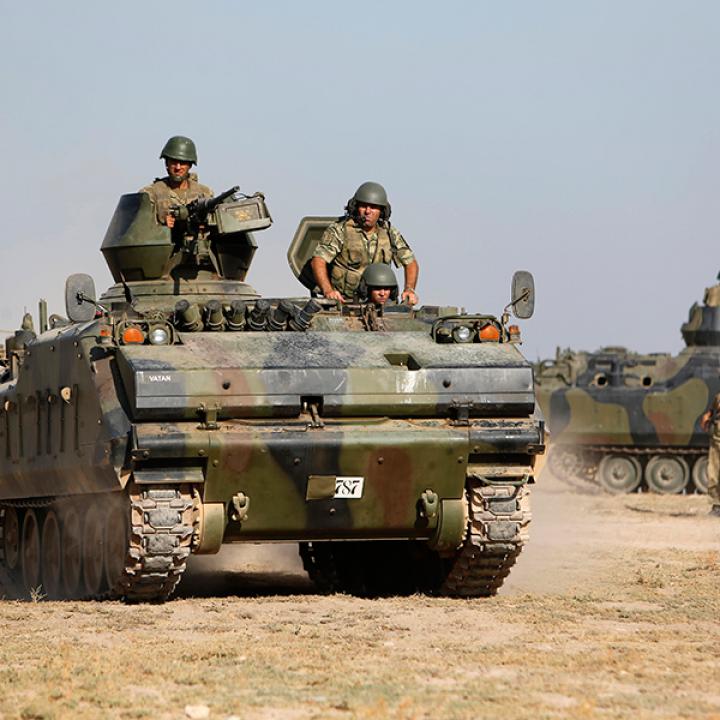 After a month of negotiations and much previous speculation, Washington and Ankara have agreed on a 75-mile buffer zone between Tall Abyad and Ras al-Ain, with the two armies establishing a joint operations center in Ankara. At the end of last week, U.S. and Turkish forces conducted their first joint ground patrol, but these joint efforts have not stopped Erdogan from criticizing the United States and accusing Washington of establishing a safe area for a "terrorist organization"—in reference to the Kurdish People's Protection Units (YPG). Erdogan elaborated that "If we don't start forming a safe zone with our soldiers in the east of the Euphrates before the end of September, we will have no choice but to implement our own plans."
Turkish Foreign Minister, Mevlut Cavusoglu, also criticized the United States, claiming the U.S. position on the safe zone does not reassure Turkey and that "the steps taken by Washington are cosmetic." These anti-American Turkish statements reflect the distrust between the two nations, suggesting that Erdogan's antagonistic attitude towards the United States and the Syrian Kurds will continue to guide Turkish policy in the region. American officials have expressed skepticism that the Turkish military could sustain a cross-border offensive to that scale into Northeast Syria, but are worried that a potential Turkish invasion would wreak havoc on American counter-terrorism goals. Due to these concerns, the Pentagon is preparing to send around 150 troops to patrol the ground alongside Turkish forces. This new deployment is part of a series of military and diplomatic steps the United States has taken to defuse rising tensions with Turkey over U.S. support for Syrian Kurdish fighters, and is a step in the right direction towards curbing Turkish interests in Northeast Syria.
The challenges of this safe zone revolve around some of its current occupants, the Syrian Kurds. In 2014, the Obama administration and its coalition allies committed to supporting the Syrian Kurds in their fight against ISIS. However, Erdogan's subsequent rhetoric and actions have consistently inflamed tensions and put pressure on the Kurds of Iraqi Kurdistan and Syria.  As early as 2014, Erdogan's strategy included letting the people of Kobani–a Syrian town with a large Kurdish population near the Turkish border–confront ISIS alone.  Turkish soldiers were seen sitting idly by as much of Kobani was reduced to rubble. Moreover, Erdogan has continued to pursue policies that exploit the continuing presence of extremism in Syria for geopolitical gains, all in an attempt to eliminate Kurdish ambitions on the southern border of Turkey and stifle the cooperation between Kurdish and U.S forces in the war against ISIS.
However, Erdogan's policies and rhetoric against Syrian Kurds have escalated in the wake of President Trump's decision to withdraw from Syria. Though the United States has continued to side with its Kurdish allies during this period, it has been ineffective in its advocacy against Turkish interference, further prompting Erdogan's preparation to strike against his Kurdish targets in Syria. At the time, the administration's lack of clear messaging only reinforced Erdogan's determination to invade Kurdish areas, while Erdogan justified these actions by claiming Syrian Kurds were a threat to Turkish national security. Erdogan subsequently put words into action by colluding with Russia and Iran in its invasion the Syrian Kurdish enclave of Afrin, ultimately allowing Syrian extremist groups affiliated with the Syrian opposition coalition to commit countless war crimes against Kurdish and Yazidi populations.
In pursuit of a Syrian border cleared of Kurdish presence, Turkey has equipped more than forty thousand Syrian fighters, supported Islamic extremist organizations, and received support from Syrian opposition in order to siege Kurdish areas. Kurds have since called on the United States and the international community to create a zone of protection or a 'no-fly zone' against these violent opposition groups. However, only by shifting the parameters of the current safe zone will Syria's Kurds become safer.
During negotiations with the United States, Turkey pushed for a 40-kilometer wide and 380-kilometer long line, while the United States offered significantly less, proposing a 7-10 kilometer deep and 140-kilometer long line from Kobani and Qamishli. After much debate from both sides, sorting out the actual dimensions of the zone have been put on hold, even as implementation of the zone itself is moving forward. 
However, as this process unfolds, it is imperative for the United States to remain mindful of Turkey's ambitions in the region. Erdogan, Rouhani, and Putin's role in preventing a political solution to the Syrian conflict, Turkey's contribution to the spread of extremism in Syria by providing logistical support to extremist groups and its control over radical jihadist groups in Idlib, Jarablus, Al Bab, and Afrin have already exposed Turkey as an unreliable ally, which should be taken into account during the process of implementing the safe zone.
Erdogan's deceptive tactics are already at play. The Turkish defense minister recently announced that Russia would resume the delivery of its S-400 missile defense system to Turkey–going against the United States' wishes. Despite justifying these purchases through security concerns, Turkey's recent practices have veered far away from actions that would further that goal, suggesting these weapons may be used to expand Turkish control.
Paradoxically, many of Turkey's actions in Syria, which have been carried out in the name of safeguarding their national security, have threatened the preservation of security by exposing the country to serious security and financial vulnerabilities through its involvement in Syria. Until the United States responds by pushing back against Erdogan's efforts, Erdogan will continue to use deception to win concessions and buy time.
If the safe zone in Syria is implemented in its currently agreed-upon form, the United States' Kurdish allies will suffer without real benefit to Turkish security. Rather, the safe-zone will facilitate Erdogan's continued suppression of Kurds through his hardline policy opposing any Kurdish political gains while accelerating Turkish incursion into Syria. The expansion of the safe zone, combined with Turkey's policy of supporting extremist and opposition groups' control of northeastern Syria, may actually spark another conflict—between Arab and Kurdish Syrians.
Such a conflict would only complicate the Syrian crisis further. Yet U.S. silence on the issue has given Erdogan the backing necessary to advance his agenda in Syria, including through anti-refugee nativist polices domestically, which may be designed as a precursor to resettling millions of Syrian refugees currently living in Turkey into Kurdish cities. Such a process would displace the region's current inhabitants and serve as a large-scale replication of Afrin. Turkish control of the safe zone may also facilitate Iranian transport of weapons and money to Hezbollah and the Assad regime, allowing for the continuation of conflict in other areas of Syria as well.
Turkish control of the safe-zone may also serve to bypass U.S. sanctions on Iran. If this safe-zone comes under Turkish control, Erdogan will gain access to major sources of energy, gas, and oil. Turkey may also utilize their shared borders with Syria and Iraq to purchase Iranian gas and smuggle goods from Tehran to Ankara through Syria to bypass U.S. sanctions. Turkey has worked around U.S. sanctions in the past, including in 2012, when Turkey assisted Iran in smuggling 85 metric tons of gold through Dubai– a known transshipment point to Iran.
For the United States to preserve its interests in Syria and continue the countering of extremism, it should protect its Kurdish allies from Turkish threats in the safe zone area. It can do so by establishing secure borders between Turkey and the Kurds inside Syria, authorizing military points to monitor the region, pressuring Turkey to withdraw from Syrian cities, and advocating for a UN-sponsored political solution. The United States must work to give Kurds in Syria autonomy to ensure their interests and future in the region. After all, the United States' Kurdish allies in Syria have proven more faithful to the interests of the United States and NATO than Turkey.