In Southern Iraq, Iran's Intentions Backfire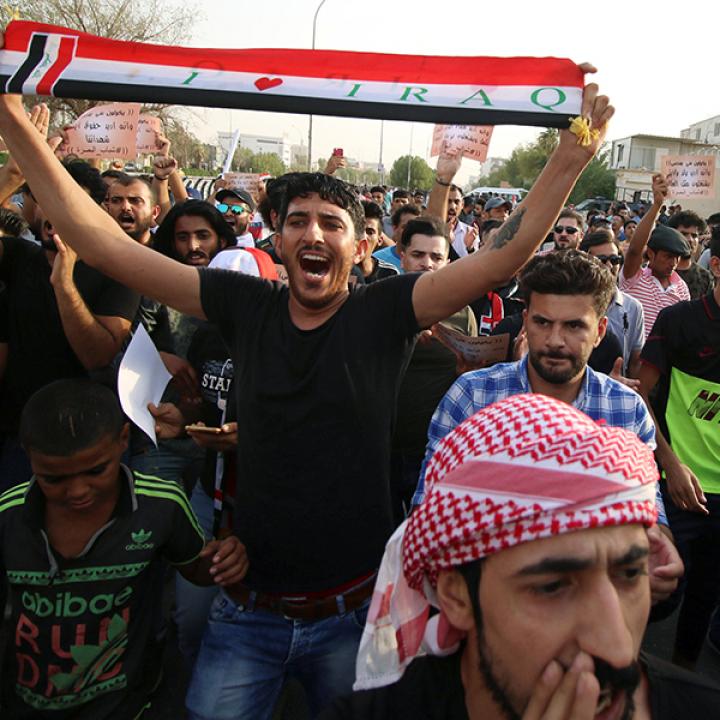 Iraqi media is currently reporting that the Basra protests—which have spread to Wasit, Maysan, Dhi Qar, and Karbala provinces—resulted solely from the energy crisis and rising unemployment. However, the truth is that these major economic and political crises emerged as a result of the increase of Iranian influence in Iraq, and protesters recognize this. Though contributing about 80 percent of Iraqi oil exports, Basra has been neglected for decades, both by Saddam Hussein and later successive governments. Recent reports have noted that some residents of the south have been forced by severe poverty and unemployment to flee to Anbar governorate to search for agricultural work. These protests also reflect Iraq's continued struggle to rebuild following a three-year war against Islamist militants that destroyed the country's infrastructure.
Although Prime Minister Haider al-Abadi has announced new investments worth three billion dollars for Basra and has pledged additional spending on housing, schools, and services in response to the protests, they have actually continued—spreading up to the capital. The persistence of these demonstrations poses an important question: who benefits from the expansion of these protests? And who benefits from the consequent faltering in Iraq's oil supplies?
Because of the southern region's financial and administrative corruption, Basra province imports its energy from Iran rather than establishing its own power plants. It was Iran's choice to stop electricity exports just after the American decision to resume sanctions—causing the electricity shortage and a cutoff of potable water that initially sparked the protests. With a lack of available drinking water or cooling devices during a summer that has reached more than 120 degrees Fahrenheit, the response to Iran's actions was clearly predictable.
Thus, in contrast to domestic reporting, many analysts believe that Iran intentionally pushed Basra to the breaking point in order to destabilize the country, thus threatening oil companies with the prospect of heavy losses and potentially pushing them to pressure the Trump administration to lessen sanctions through Washington and London oil lobbies. A decline in Iraqi oil production would raise the global price of oil—a welcome reprieve for the Iranian economy in light of the first wave of re-imposed sanctions. Iran may have also intended to exert pressure on southern Iraq's residents in order to secure a sectarian government coalition that would further Iran's influence in Iraq after its allies' disappointing results in the elections.
Nevertheless, as the protests in Iraq develop and enter their second month, it appears that Iran has fallen into a trap of its own making. Iran ignited a flame in the south that could burn its allies and the militias commanders loyal to it.
The protests have toppled the barrier of fear that had previously kept ordinary citizens from openly criticizing Tehran's militias in Iraq. The citizens of the south, who had been held captive by the actions of these groups, are now seeking vengeance. More impressively, these pressures are proving effective: pro-Iranian groups stationed in headquarters and barracks are now searching for safe havens and calling on government forces to protect them and their bases, especially since they have been identified as the main actors accused in the killings of demonstrators.
Protesters are directly tackling the issue of Iranian influence in Iraqi politics. Slogans in Arabic and Persian declare: "We submit our request to the Iranian government—sorry, to the Iraqi government," conveying contempt for an Iraqi government they accuse of being a mere subordinate to Tehran. Ironically, the course of the protests has shifted away from oil firms—presumably Iran's intended targets—and to the headquarters of the Islamist parties and factions loyal to Iran, including the Hakim movement, the Asa'ib Ahl al-Haq and Badr militias, and even the Da'wa party in multiple provinces. Dawa Party and Iranian militia bases have been burned. And protesters calling themselves the youth of the "Great Popular Revolution" have also burned images of religious figures associated with loyalty to Tehran—including Hadi al-Amiri, Nouri al-Maliki, and Qais Khazali—as well as images of Khomeini and Iranian Supreme Leader Ali Khamenei.
The protesters' messages indicate that they are targeting the pillars of the political process in Iraq in order to affect the formation of the upcoming government and to distance it from Iranian influence as much as possible. And politicians in Iraq are listening; even the hawkish head of the Badr militia, Hadi al-Amiri, has apologized to the Iraqi people in a public speech, stating that "we must admit that we have failed our people and were unable to provide them with a decent life—whether intentionally or unintentionally—and we let our people suffer while we were preoccupied with our internal conflict." Nevertheless, Amiri has faced much criticism on social media due to his initial refusal to accept responsibility and the limited response of an apology.
Given this unique window of opportunity, the Trump administration should seize on the moment presented by Shia Iraqis' growing popular rejection of Iranian influence in Iraq and use these events to reformulate its strategic relationship with Iraq on the basis of weakening Iranian influence. The U.S. administration can encourage the formulation of an independent government to rework the constitution and work to transform Iraq from a parliamentary to a presidential system, with a president and a parliament elected by the people. The Iraqi government should also be encouraged to increase its focus on and investments in the southern provinces to limit the spread of unemployment, especially among youth, and deter corruption.