Protests in Iraq: Against Domestic Corruption and Iranian Influence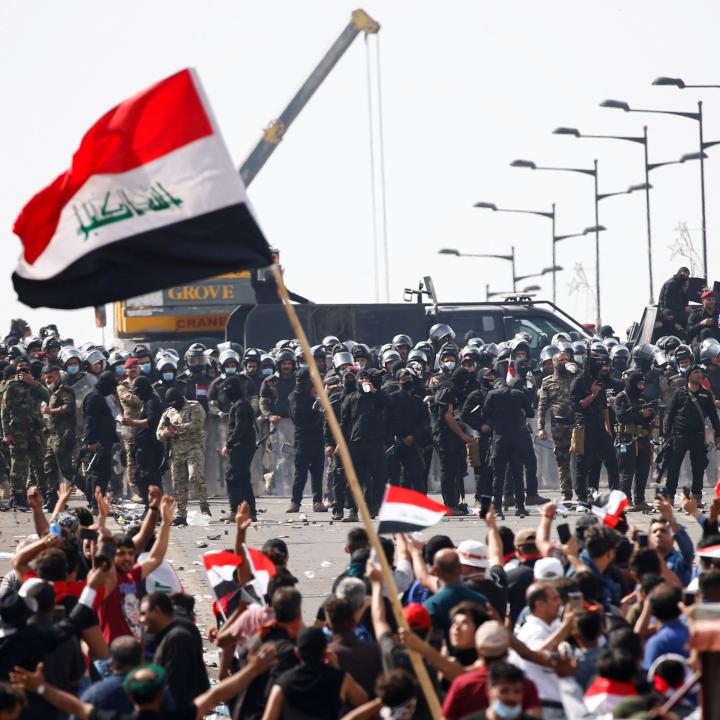 In early October, deadly protests calling for an end to pervasive corruption, improvement of basic services, and further job opportunities swept through the Iraqi capital of Baghdad and several other Iraqi cities.
While this is not the first instance of Iraqi citizens coming into the streets to demand constitutionally guaranteed rights, these protests are much more expansive than those previously held in Baghdad's Tahrir Square, or those that took place in Iraq's southern cities last year.
A majority of the participants in these demonstrations are youth from poor, marginalized, Shiite-majority areas of the south—a troubling sign for the Iraqi government, which sees these segments of the Iraqi population as their base. And while the protests paused as Iraq's Shi'ites performed the rituals for the observance of Arbaeen, protesters returned to the streets in force on October 25, and continued till October 29. Moreover, school and university students from central and southern provinces have joined the protests despite repression by Iraqi security forces and Iranian-backed militias.
The deadly protests resumed in the Iraqi capital Baghdad and several Iraqis provinces on Friday, with demonstrators continuing to challenge what they refer to as a widespread state corruption, an untrustworthy political elite, a lack of basic rights and increasing influence of regional powers. These protesters were again a mix of Baghdadis and citizens from the southern provinces.
In Baghdad, the protesters during these most recent demonstrations chanted both anti-corruption and anti-Iran slogans in front of Al-Tahrir Square. Many subsequently moved through Al-Jumhuriya bridge in an attempt to enter the Green Zone, where much of Iraq's government buildings are located. Security forces unleashed tear gas to push back thousands from this high-security area, and sound grenades are seen in many videos now going viral on social media to document the lethal power used by the riot forces against the protesters. Iraq's human rights commission has since said that 32 have been killed and around 3000 have been injured between October 25 and 26.
This tenacity, even in the face of violent efforts to suppress the protests, demonstrate a growing rift between the government and its people. This rift is driven by frustrations with the government itself and concern over the government's prioritization of Iranian over Iraqi interests.
Since the fall of Saddam in 2003, the Iraqi government has consistently failed to respond to citizens' basic demands and establish the modest level of prosperity that the Iraqi people seek. Despite abundant natural resources, Iraq suffers from pervasive poverty, an unstable security situation, fragile infrastructure, deteriorating education and health standards, as well as a decline in other vital sectors. Years of unfulfilled promises and neglect have fueled the people's distrust of the government's capability to address any of these issues. Moreover, Iraqi security forces' violent response to past and current protests have pushed demonstrators to go beyond calling for improved economic conditions and demand instead serious systemic change.
Iraqi citizens' frustration with Iranian influence in Iraq is also fueling this discontent, especially regarding the ways in which Iranian-backed militias are able to exercise free reign throughout the country. Demonstrators vented their frustrations by shouting slogans such as "out, out Iran; Baghdad free, free." In addition to anti-Iran slogans, demonstrators in several cities have torched headquarters of certain Iran-affiliated political parties and organizations, and some have publicly burned images of Iranian religious officials and clergymen—including those of supreme Leader Ali Khamenei. Many militia headquarters and politicians' offices in the southern provinces of Babil, Diwaniyah, Maysan, Dhi Qar and Wassit have reportedly been torched, as well as the High Electoral Commission in al-Muthana province.
Iraqi security officials responded to these demonstrations with live ammunition, violent arrests, stun grenades, rubber bullets, and tear gas—killing over 140 and injuring over 6,000 protesters between October 1-9. Similarly, security forces and their affiliated militias have waged a fierce campaign against activists and journalists, destroying the headquarters of numerous Baghdad-based Iraqi and regional media outlets for covering the demonstrations—including the Iraqi NRT, Al Arabiya's Al Hadath, the Turkish state channel TRT, and others. This past weekend, it was revealed that two reporters were injured as a result of the protests—a reporter from Germany's national public television broadcaster, ZDF, as well as Iraqi correspondent, Hisham Waseem, from Alsumaria. 
Hussam Alkaabi—resident of Najaf Governorate and an NRT channel employee—spoke with the author regarding recent threats made against him and his family from such militias. Alkaabi stated that armed groups linked the threats specifically to his continued coverage of the protests, illustrating the threatening tactics militias employ against prominent and influential media figures in Iraq. It was also made clear that the militias were willing to carry out their threats of violent reprisals when armed groups traveled to his neighborhood to gather intelligence and intimidate Alkaabi in order to emphasize that he and his family were within their reach.
While the protests have brought this type of violence into focus in the international media, militia attacks against civilians affect Iraqi life much more broadly as well. Outlawed militias have repeatedly threatened activists in Iraq, and have in some cases followed through with violence. This month, civil society activist Hussein Adil and his wife were killed in the center of southern Iraq's Basra Governorate. The couple had fled to Turkey last year to avoid being killed by unknown armed groups following their involvement in the 2018 demonstrations—only to be assassinated by armed groups upon their return to Iraq.
Security agencies also emphasized the 'threat' of social media sites in order to push the government into shutting down the internet and implementing a strict curfew. Protesters had used social media sites like Facebook to coordinate their activities and promote these protests, making these sites a target of counter-protest efforts. The utilization of these draconian measures on top of media harassment has confirmed to many that the government continues to act as a police state and supports policies that benefit the ambitions of parties affiliated with the Iranian regime. These actions further allow the parties to exert greater control over the government and reap additional gains at Iraqi society's expense.
Even so, the demonstrations have clearly shaken the current government, pushing it to make concessions. In an effort to appease the demonstrators, Iraqi Prime Minister Adil Abdul-Mahdi launched a batch of reforms on October 5 that included the provision of housing for the homeless, increased job opportunities, as well as other smaller projects. Iraqi President Barham Salih also announced that he would open an immediate inquiry into the Security Officers' deadly attacks on protesters, and its results were released on October 22. In addition, Salih has declared that a cabinet reshuffle was necessary to improve the government's overall performance. On the other hand, Iraqi PM Adel Abdul Mahdi has since said in televised speech that the government's resignation would send the country into chaos, while adding "we will not allow armed groups to form political parties."
The government's current measures will by no means guarantee a permanent end to the demonstrations—especially at a time when protesters continue to express doubts about Iraq's financial situation. In fact, the official October 22 report from the Higher Ministerial Committee for Investigating Events of Demonstrations hid the identity of those were behind the killing of peaceful protesters and other most serious abuses committed in early October. This continued lack of accountability angered regular Iraqis, and helped motivate many to take to the streets again last Friday.
It appears that the Iraqi government remains perplexed by how to deal with future demonstrations staged by restless masses, who remain furious with the widespread corruption they face in their daily lives. If Iraqi leadership hopes to put an end to future demonstrations, they cannot continue to rely on violence. Instead, Prime Minister Adil Abdul-Mahdi must take immediate action through serious reforms and the formation of an impartial government—one where members are held accountable to the Iraqi people.