A New Foreign Policy in Sudan: Status Quo or a Shift Towards the Gulf?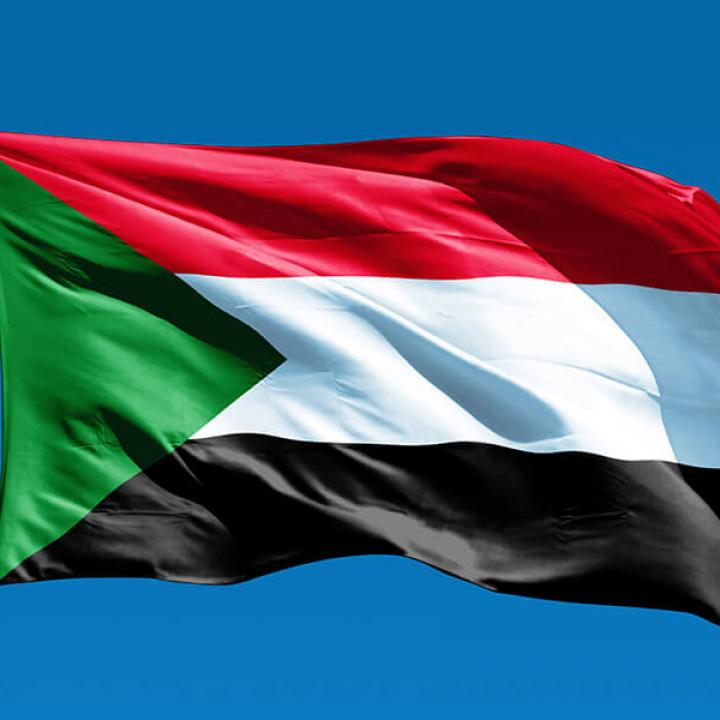 When Sudanese Defense Minister Awad Ibn Auf issued a statement on April 11, 2019 revealing that Sudan's longtime dictator Omar al-Bashir had resigned and that a military council would undertake a two-year "transitional governing period," a number of indicators revealed a shift in domestic and regional attitudes that were likely to prevail among the leaders of the security agencies that participated in the establishment of the Military Council.
This change became apparent through the eight hour delay in the Military Council's statement, and due to the fact that Sudan's paramilitary Rapid Support Forces rejected Defence Minister Ibn Auf as the council's leader while accepting Abdel Fattah Burhan, leading to the former's resignation along with Chief of Staff Kamal Abdul Marouf. Burhan, who had overseen Sudanese forces in Yemen, received Emirati and Saudi aid before becoming head of the Military Council. And along with a number of other council members, Burhan had refused to meet a delegation sent by the Qatari Foreign Ministry to Sudan—suggesting a strong alignment of the Military Council with the Saudi Arabia and the UAE.
Reexamining the plan Bashir prepared to defuse events and maintain the status quo provides some insights to Bashir's approach of militarizing the state and its likely effect on Sudan's regional partnerships going forward. Bashir had appointed generals to the most important state executive positions even as he stripped security agencies of some powers and military mechanisms. He appointed the defense minister as his top deputy and merged militias or armed movements loyal to him into the army—clear evidence of his trend in this direction.
Bashir also pursued a foreign policy based on the principle of maintaining a balance of power between regional countries, cooperating with everyone while never overtly aligning with one party at another's expense. While acceding to Gulf countries' plans in Yemen, Bashir was not blatantly hostile to Iran. He remained an ally to Turkey and Saudi Arabia simultaneously, as well as a friend to both Egypt and Ethiopia despite tensions over the Nile river. Moreover, Bashir's position regarding the Qatar crisis was ambiguous, as he focused primarily on benefiting economically from both sides without visible bias.
This attempt to maintain a regional status quo was in fact very favorable to the ambitions of several regional countries such as Turkey, Qatar, Ethiopia, and even Egypt. Sudan appeared to favor the continuation of a stable status quo that did not encourage Saudi and Emirati shifts towards a new balance of power, though Bashir made sure not to irritate these two countries. The reasoning behind Bashir's neutrality was clear: his plan to militarize Sudan needed extensive outside economic support as well as self-sufficiency. Bashir's visit to Syria, for example, was clearly in response to Russia's financial and consultative support for the Sudanese security and intelligence services.
Ironically, it is now those military forces that seem interested in pursuing a less equivocal foreign policy. While the Sudanese Military Council's deposing of Bashir was clearly in response to popular protest, regime change also reflects how a new orientation appeared inside the army during Bashir's reign that seriously conflicted with the country's overall foreign policy. That Burhan is now in power suggests that matters may shift in a favorable direction for the Emirates and Saudi Arabia. Burhan has previously coordinated with the governments of both countries by virtue of his work in Yemen. This has prompted the two countries to take advantage of this closeness to develop stronger ties by providing financial and oil aid to a country characterized by its openness to foreign support—a major element in the government's ability to continue its current operations.
Indicators that the balance is inclining in favor of the Emirates and Saudi Arabia have also emerged in media coverage by loyalist channels. Moreover, public displays of foreign policy also indicate a shift: while the Military Council received Bahrain's Foreign Minister Khalid bin Ahmed Al Khalifa, they had previously refused to receive a delegation from the Qatari Foreign Ministry, claiming that the ministry had not coordinated with them in advance.
However, it is unlikely that the balance of Sudanese interests will remain tipped in favor of the Emirati-Saudi axis. Neither Qatar, Turkey, Egypt, or Ethiopia are comfortable with Saudi-Emirati hegemony over political decision-making in Sudan. The extent to which Qatar and Turkey's interests intersect is well known, as is their competition for regional centrality with the Emirates and Saudi Arabia—especially in Sudan. A few months ago, Turkey signed a number of investment agreements with Sudan regarding investment in the Suakin island on the Red Sea, mining for gold and other minerals, establishing a joint Sudanese-Turkish bank, and bolstering investments in the agriculture sector. Qatar preceded Turkey with a number of similar agreements.
Both Turkey and Qatar see in Sudan a geostrategic front given its location neighboring Egypt, Libya, and the Red Sea. By injecting military and economic investments into Sudan, this position can be used to ensure a balance of power to their benefit against Egypt, the Emirates, and Saudi Arabia in the Red Sea and Libya, as well as some other African countries. Qatar and Turkey have long invested in Sudanese state institutions and some civil society institutions, beginning with penetrating the formerly ruling National Congress Party, which has a political Islamist orientation that accords with Qatar and Turkey's regional orientation. This means that they are able to regain relative influence in Sudan through these institutions even if the NCP loses its presence there.
For its part, Egypt fears that its influence will be geographically and strategically checked by the Emirates and Saudi Arabia on the pretext of confronting Qatari influence in Africa. Saudi Arabia and the Emirates have been giving economic support to both Ethiopia and Eritrea as well as Sudan. Greater influence of Gulf countries in Egypt's African neighbors would be a thorn in Egypt's side and impose political pressure to stay in line with Saudi and Emirati interests in Yemen, Syria, and Libya in a more dependent manner than Egypt would like exhibit.
There is also the potential for Russia to become involved; it had recently given extensive support to Sudan in hopes of building up security and commercial influence on the Red Sea. This support was motivated by hopes in have an active say in international commercial traffic through the Suez Canal and an active role in the Belt and Road initiative. This project looks to connect China and Asia more broadly with Europe by way of Middle East, providing a land route alternative to the sea routes typically controlled by U.S. fleets. Separately, Russia feels that greater Saudi-Emirati influence will benefit American interests at its expense.
However, it is notable that the American position has tended toward a "wait-and-see" approach—the U.S. State Department has refrained from fully specifying its stance on the events, and has avoided describing the events in Sudan as a coup. However, spokesman Robert Palladino it did call for support to be given to the foundations of democracy and peace in Sudan, adding that the transitional period laid out for the Sudanese people should be less than two years. It is likely that this U.S. policy springs from the current administration placing priority on trying to achieve a historic victory by confronting Iranian influence in Syria, competing with China commercially, and holding effective negotiations on the nuclear issue with North Korea.
As Washington monitors events and waits for an opportunity to intervene when the situation matures in its favor—or strays completely from its desired outcome—Saudi Arabia and the UAE may find themselves outmatched by the confluence of interests that are against their increased involvement in Sudan.
Russia in particular may exploit America's complacency toward Sudan as well as the needs of the Military Council—some of whose members, including Burhan, have been accused of war crimes in Darfur—by offering economic aid that allows them to create a balance of powers against Emirati-Saudi mobilization.
Meanwhile, the Sudanese Military Council remains cautious in any major shifts in foreign policy. In its first official statement, the Sudanese Military Council offered a signal to reassure regional and international powers by reaffirming its commitment to all concluded agreements. Moreover, Sudan's military rulers want to gain legitimacy by achieving recognition from the largest possible number of states. There remain active Sudanese civilian, Islamist, and national forces that could resist the rule of the Military Council—and therefore could reject coming under Saudi-Emirati influence. Thus, the Military Council is also likely to experience continued outside pressure against shifting towards the Gulf that may prove persuasive.