Lone Wolves: The Identities of Non-Affiliated Terrorists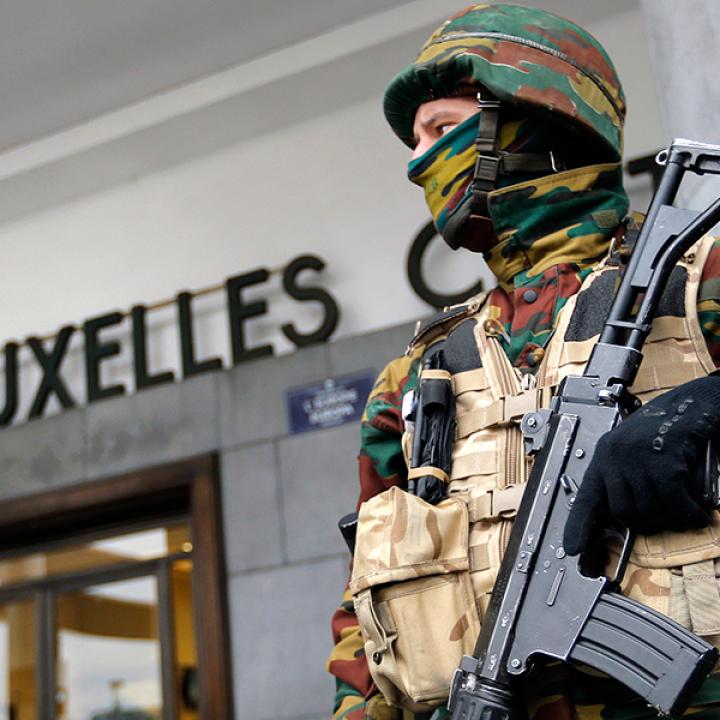 Why "wolf"? Because wolves are praised by both Arabs and the West for their courage, opportunism, and perfidy.
December 7, 2016
Introduced in Western media and political circles, the term "lone wolf terrorist" is a relatively new concept in politics, slowly entering this ever-changing scene and making headway into of the international relations vocabulary. Why "wolf"? Because wolves are praised by both Arabs and the West for their courage, opportunism, and perfidy.
A lone wolf is someone who conducts armed attacks alone using disparate means for ideological, social, psychological, or even pathological reasons, without any clear ties to any group or any direct connection to a network in the target land.
There are two types of lone wolves, although there can be significant overlap. The first type is driven by psychological factors. This wolf suffers from family, job, or society-related challenges, pushing him to release his negative energy toward others. To relieve the grievances, which he perceives as leading to this dissatisfaction, he takes revenge on his surroundings until his issues becomes known, while seeking personal fame at the same time. The second type of lone wolf terrorist is more common and more dangerous, because he is motivated by ideological or nationalist sentiments.
The term "lone wolf" was first used afterhas been used increasingly since al-Qaeda and the Islamic State (IS) surprised Europe and the US with armed attacks on their land by people who did not exhibit the signs of religiosity described by the West. On the contrary, some of them drank alcohol, used drugs, and hung out with girls. These activities were advised by IS in the English-language booklet entitled "Safety and Security Guidelines for Lone Wolf Mujahideen and Small Cells," which was originally published in Arabic by an al-Qaeda member. The booklet offers dormant cells and lone wolf terrorists in western countries the do's and don'ts for avoiding detection, with emphasis on surprising the enemy and encoding electronic communication devices.
The biggest problem with lone wolves is probably that most of them come from non-religious backgrounds and exhibit no sign of piety. For all intents and purposes, they can hardly be classified as religious terrorists. The American and European attacks were mostly conducted by people who were visible on surveillance cameras, which leads to excessive security concern on how to identify lone wolves when they seem to fit in so well with others. All the signs to be looked for in suspects under surveillance, such as members of radical groups, pertain to their trips to the mosque or to charities. It is easy to monitor and interpret their behavior in a cumulative manner, but not in individual instances captured on security footage.
Lone wolves are usually connected on the web and affected by the influential media produced or manipulated by radical groups and movements, be it the picture of a child bleeding to death or a woman asking to be rescued from the atrocities of war. This material facilitates the process of radicalization: from recruitment to the execution of attacks without raising the suspicions of security and intelligence services in target countries.
It is useful to look at the recent events in Europe, particularly in France, Bavaria , and Munich. A Tunisian drives a large truck through the crowds in Nice and kills over 130 people. An Afghan attacks over ten people with an axe and a knife on a train in south Germany. Many questions arise about these extremists, who portrayed a grim image of Islam and made the far right's dream come true after introducing "Islamophobia" in 1997.
Speaking their own language, I would ask if these extremists were forced to leave the land of Muslims (Tunisia, Afghanistan) and live with infidels? If they refused to live among infidels, why did they not go back to Afghanistan, Tunisia, Morocco, Algeria, etc. so they could live with 'real' Muslims? Did they refuse to return to the land of Muslims because they consider the government of these countries infidel and their people apostates? Do they think that all the people in the streets of Nice or on the train in Germany are infidels?
These are young people with impressionable minds, experiencing contradictory feelings about their identity. They start looking towards the internet for something that can bring them closer to their so-called 'roots,' finding exactly that on extremist websites. These extremist organizations are masters of the art of attraction, promotion, and persuasion. They use enthusiastic chants, pictures, and scenes about the suffering and victimization of Muslims. Through repetition and assertion, this media engenders the worldview of these confused youth. Then comes the rule of attraction: they become attracted to any idea that justifies absurd, irrational, and even unreligious acts. Their minds become immune to all other ideas. They become lone wolves, killing, blowing up, and running over people in crowded places, before getting killed or arrested. Then, IS claims responsibility for the attack without ever knowing who that person was.
But these young men have not yet figured out that they typically enjoy more freedom of religion in these countries than in some countries with a Muslim majority. The problem here is the erroneous interpretation of Islam. Religion is about how you treat people. A Muslim is someone who spares people his tongue and his hand. Be oppressed but never oppress. Indeed, to Allah, destroying the Kaaba stone by stone is less evil than killing a single Muslim.