Kadhimi's Confident Return Visit to the Oval Office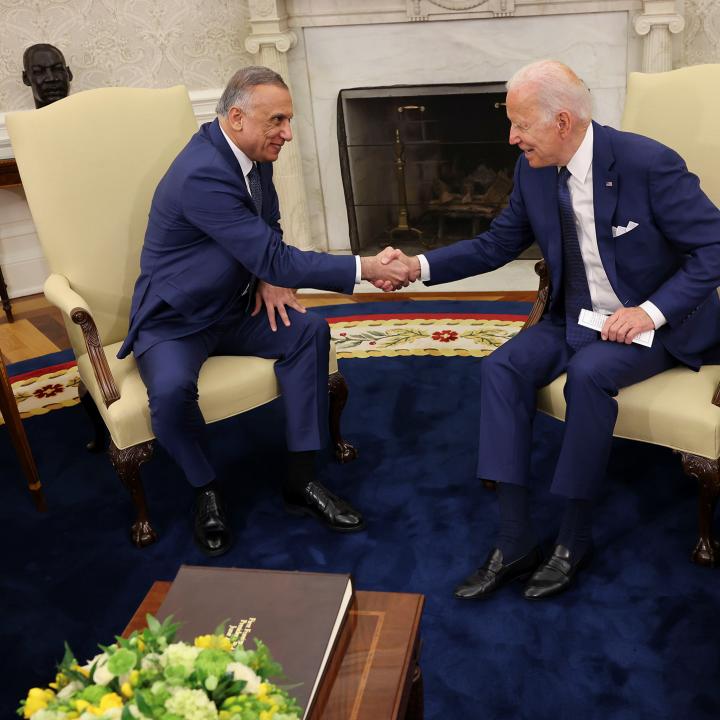 Iraqi PM Kadhimi's recent visit demonstrates a positive vision of U.S.-Iraqi relations and improved confidence among Iraqi leaders.
Almost exactly a year ago, I gave an insider's view of Iraqi Prime Minister Mustafa al-Kadhimi's visit to the Trump White House. Last week, Kadhimi joined a very short list of world leaders to have made two Oval Office visits in two years, this time to visit President Joe Biden.
As was the case last year, I spent three days alongside the delegation, including one-on-one dialogue with Prime Minister Kadhimi. Much has been written about the outcomes of the visit—notably a new mutual restatement that there are no U.S. combat forces in Iraq—but in this piece I will focus on the "feeling" of the visit, the state of U.S.-Iraq relations, and the all-important morale of Iraq's government.
The stand-out impression from this visit is one of improved confidence among Iraqi leaders, particularly the prime minister. In August 2020, the government and Kadhimi himself were still reeling from a disastrous incident on June 25, in which the Kataib Hezbollah militia (KH) surrounded the prime minister's own house in an unsuccessful yet brazen effort to secure the release of a KH rocketeer arrested for terrorist attacks on the U.S. embassy in Baghdad. One month on, the Iraqi government's head was down, eliciting sympathy and support from the Trump team.
Fast forward a year, and the Kadhimi team inspired some hope: instead of asking for solutions, the Iraqi government came to Washington with its own practical plans and realistic timeframes. The government can now defend its inner corridors from being overrun by militia, due in part to international aid. Elections are likely to be held in Iraq in October 2021–whatever the current theatrics of political parties suggest—and the government that emerges would have a full four-year term, in contrast to the truncated 2018-2020 cabinet or Kadhimi's 2020-2021 caretaker government.
Seeking a Second Term
Unlike Iraq's last two premiers, who protested that they were dragged reluctantly to the throne, I sense that Kadhimi wants to be prime minister for a full term. This was an important mental hurdle to overcome because Iraq needs a premier with allies, a plan, and a desire to govern. This is no time for pretense or humility; Iraq needs leadership. On this trip, Kadhimi was unapologetic about how he has proceeded thus far and clear about his plans for a second term.
Close observers of Iraq's politics will discern a steady marshalling of political forces behind the model of a Kadhimi-like moderate as prime minister, one with strong international backing who has a desire to strengthen the state by diminishing Iran-backed militias as soon as possible. As for parliament, the next elections in Iraq will splinter even further, with Moqtada al-Sadr likely controlling the largest single party, strong Kurdish representation, and a cobbled together moderate list, all alongside a diminished aggregate bloc of Iran-supported Shia Islamists. A Kadhimi-like figure would be the most likely candidate to lead such a coalition government.
One obstacle to this structure had been the issue of a U.S. military withdrawal. The Iran-backed bloc championed this issue since their January 5, 2020 call in parliament to force the eviction of foreign advisors in the aftermath of the U.S. killings of Iranian general Qassim Soleimani and Iraqi militia kingpin Abu Mahdi al-Muhandis. However, the proposal obtained wide political support; Sadrists are ideologically supportive of the end to any foreign occupation in Iraq, and Shia nationalists must follow the consensus.
During his recent visit to Washington, Kadhimi achieved something important by securing a U.S. withdrawal of combat forces by December 31, 2021 while leaving a military advisor mission more firmly in place—a decision promptly praised by Moqtada al-Sadr, other Shia nationalists, and even the Iran-backed Fatah coalition.
Everyone knows Iran's militias, such as Kataib Hezbollah, will still claim to be resisting a non-existent U.S. occupation. With the withdrawal announcement, however, they can now be isolated outside of the political mainstream. The confusion and sense of exposure among Iran's proxies is evident in their timid communiques and minimal attacks after Kadhimi's July 26 White House visit.
U.S.-Iraq Relations
In August 2020, the Kadhimi team were nervous about their reception in the Trump White House, never relaxing for a moment in case President Trump or Secretary of State Mike Pompeo unexpectedly turned on them, cornered them for commitments they could not keep, or embarrassed them publicly. As it happened, the Trump team were the perfect hosts and the visit went swimmingly. Even so, this July the Iraqi team came to Washington knowing in advance that they would be well-received by an appreciative U.S. government and Congress. Both recognize that those on the Kadhimi team are moving as quickly to repair Iraqi sovereignty as their rather limited toolkit allows.
This sense of reassurance allowed Kadhimi and his ministers to lay out a positive vision of what the next Iraqi term of government could look like: UN-observed elections, a gathering of moderate forces, strengthened tools of the state, a major step forward on the rule of law and anti-corruption, tightened ties with the regional and international communities, and a lunge towards net-zero environmental emissions by reducing gas flaring. For U.S. officials, this vision demonstrates that Iraq is slowly changing from a state that asks the international community for help to a state that brings solutions to the table.   
What the two back-to-back visits show is that the United States knows, deep down, that Iraq is important for a host of reasons that have nothing to do with the 2003-2011 Iraq war or the post-2014 struggle against the Islamic State.
Iraq remains an engine for either stability or instability in the region and the world, and it is increasingly viewed (alongside Israel and Jordan) as a friend and a partner—not a war zone or a ward of the international community. This is why Iraq's premier was the first Arab leader to get a call from Joe Biden and the second Arab leader (after Jordan's King Abdullah II) to visit the Oval Office.
Iraqis can be very proud of Iraq's two Oval Office visits in two years—both were highly successful dialogues despite the huge differences between the two U.S. presidents and their administrations. Even as the Middle East recedes from the forefront of the U.S. foreign policy and "forever wars" reach their end, Iraq has a special and important place in U.S. policy—whether the administration is Republican or Democrat.