Iran's Efforts to Undermine the Turkish-Israeli Rapprochement Are Backfiring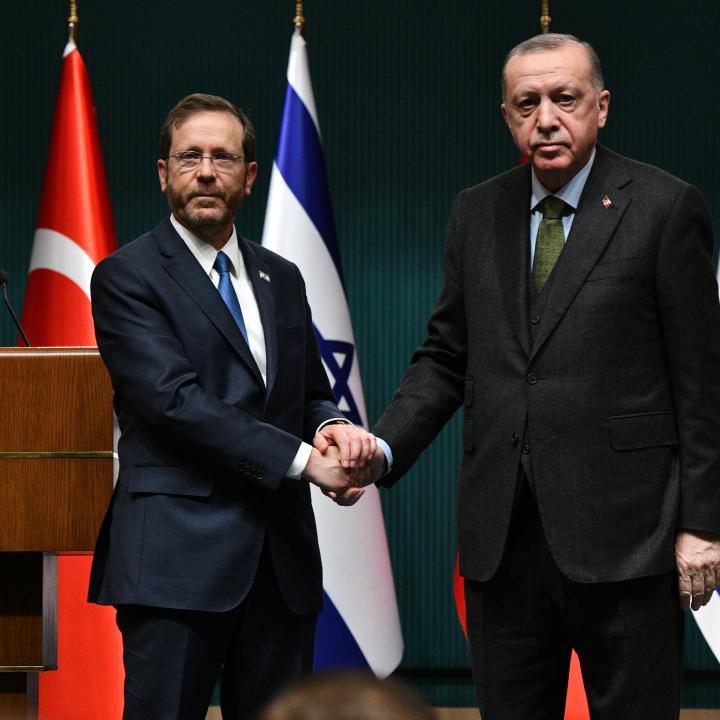 Iran's efforts to target Israeli citizens on Turkish soil has brought Turkey and Israel closer together.
On March 9, Israel's President Isaac Herzog paid a landmark visit to Ankara, the first of its kind for an Israeli President in fifteen years and the outcome of two years-long efforts to reset relations between the two sides. Several critical developments—including the COVID-19 pandemic, the defeat of Israel's former Prime Minister Benjamin Netanyahu in the general elections, the rare de-escalation moment in the Middle East, and finally Russia's war on Ukraine—have all contributed to this significant breakthrough, which has continued to unfold in the subsequent months.
Though significant, Herzog's visit was largely framed as a personal initiative rather than that of the executive branch of the Israeli government. Nevertheless, one segment bilateral relations demonstrates rapid and effective growth. For some time, the professional coordination at the intelligence level between Turkey's National Intelligence Organization (MIT) and the Israeli Mossad concerning the security threats facing the two countries has seen swift developments.
One of the most pressing factors driving this increased collaboration is Iran. Tehran sees Ankara as a regional rival who stands in the way of its efforts to dominate the Levant region. Its view of Israel is even more bleak, an archenemy who undermines Iran's national strength and capacity, especiallythrough its close relations with the United States.
During the last few years, the proliferation of Iran's radical Shia armed militia in the region has become a matter of increasing concern not only for some Arab governments, but also for Turkey and Israel. Amassing the IRGC's (Iranian Revolutionary Guard Corps) proxies in neighboring countries constituted a security threat to both Ankara and Tel Aviv. In Syria, a tacit convergence of interest vis-à-vis the presence of Iran's IRGC-affiliated armed militias has emerged. 
In the last five years, Israel has conducted more than a thousand airstrikes against Iranian targets in Syria; hitting 1,200 targets with over 5,500 munitions during 408 missions. Turkey has never criticized these strikes. Likewise, when Turkey executed its first drone strike against IRGC-backed militias in Syria during its 2020 campaign against Assad regime, Israel demonstrated a great interest towards Ankara's position.
Moreover, the negotiations between Biden's administration and Iran over the possible re-activation of the JCPOA nuclear deal raised concerns in both capitals. Although Turkey did not object to the initial deal, the prospects of the current negotiations carry several risks to Ankara as well as to Tel Aviv. On one hand, a nuclear-armed Iran is an unwelcome development for both the countries as it will most likely trigger a nuclear arms race in the Middle East. On the other hand, a weak deal could empower Tehran and its expansionist agenda by allowing it to better finance its proxies and accelerate its missile and drone arsenal programs, thus posing a far more serious threat to Ankara and Tel Aviv.
Iran has also increasingly used its IRGC-affiliated militias in Iraq and Lebanon to pressure and target both Turkey and Israel. Most recently, Tehran stepped up the effort of the Iraqi Shia militias to target Turkish military posts fighting the Kurdistan Workers' Party (PKK)—a designated terrorist organization in northern Iraq—using shells, drones, and rockets. A declassified U.S. military intelligence report released last May further asserts that Iran-backed Shia militias in Iraq are coordinating with the PKK against Turkey.
In June 2022, several reports indicated that Iran sponsored the establishment of a joint operations room in northern Syria between the Kurdish-armed People's Protection Unit (YPG)militias and the IRGC-backed Shia armed militias to counter possible Turkish military operation there. Syria and Lebanon likewise continue to serve as a launchpad for Iranian-sponsored attacks against Israel. Last month, Israel launched a major airstrike attack that crippled Syria's main airport in an effort to prevent Iranian weapons shipments into the country. 
Moreover, on June 2, Israel successfully intercepted three drones flown by Hezbollah over the disputed area of Karish gas field. This drone presence was particularly notable, as Hezbollah had promised earlier not to take action before the Lebanese state made a formal decision on the issue. Recently, the idea of transferring Israel's gas to Europe via an underwater pipeline to Turkey has been discussed behind closed doors. Such a move will link Ankara to this simmering conflict as well, causing it to closely monitor escalations from Iran's proxy in the eastern Mediterranean. 
These developments all demonstrate the ways in which Iranian involvement in the region has created a convergence of interest between Turkey and Israel vis-à-vis the Iranian threat. The ongoing shadow war between Iran and Israel is believed to have necessitated and facilitated further normalization steps between Tel Aviv and Ankara to counter the mounting Iranian menaces. 
After accusing Israel of assassinating several critical Iranian figures in its nuclear program and military institution, Iran sought to take revenge by targeting Israeli citizens abroad,including targets viewed as prominent. Iran's intelligence services apparently chose Turkey as a theatre of operations to execute the plans to abduct and kill Israeli citizens. 
By choosing Turkey as the location and employing locals, Tehran seems to have assumed that it would hit two birds with one stone: taking revenge on Israel and undermining Turkish—Israeli rapprochement. Attacks on Israeli citizens on Turkish soilcould sow distrust between Ankara and Tel Aviv and create a hostile environment that would overshadow efforts to collaborate in order to counteract Iran's malign policies. Yet the Iranian scheme backfired, and led instead to further direct communication, cooperation, and coordination between Israel and Turkey on the political, security, and intelligence levels.
In other words, while Iran meant to sabotage the effort to reset bilateral relations, it has brought even closer together. In February 2022, Turkey's National Intelligence Organization (MIT), uncovered an Iranian spy network tasked with killing an Israeli-Turkish businessperson, Yair Geller, in Istanbul. This operation constituted the biggest case of cooperation between the two sides since the reset efforts and paved the way for Israel's President to visit Turkey afterwards. The MIT informed the Israeli Mossad of the operation and officials from the two sides held a secret meeting in the capital Ankara to coordinate the moves. Later on, the Mossad secured Geller to a safe housewhile the MIT caught the Iranian ring.
Following the assassination of the senior IRGC officer Hassan Sayad Khodai in Tehran on May 22, Iran's attempts to target Israelis in Turkey intensified. The increasing debate on the American-led regional air defense alliance project—incorporating Israel with several Arab Gulf nations to thwart Iranian air attacks—constituted an additional motive for Tehran to try to sabotage the Turkey-Israel rapprochement effort and distance Ankara from attempts to form a strategic regional bloc to counter Iran.
In parallel with the assassination of Khodai, Israel advised its citizens not to go on vacation to Turkey against the backdrop of what it said were possible Iranian attempts to kill or abduct vacationing Israelis. Soon after, the warning was sharpened on June 13 and cited Iranian operatives' active plans to attack Israelis in Istanbul. The warning came a day after Ankara exposed an Iranian ring that had planned to attack Israeli targets.
Iranian officials were quick to dismiss the Israeli charges. Ministry spokesperson Saeed Khatibzadeh said that these were "baseless" and "part of a pre-designed plot to destroy relations between the two Muslim countries." However, Turkey uncovered that a joint operation by its police and MIT ended up capturing several cells working for the Iranian intelligence. According to Turkish media, Turkish intelligence arrested eight suspects who had posed as business people, tourists, and students while plotting attacks on Israeli tourists. These plans included the kidnapping and killing of former Israel's consul general to Istanbul Yossi Levi-Sfari and his partner Ronny Goldberg.
Coordination successfully thwarted the attack, and the operation demonstrably accelerated the normalization process between Turkey and Israel. Israel's President, Prime Minister, and the Foreign Minister all thanked Turkey for its effort on the matter. On June 23, Yair Lapid—then Israel's Foreign Minister and current interim Prime Minister—visited Turkey for the first time in more than two decades. During the visit, he praised the ongoing security cooperation with Turkey and said that "the lives of Israeli citizens have been saved thanks to the security and diplomatic cooperation." Lapid added that Ankara "knows how to respond to the Iranians" in the wake of ongoing attempts to harm Israelis on its soil.
For his part, Turkey's Foreign Minister Mevlut Cavusoglu asserted that regarding Iran, the "necessary messages have already been given [to those who are responsible]… and that they will never allow such revenge and terror attacks against Israelis in their country." The two ministers discussed a process to elevate their diplomatic ties to the ambassador's level and potential agreements in the field of civil aviation and energy cooperation, among other issues.
Following Turkey's latest counterintelligence operation and its exposure of Iranian cells, the head of Iran's IRGC intelligence unit Hossein Taeb was sacked from his position. Ultimately, the clandestine operation succeeded only in intensifying the rivalry between Ankara and Tehran. Since then, Ankara has devoted more attention and resources to counterintelligence operations not only to foil Tehran's attempts to kill tourists and shield the Turkish- Israeli rapprochement, but also to protect the tourism sector, which secured more than $34.5 billion in hard currency in 2019.
The Iranian threat might have been foiled for now, but it is a given that Tehran will continue to pursue the same regional policies that helped bring Ankara and Tel Aviv back together. In the future, Iranian action might even create a common ground and a shared interest for more regional countries to come closer to each other and broaden their cooperation and coordination regarding the rising Iranian threat in the region, demonstrating an even greater failure on Iran's part to keep the region separate.