Iran: Navigating Regional Influence and a Potential U.S. Policy Reset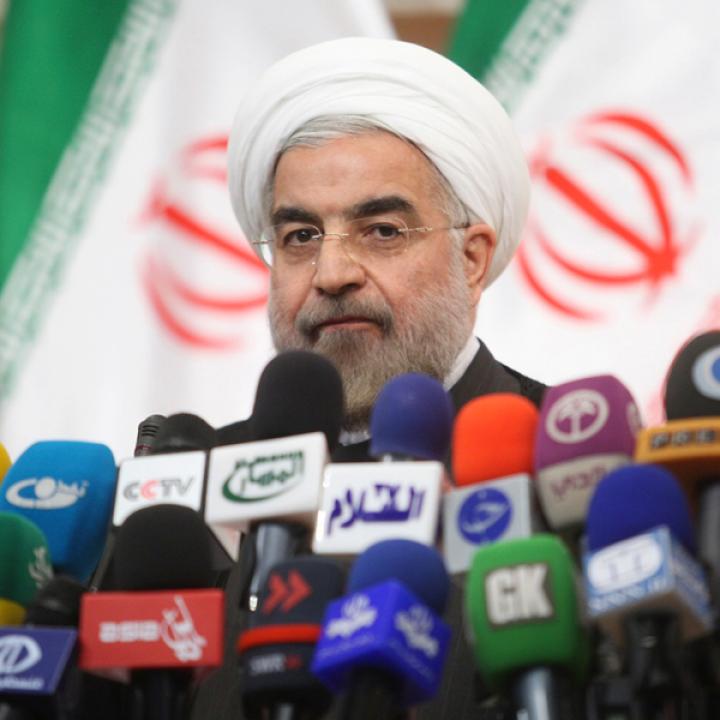 For Biden to reach a deal with Iran, the administration will need to address a host of difficult issues. While any changes in the U.S. policy towards Iran may have a significant impact, a nuclear deal might be a pipe dream.
Iran is uncertain and skeptical about the direction of new U.S. foreign policy following President-Elect Joe Biden's victory in the presidential elections. Accordingly, officials' public reactions have been mixed. Supreme Leader Ali Khamenei has expressed doubts about the entire U.S. electoral process, while Iranian President Hassan Rouhani and Foreign Minister Mohammad Javad Zarif have invited the president-elect to turn over a new leaf with the Iranian people. Rouhani also emphasized in a public speech that both countries could "decide and announce that they will return to conditions on January 20, 2017."
These public proposals belie a more complicated reality: the Trump years have made an impact on Iran's political climate, and attempts to negotiate with Biden are likely to be influenced by the different internal conflicts in Iran. In particular, Tehran is wary of adding to the perception of its own weaknesses, with the U.S. attack on Qassem Soleimani, a still-raging coronavirus pandemic, and a severe economic crisis given ongoing U.S. sanctions. As such, Tehran may be willing to make progress on nuclear negotiations while simultaneously demonstrating stubbornness on the question of its regional influence—two issues that are seen as intertwined by Iran's regional adversaries. Biden will also be returning to the negotiations table with Iranian officials wary and suspicious of future U.S. efforts at negotiations. As such, it seems clear from a regional perspective that next U.S. administration will have to grapple with how it wishes to address Iran's regional expansionism if it hopes to outline a nuclear agreement.
The Biden Approach
In dealing with Iran, there is a strong regional perception that Biden will apply former President Obama's approach of collective security through alliances rather than relying on unilateral measures as seen under Trump. Biden is seen as belonging to the liberal-idealist school of politics, which prioritizes collective action within international institutions in foreign affairs.
As such, he is expected to look to international diplomatic efforts to increase pressure on Iran regarding nuclear proliferation and regional influence while seeking an agreement that eases tensions in the U.S.-Iranian relationship. He is also expected to work with allies negatively impacted by Iranian foreign policy, thereby ultimately contributing to the process of stabilization and security in the entire Middle East. Particularly important in this sense are Israel and Saudi Arabia; there is nothing barring their involvement in a new nuclear deal with Iran.
Such an attitude would fit well with Biden's expected sharp turn away from Trump's approach to the Iran issue. During Biden's campaign, he promised to "renew American leadership to mobilize global action on global threats." Biden's article in Foreign Affairs, "Why America Must Lead Again: Rescuing U.S. Foreign Policy After Trump," stated that Iran had "engaged in destabilizing behavior across the Middle East," and that Iran should not be allowed to develop nuclear weapons. He went on to characterize Trump's approach to Iran as "disastrous," pledging to rejoin the agreement Trump left if Iran would still be willing to comply with the deal.
During the end of his campaign, it was clear to regional observers that Iran was a frequent talking point for Biden, when he signaled that he would favor a milder approach towards the Islamic Republic. In that same vein, he stated that Trump's policies had brought Iran "closer to having enough nuclear material to build a bomb." But cooperation with U.S. regional allies on a nuclear deal will also likely be accompanied by their expectation that the U.S. and ministration adequately pressures Iran on its regional activities.
The Nuclear Deal: A Serious Dilemma
The broader question of Iran's role in the region is likely to haunt the Biden administration as it formulates a new Iran policy. Khamenei has endeavored to demonstrate Iran's flexibility by declaring a temporary de-escalation in tensions and courting Biden with Tehran's possible return to the nuclear deal. And there is no doubt that the JCPOA constituted one of the most significant strategic shifts in the Middle East in recent years.
Nonetheless, despite Biden's and Iran's perceived willingness to revive the nuclear deal, the process will face a difficult reality left by the Trump administration around the particulars of the deal itself. Trump's withdrawal from the JCPOA has left a lasting effect on the possibilities for a new agreement between Iran and the United States, as evidenced by Iran's conflicting public statements. In contrast to statements from Rouhani and Zarif, Iran's Foreign Ministry spokesperson Saeed Khatibzadeh has said that there would be no possibility of renegotiating the nuclear deal.
Iranian officials have also repeatedly emphasized that the deal was the product of long negotiations, not only between Iran and the United States, but also between with the five permanent members of the UN Security Council and Germany. The deal became a binding international decision—UN Security Council Resolution 2231. As such, the nuclear deal is a thing of the past that could not be reopened or renegotiated. Iran's enriched uranium stockpile has also demonstrated the shift in the current state of its nuclear program; the International Atomic Energy Agency recently reported that the country had reached levels twelve times those agreed upon in the JCPOA.
Given these realities, Biden will likely be faced with a negotiating partner eager to enact much more stringent conditions on the United States than those accepted by former President Barack Obama. Of principle concern will be preventing the United States' ability to walk away from another negotiated deal, preventing a repeat of President Trump's actions.
Further entrenching these difficulties, there is the expectation that Trump will make a last-ditch effort to complicate Biden's future policy directives. The U.S. news site Axios reported that the Trump administration is imposing "a flood of sanctions" on Iran, in coordination with Israel and the Gulf countries. As such sanctions are imposed, the Biden administration will inevitably find itself forced to deal with the expectedly Republican-controlled Senate in order to lighten or lift sanctions on Iran prior to restarting negotiations.
Iran in the Gray Zone
Along with Iran's likely efforts to relax certain perimeters of the deal, the regional perspective is that these concerns are deeply linked the role Iran plays in the region and the effects this concern has created, including the normalization of relations between several Arab countries and Israel.
Gulf countries in particular have leaned into this option in spite of Iranian statements calling for renewed relations with language that sharply contrasts to Iran's deeply antagonistic presentation of Israel. Iran has made repeated overtures to Gulf states to reset relations since 1991 and carried over into officials' response to the U.S. elections; Iran's foreign minister, Mohammad Javad Zarif, tweeted on November 8 that Donald Trump had lost the elections and would leave office, but that Iran and its neighboring countries were there to stay. He wrote, "We extend our hand to our neighbors for dialog to resolve differences. Only together can we build a better future for all."
Yet normalization has demonstrated that Iran faces an increasingly alienated position regionally. It already lacks access to most regional political or security-based organizations, gambling instead on crises to form alliances. Moreover, its ongoing calls to create a joint security network with the Gulf countries—given a lack of shared mutual interests—are unlikely to restructure the alliances now solidifying against Iranian influence.  
With Iran desperate to strengthen its presence in the Arab world, its remaining outlet is its Arab proxy fighters. With a number of them designated U.S. terrorist groups—along with a 2019 designation of the IRGC itself—a continued pursuit of this strategy seen by both Israel and its ally the United States as a threat to Israel's national security. At this point, all of these concerns should be considered a roadblock to the  re-establishment of the nuclear deal with Iran in its original form—even assuming Iran would be willing to agree to the original parameters. Iran's regional geopolitical concerns must be addressed, but not in a way deleterious to U.S. strategic interests, namely Israel's security. Whether Iran will actually be interested in navigating these concerns is another question entirely.
The ongoing dispute over U.S. and Iranian influence in Iraq is one major case. In just the past few weeks, new pro-Iran factions have emerged in Iraq, adding to the country's already sizable presence of Iranian proxy militias. Especially notable is the formation of the Ahd Allah movement. These proxy groups continue to demand the removal of U.S. forces from Iraq, and both Iraqis and regional U.S. allies will likely carefully observe how Biden will navigate this point of ongoing tension. For better or for worse, it is clear that any new steps that President-Elect Biden may take in his dealings with Iran will directly impact Iraq's internal affairs as well. The same could be said for the other Arab countries in which Iran has attempted to create a foothold.
In the end, there may be a willingness for a new deal on both sides, but the particularities of issues related to the deal will pose obstacles to the process of negotiations. It is possible that the resolution of tensions in Iraq, the buy-in of regional U.S. allies, and the opportunity for Iran's economic resurgence could foster an agreement that induces more relaxed relations between Iran and the world, but each of those factors is a moving target. As such, a comprehensive deal seems like a pipe dream given the current moment. For better or for worse, it is clear that any new steps that President-Elect Biden may take will directly impact Iran's internal affairs.