With the Internet blackout in Sudan, Knowledge Is Power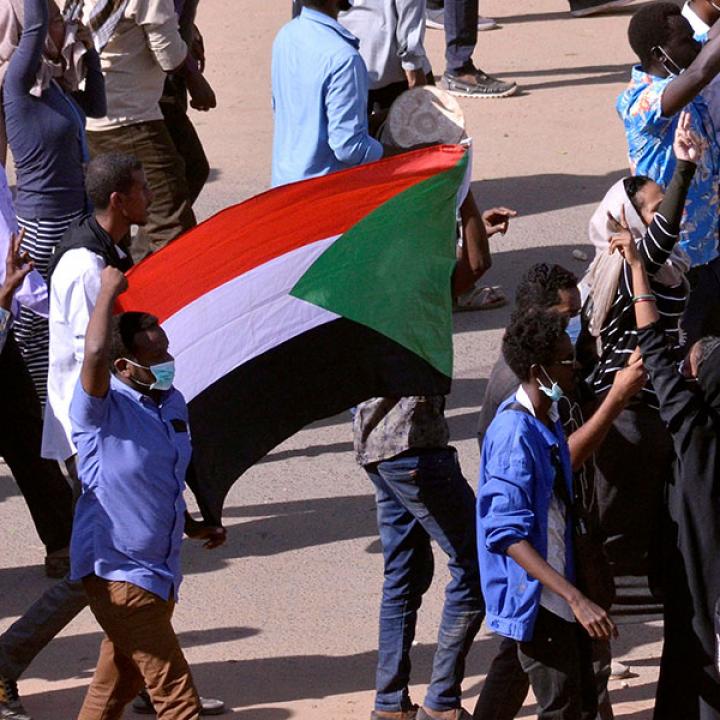 Two days after the June 3 massacre where an estimated 118 people were killed, Sudan's ruling military junta—widely seen as a continuation of Omar Al Bashir's regime—subjected Sudan to a "near total (internet) blackout" on the pretext of ensuring the country's national security and curtailing fake news. However, some political analysts believe that the junta is trying to cover up their suppression of the revolution by using excessive violence in the face of peaceful demonstrations. Two weeks of net darkness has cost Sudan more than $900 million, money that the regime can ill-afford to lose amid the economic crisis that fueled the initial December 2018 protests.
The move is a strategically calculated risk. It seems that in taking this step, the military council focused on political considerations, obscuring the social, legal, economic, and moral consequences of this decision. Only 7 percent of Sudan's population uses social media, and its most active users significantly overlap with the demonstrators. Despite the low number of social media users in Sudan, the impact has been astounding in catalyzing and mobilizing the protests. Since the start of the protests, the regime has blocked social media and has periodically disabled internet access. Whatsapp, Twitter, and Facebook were crucial in mobilizing and dispersing information both internally and externally that would help hold the regime accountable.

The surreal nature of the situation peaked when I, communicating from Washington DC, had to alert my family in Sudan that the Rapid Support Forces (RSF)—the militias accused of the June 3 massacre—had arrived in their neighborhood.

Currently, domestic and international communication is only possible via telephone lines, and even this can be challenging due to network congestion as a result of the blackout. Inside Sudan, citizens are now reliant on old-fashioned phone calls and SMS texts. As a relative on the ground tells me, "the RSF will not bring back the internet because they have scandals that would go viral."
Sudan's current internet black-out fits into a wider pattern of the regime's continued attempts to guarantee its survival by restricting access to information. This pattern emphasizes the need to raise awareness and understanding about Sudan—particularly among U.S. policymakers—to facilitate informed discussions vital to developing solutions to Sudan's current challenges.

With the internet blackout preventing Sudanese opposition from reaching a wide audience, the Sudanese diaspora has stepped in and played a key role in raising awareness of what is currently occurring. This message has been further amplified by a number of A-list western celebrities also expressing solidarity with the movement.

Consequently, hashtags such as #SudanUprising and #IAmTheSudanRevolution have taken Twitter and Instagram by storm. The hashtag #BlueForSudan has inspired many social media users, both Sudanese and non-Sudanese, to change their profile pictures to a shade of blue favored by well-known martyred Sudanese protester Mohammed Hashim Mattar, who was killed during the June crackdowns.
Sudanese within the country have welcomed the broader awareness that this support has brought to their struggle. Nonetheless, online sympathy and condemnation will be futile if not supplemented with greater knowledge and understanding of Sudan's political context, especially from U.S. policymakers. The absence of informed awareness about Sudan's ruling junta is making the internet blackout a successfully calculated risk that the Transitional Military Council is willing to take.

Like the regime it succeeded, the military junta is trying to guarantee its security by waging a war on information access—on both domestic and international fronts. Despite the knowledge of state-sanctioned atrocities in Sudan, the continued lack of consciousness about the intricate details of Sudan's political landscape among policymakers and those who can influence them has thereby obscured any roadmap towards a peaceful and just Sudan.
In response to this issue, a new civil society organization called Sudan In The News has emerged. Sudan In The News seeks to inspire informed awareness about Sudan and to stimulate informed discussions among political observers that can help create practical solutions.

The Sudan In The News project was started by communications consultants who understand too well how autocratic governments use the control of information as a tool to achieve their political goals. As such, Sudan In The News uses similar methods to support the Sudanese democracy movement, feeding relevant information to journalists who can empower activist voices and political observers who can operate on their behalf.

These efforts are vital due to the junta's focus on influencing the mainstream Western media outlets. According to a well-connected Sudan In The News source, the communications department of Sudan's military junta is targeting Western establishment newspapers to boost perceptions of itself in the West as the option most likely to create 'stability' in Sudan, and is positioning itself as the only viable alternative to 'rebels' and 'Islamists.' These efforts to cater to Western news sources were on display during an interview with the Financial Times, where council member Lt Gen Salah Abdel Khalig claimed that the military is "assuring that the Islamic system will not take power again because it brought us… a lot of the problems with the free world."
Sudan's military junta is copying from the Egyptian regime's propaganda playbook, and is exploiting the tendencies to omit contextual differences when generalizing problems facing neighboring states. Ironically, the 'rebels' and 'Islamists' that the military claims to be holding at bay are actually either allied to or are willing to cooperate and build a strategic partnership with the military junta itself.
The most effective way to counter the military's messaging is by facilitating better access to information and raise consciousness about Sudan's political reality. Ensuring that reliable information is available to U.S. policymakers is particularly vital in order for them to understand the flaws in the junta's 'security and stability' argument. An objective understanding of Sudan's situation - not shaped by the junta - will allow the U.S. to best craft a diplomatic solution that will meet U.S. interests and secure a truly stable Sudan.

Indeed, behind the junta's narrative of 'stability,' is the reality that the Sudanese military junta is an inherently unstable entity. This military establishment is a legacy of former president Omar Al Bashir's attempts to mitigate the risks of a coup by constructing a simultaneously bloated and fragmented security apparatus. Unlike Egypt, Sudan does not have the cohesive military structure to provide stability.

This fragmentation made itself clear during the June 3 massacre. The Rapid Support Forces (RSF) militia—led by the vice-president of Sudan's Transitional Military Council (TMC) Hemedti—are widely blamed for this massacre that captured global sympathy. Al Bashir had bolstered the RSF to counterbalance competing elements of Sudan's security apparatus—the army and the National Intelligence and Security Service (NISS).

Sudan In The News has provided evidence of political observers predicting the massacre, and a potential civil war, long before the June 3 massacre. Articles published between April 11 and May 24 warned of conflict within Sudan's disunited security apparatus in spite of the Transitional Military Council's messages of unity and particularly highlighted a risk that the RSF may attempt to send a message to its rivals by committing a rampage in Khartoum.

However, the articles failed to weave different observers' insights into a coherent understanding of military instability, and so the trend towards military fragmentation was lost to many outside observers in the face of the junta's messaging of unity. Had this analysis clearly reached U.S. policymakers, it is possible that the massacre could have been averted. The U.S. may have been able to encourage the RSF's Saudi-Emirati backers to use their financial leverage to allow the civilian-led transition to end the crisis without bloodshed had it been known that a massacre was on the horizon.

Instead, a civil war in Sudan is increasingly likely, and any internal vulnerabilities may allow international terrorist groups to flourish. ISIS, for example, has already stated its intent to exploit any potential carnage within the country. Yet better access to information can form the basis of a solution that can preemptively prevent such costly consequences, which would not be in U.S. interests—nor those of its Saudi, Emirati, and Egyptian allies.

Ultimately, informed awareness of Sudan's political context, as well as more informed discussions among coordinated U.S. agencies, will help the United States explain to its Arab allies that a civilian-led Sudanese democratic transition is the key, not the obstacle, to regional stability.  
U.S. policymakers cannot use moral reasoning to convince their Arab allies to allow a civilian-led transition in Sudan, as these countries merely see the United States' prestige as a global democratic champion as an obstacle to regional stability. Yet, Egypt does not want ISIS on its doorstep. Saudi Arabia and the UAE cannot afford to invest in wars in both Yemen and Sudan, amid costly domestic economic reforms.

Informed discussion has already contributed to practical solutions. The Atlantic Council's Cameron Hudson has consistently emphasized the need for a U.S. special envoy for Sudan, and did so again forcefully in a Foreign Policy article responding directly to the massacre. A week after his Foreign Policy article, veteran diplomat Donald Booth was dispatched to Sudan to serve as special envoy.

Booth's arrival marks an important first step to obtaining clearer context and information outside of that controlled by the military. Now, U.S. policymakers should recognize the internet blackout in Sudan as the action of a desperate regime buying time to show its Saudi-Emirati funders that it can guarantee security. Policymakers should not fall into the trap of junta-controlled information; they need a stronger understanding of Sudan's political context through independent sources in order to coordinate the wealth of knowledge and expertise that is still available, despite junta efforts.
On the basis of this knowledge, U.S. policymakers should then emphasize to its Arab allies that the Transitional Military Council is not a regime worth supporting and challenge any arguments that the military junta can provide stability.

With access to information, it will become clear that it is the junta that poses the biggest obstacle to Sudanese stability right now.