How the War in Ukraine Impacts Proxies in Syria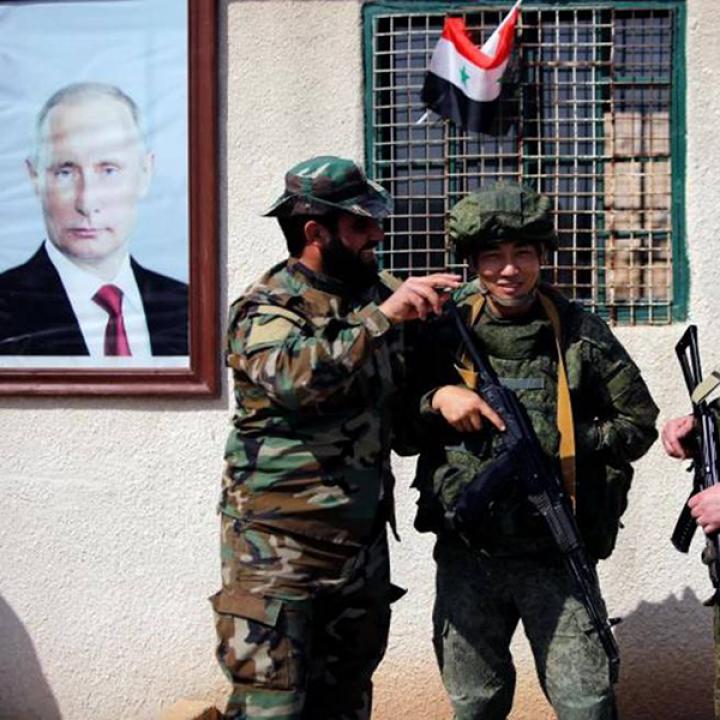 Russia is using its presence in Syria to defend its interests in Europe. This shift, and the global impact of the war in Ukraine, have important implications for on-the-ground dynamics in Syria.
While Russia initially saw its formal involvement Syria as a means to defend its interests in the Middle East and Eastern Mediterranean, it is now using its presence in Syria to defend its interests in Europe as well. At the same time, Russia's re-directed focus and the global fallout from the war has shifted the dynamics in Syria, impacting Iranian-backed militia fighters and other militias operating across the country.
Since World War II, proxy wars have become the most prominent form of state-led conflict given the number of strategic advantages they offer to global powers. Their appeal to these powers is clear, allowing them to lower their human and material costs at the expense of the proxy forces and greater flexibility to deviate from global protocols and agreements. Russia's war in Ukraine has broken this mold, yet the Russian infrastructure of proxy forces and militias is in the process of being redeployed to Ukraine, with numbers more likely to grow as the conflict continues.
Russian Recruitment of Syrian Mercenaries
Russia entered the Syrian war officially via authorization from President Putin and the "formal" Syrian parliament, yet it currently fights with both official and auxiliary forces. Russian air forces, military experts, and officers all operate in Syria. In parallel, Russia uses mercenaries from the Wagner Group—especially the infantry divisions—for military field operations. Russia does this to avoid casualties among its own soldiers, which would have domestic consequences and potentially stir up anti-regime sentiments within Syria. Additionally, Russian mercenaries have developed their combat experience by fighting in Ukraine, Libya, and elsewhere.
Russia has a long history of using both foreign and Syrian mercenaries in war to evade accountability. Syrians are particularly familiar with this tactic: in Deir Ezzor, a group of Wagner mercenaries and Assad-affiliated fighter groups tried to attack a base belonging to the Syrian Democratic Forces (SDF) where American advisors were stationed in February 2018. In response, the United States bombed and killed Wagner and Assad-affiliated fighters. While the number of casualties was not revealed, rumors circulated that all the involved attackers had been killed, with estimates reaching into the low hundreds.
While Moscow initially denied the presence of these forces completely, Russia later claimed that a group of Russian citizens who joined the fighting in Syria for a variety of reasons were killed. Officials likewise highlighted that Russian paramilitary forces are illegal inside Russia—a statement that is technically true but has no bearing on the reality of the Kremlin's relationship with these forces. Even so, since these individuals were not officially part of the Russian army, Russia avoided public condemnation and was not required to pay compensation to the families of those killed, even though there is abundant evidence as to the connections between the Wagner group and the Kremlin. The incident demonstrated the value of deploying proxy forces over Russian troops and continues to be a large component of their involvement in Syria.
However, Russia is now shifting a contingent of Syrian recruits north to join their fight in Ukraine. Syrian opposition media and human rights organizations have played a primary role in reporting on these efforts to recruit Syrians for the war. On February 24, the Deir Ezzor 24  report detailed that the Wagner Group was working to recruit Syrian mercenaries. The report was later confirmed by the Wall Street Journal. The Assad regime confirmed the recruitment process this week, announcing that hundreds of Deir Ezzor city's citizens had registered to volunteer.
While the current impact of these forces on combat is limited, observers perceive that mercenaries will continue to flow into the conflict as the Russian-Ukrainian war continues, further shaping the development of Syrian proxy units in the process. Although many Chechens and Belarusians are already fighting alongside Russia, Russia has begun to broaden its pool by redeploying Wagner forces and recruiting Syrians, especially following Ukraine's announcement that it would welcome anyone who wished to join its fight against Russian forces. Thousands of people, especially from Europe, have since joined this international legion.
Russia is particularly interested in these Syrian recruits because of their low cost. Syrian media and human rights sources have reported the opening of more than ten recruitment centers in the country. These centers encourage Syrians to join the fight to give back to Russia, saying that it saved the Syrian regime from falling.
However, the actual reasons motivating Syrians to join—particularly those living under regime control—are more practical and reflect the state of deteriorating living conditions at home. Many of these recruits are aware that living conditions inside Syria will likely only continue to worsen given the economic repercussions and food shortages of the war in Ukraine. Fighting for Russia offers a rare opportunity for real salaries. Although the material cost paid to Syrian mercenaries is uncertain, local sources estimate that it ranges between $300 and $600 per month, and includes compensation for anyone killed in battle. Meanwhile, others are eager to go to Ukraine so that they can subsequently seek asylum in Europe.
Russia requires that mercenaries have experience in urban warfare, and that they have worked directly or semi-directly under Russian command—in the Fifth Corps, Fourth Division, and the National Defense Forces. According to local reporting, Russian officers plan to train recruits briefly, then ship them off to Ukraine from the Russian Hmeimim Base in Syria.
Iran exploits Russia's preoccupation with the war
As indicated by Russia's recruitment efforts of Syrians, the war is altering Russia's economic and military calculations in Syria, which can in turn impact Syria as a whole. Shifts in Iran's Syria strategy and its own approach to proxy fighters is one way in which these changes are emerging.
With Russia's official and auxiliary forces become increasingly preoccupied with the war in Ukraine and mercenary recruitment, Iran is further increasing its activities in Syria—particularly in Deir Ezzor. Iran is in the process of trying to consolidate its military position and spread its influence in Deir Ezzor. And while Iran shares the region of Deir Ezzor with Russia via regime-controlled areas in the western region, it is likely that Iran seeks to change the sectarian dynamics in certain Syrian regions to mirror the development of its proxies in Iraq and Lebanon.
Since the start of the war in Ukraine, Iran has tried to increase its security coordination with the Syrian regime. On March 1, Ali Mamlouk, the director of the Syrian National Security Bureau, visited Tehran. Later in March, Iran's foreign minister praised the ongoing normalization process between the Assad regime and other Arab states, while emphasizing it was a "good opportunity to review all developments in the region…and the important events taking place on the regional and international arenas."
This rhetoric is bolstered by increased Iranian movements on the ground. On March 16, major reinforcements of Iranian militias arrived to the countryside outside of Homs and the city of Palmyra. Iran has also stepped-up its activities in SDF-controlled areas. The huge quantities of drugs uncovered by the Autonomous Administration may likewise be related to Iran's attempts to increase its revenues through drug trafficking in areas controlled by Washington's allies.
While Israel's continuous bombardment of Iranian sites in Syria has undermined these efforts to some extent, Iran will aim to capitalize on the increased leverage it has in Syria because of Russia's focus on the war in Ukraine. Tehran may publicly welcome a rapprochement between Assad and the Arab world, but Iran is certain to work towards keeping Damascus in its orbit rather than that of other Arab nations.
There are no signs of any imminent end to the Russian war in Ukraine, not to mention the middling policies of America and Europe against Russia—including a package of severe and medium-term sanctions and providing Ukraine with the necessary weapons to stand up to the Russians.
All of these issues cast a shadow on Russia's power in Syria. Its interest in Syria has naturally diminished since the outbreak of its war against Ukraine. As Russia shifts its resources away from Syria and reallocates them to fight in Ukraine, a vaccuum of power will continue to widen for Iran, which is already seeking to expand its control.
Iran thrives in chaos and capitalizes on instability to activate its societal, military, and ideological agendas. Therefore, amid the pre-existing Syrian chaos, and the chaos left by the Russian war in Ukraine, Iran will aim to increase its presence and dominance ideologically and militarily.