How Sudan Can Draw Its Diaspora Back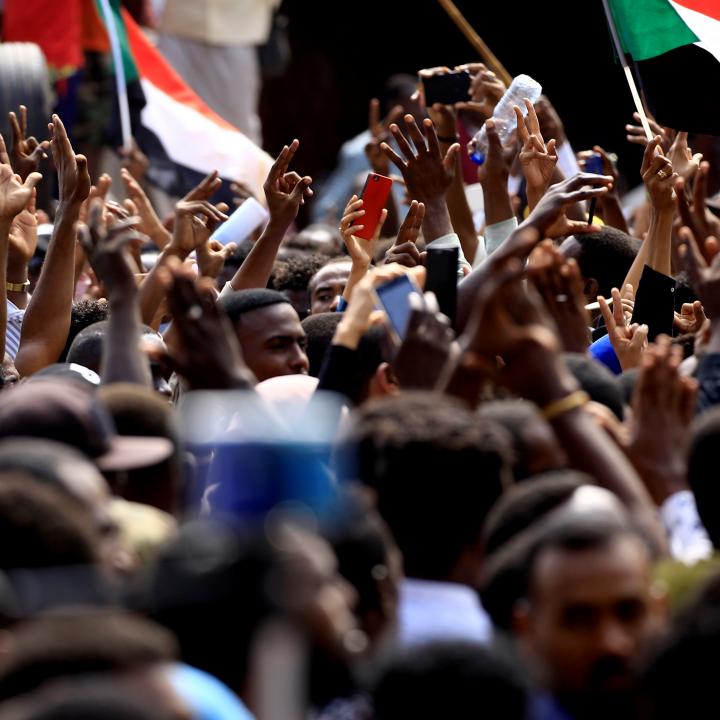 Sudan's revolutionary spirit has succeeded in toppling the country's dictator and achieving the Sudanese people's aspiration of seeing their country free from the most oppressive and bloody regime in Sudanese history. The Sudanese people are now prepared to push forward on a set of ambitious yet achievable goals and targets. These goals will require assiduous efforts from a collective of patriotic hearts and minds in order to implement the changes needed for Sudan to reemerge as a successful country.
However, Sudan's new government, or Sudan itself, can increase its chances of achieving long-awaited political, economic, and democratic changes by drawing on a unique, untapped resource. While seeking international guidance and help, the Sudanese government should work to encourage the return of Sudan's large diaspora, focusing particularly on highly educated Sudanese youth whose skills attained abroad can contribute to building the new Sudan into a flourishing democracy.
Throughout Omar al-Bashir's thirty year dictatorial reign, millions of Sudanese were forced to leave the country and resettle in neighboring countries or further afield in North America and Europe. These millions of Sudanese diaspora now represent a major potential human capital for Sudan, especially given the patriotism, knowledge, expertise, intellectual wealth, and networks that this diaspora has the potential to bring back to the country. If young Sudanese technocrats living abroad⁠—or others of similar caliber and integrity⁠—are given the opportunity to serve their people and country from within Sudan, the country will greatly benefit from this influx of young talent. Therefore, the government should do everything in its power to entice these young technocrats to return and participate in the rebuilding of the country. 
Those Sudanese people who protested⁠—and remained in Sudan⁠—are mindful of the missed opportunities that have characterized the recent history of their diverse country. They are similarly aware of the monopolies that have characterized the country's economy as well as the irrational political and economic behavior of al-Bashir's regime towards these resources.
Young Sudanese diaspora may be more enticed to return given the role that Sudanese youth has played in the revolution thus far. The uprising was predominantly a youth-driven mass movement and represents an unprecedentedly inclusive political uprising in Sudan. So far, the aftermath of the toppling of al-Bashir's regime through peaceful means suggests that it is not unreasonable for Sudanese diaspora to assume the transitional government will be guided by the rule of law and take legitimate political, legal, and administrative steps. Further evidenced by the slogans of the uprising, which rejected all forms of suppression and corrupt political policies.
Moreover, Sudanese diaspora having enjoyed the benefits of functional economies and greater political freedoms can bring these experiences back to Sudan to help rebuild their country. Young Sudanese⁠—at home and abroad⁠—represent a new generation of citizens who are more mindful of international legal norms that reject human sufferings and mistreatment, which formerly characterized the political and economic behavior of the Sudanese regime.
Further emphasis on human capital reflects how the root causes of Sudan's struggles are categorically man-made. Sudan does not suffer from a lack of resources, but rather a lack of effective management. For Sudan to mount a convincing argument against the era of mismanagement, it must immediately address the root causes of its current political, socio-economic and internal crises. The transitional government's top priorities should be to achieve political stability, express a commitment to uphold its sovereignty, and recognize the protection of human rights. Similarly, Sudan should reiterate that all citizens are equal under the law––irrespective of their social background, religion, ethnicity, race, or political affiliation. Globally, young Sudanese will find hope with the appointment of an Asset Recovery Agency tasked with swiftly investigating criminal acts to safeguard public resources and recover Sudanese assets, funds, and properties taken during the al-Bashir regime.
This agency must also issue confiscation orders of recovered assets, funds, and properties in Sudan or abroad from all persons, agencies, institutions and companies⁠—public and private⁠—that illegally benefited from the use of money, resources, or financial services. Such an agency would oversee crimes regarding money laundering, terrorism, human trafficking, as well as arms and narcotics smuggling. In order to properly tackle these issues, the new Sudanese government must reintegrate itself into the international community as part of the collective effort to maintain regional peace and security.
Sudanese diaspora will only return to Sudan if the new government is able to facilitate an open, robust, and inclusive dialogue between Sudanese technocrats––both at home and abroad. Similarly, this dialogue should emphasize home-grown solutions to overcome the socio-economic hurdles and political impediments Sudan seeks to recover from.
The path that Sudan must take is clear: initiate tangible and serious reforms on key issues in Sudanese society such as economic insecurity—from food and gas shortages to skyrocketing prices—while fostering a culture of social equality, protecting human rights, and freedom of expression. 
Therefore, the government should increase job availability for Sudanese youth, who seek to return home, and ensure the quality of life for the next generation. Any movement on this issue, in particular, will be vital in demonstrating to young Sudanese that change is occurring in their home country.