How Religion and Money Shape Russian Soft Power in Syria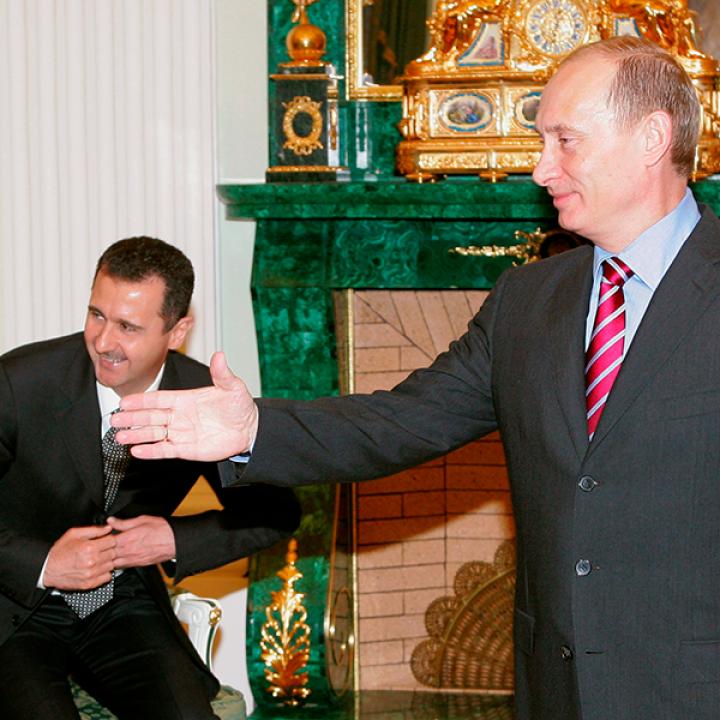 While the world reacted with shock to Russia's brutal assault on Ukraine since the February 24 invasion, understanding Russia's role in Syria makes Putin's actions in Ukraine look more like a pattern than an anomaly.
In 2017, at the St. Petersburg International Economic Forum, Putin said that "there are not so many countries around the world that have the privilege of sovereignty." This statement demonstrated the premise underscoring Putin's occupation of Syria and helps illustrate the intentions underlying Russia's soft power.
Carrot and Stick: Russia's Soft and Hard Power Pressures
Russia's hard power ambitions in Syria are quite evident through its military operations targeting civilians and opposition groups alike. The Russian military presence in Syria, which predates the war itself, centers around the Tartus Naval Base. Tartus was established in 1971 as part of an agreement between the Soviet Union and the Hafez al-Assad regime, and was significantly expanded in 2017 after Russia began its direct military intervention. In addition to helping with Assad's reclamation of Syrian territory, Russian forces have also overseen forced displacement operations—which Russia refers to as "reconciliations"—designed to shift demographics within in Syria to better facilitate the regime's control.
However, Russia has also seen its military presence as a means of promoting soft power influence within the country. Russia'sHmeimim Air Base in the Jableh district of the Latakia Governorate, which lies adjacent to the civilian airport known as Bassel al-Assad International Airport, is the launch base of any number of Russian military operations in Syria. However,Russia also set up the Russian Reconciliation Center for Syria at this air base, with the goal of recruiting civilians to disseminate targeted messages in various regions at war with the Assad regime. The intertwining of hard and soft power efforts—Hmeimim serves both as a center of Russian influence and the base location of its displacement efforts—demonstrates how Russia seeks to influence both Syrian public opinion and the demographics of the country itself.
Russia likewise employs these methods when it comes to humanitarian aid. The Atlantic Council has  outlined the ways in which Russia has employed humanitarian aid as a soft power tactic in Syria. Russia created a shadow aid system through institutional and religious frameworks not subject to recognized international norms. Under this system, aid networks did not partner with Syrian state institutions—a requirement for Western organizations working in the country. Simultaneously, Russia worked within the U.N. frameworks to restrict these aid channels so that their distribution remained under Assad regime control. According to the study, Russia used this aid system as a guise to cover its interference in Syria's societal infrastructure as it pursued demographic and ideological shifts conducive to its strategic goals. This process facilitated Syria's client-state status by depleting Syrian resources so that the country became entirely dependent on Russia for long-term aims, a method likewise employed by Iran in areas under its influence.
Russian Use of Religious Institutions
Russian officials have a long history of using ties to the Orthodox Church to claim that Russia is a savior for Christians across the MENA region. In July 2021, Russian Foreign Minister Sergey Lavrov echoed this refrain by stating on Russia-24 that "the Russian Ministry of Foreign Affairs was working with the Russian Church to make tangible progress in protecting Christians, especially in the Middle East and North Africa." In Syria, Putin has repeatedly used the Russian Orthodox Church—which has a strong following in the Latakia district—as a powerful tool alongside military force to achieve certain aims. Russian initiatives have successfully convinced leading figures from the Orthodox Church in Syria to openly support Russian government and Syrian regime policies. Many of these figures profited from the ongoing war by providing aid or covering travel costs for those who wanted to leave. Moscow had seen the impacts of similar Church-based policies in former USSR countries and modeled its strategy in Syria accordingly.
In this context, the city of Latakia recently awoke to news of the "suicide" of the Greek Orthodox priest George Hosh, a major supporter of the Russian and Assad militias and a sponsor of the "reconciliations" and settlements with the regime. Hosh was also known for working with Syrian men and women who wanted to leave the country. However, he was accused of only helping Christians or individuals with an Islamic background who had converted to Christianity, including those who converted after being told that they could only receive aid if they became Christian. Converts would receive a baptismal record and were brought under the protection of the Church to apply for religious asylum.
Hosh worked on these issues as part of a Russian program for protecting Christians seeking asylum in Europe. Eyewitnesses stated that the Russian Orthodox Patriarchate would cover the costs of emigration for persons aided by this program. Local residents and social media reports indicated that although Hosh's death had been staged to resemble a suicide, it appears that he had actually been killed by the regime and Russians for unknown reasons.
Russia has also capitalized on Islamic institutions to pursue its own goals. Ramzan Kadyrov, the current head of the Chechen Republic, was one of Putin's close allies in the war in Syria and sent groups of Chechen fighters to Syria under a religious pretext. Russia's policy of using religious engagement to build ties with Syrian leaders was on display early on through their direct involvement in the war, as Chechen leader Ramzan Kadyrov organized a conference of Islamic religious scholars and regime-aligned sheikhs in the Chechen capital of Grozny. 
Once in Syria, these fighters took direct orders from the Kremlin. Kadyrov also sent several thousand Chechen fighters as part of the battle with ISIS. Despite their military responsibilities, the most important part of their involvement in Syria was establishing ties with Syrian regime soldiers on the basis of their shared faith. Chechens have in fact fought on both sides of the conflict—anti-Putin Chechen fighters also infiltrated the ranks of extremist oppositions factions fighting Assad. These fighters relied on the same pretext and jihadist ideology that Kadyrov employed to recruit poor, desperate youths to fight in the so-called holy war.
In the civil sphere, the Russian government-backed Akhmat Kadyrov Charitable Foundation, named for the current leader's father, has sent aid to regime-controlled areas since mid-2016 to influence public opinion regarding Russian and Chechen involvement in Syria. This aid is visibly politicized; Kadyrov and his affiliated media outlets make frequent public statements that his foundation's aid to Syrians has far surpassed that of other international organizations—a demonstrably false assertion.
Putin ally and businessman Yevgeny Prigozhin has likewise played a role in combining reconstruction contracts and religious interests to cement Russia's role in Syria while gaining favor with the public. Amid talk of reconstruction and normalization in Syria over the last couple years, there have been several oil and gas deals inked between the Syrian regime and companies with ties to the Russian mercenary group known as the Wagner Group, which is led by Prigozhin. This comes after years of Chechens working under Prigozhin to rebuild mosques in Aleppo, such as the Great Mosque, and others throughout Syria that were damaged during the war. Rebuilding these mosques has enhanced Syrian-Chechen relations while allowing the Kremlin to employ soft power tactics, mirroring an extant Russian domestic policy in which Chechens built mosques in Muslim areas of Russian cities to win over the local populace.
Education and Culture
Moscow does not rely on religious connections alone; it has made efforts to spread awareness and interest in Russian culture, art, and literature throughout Syria via cultural centers Moscow supports and directs. New branches of the Russian Cultural Center have been set up in a number of Syrian governorates for this purpose. The main Russian Cultural Center in Syria, which is headquartered in Damascus, was inactive for seven years before reopening in 2020.
In 2014, Russian was added as a primary language of instruction in Syrian educational curricula alongside French and English. At this point, both Russian and English remain optional courses for students. Interest in studying Russian varies by district depending on the degree of popular support for the Russian presence there, an issue explored more in-depth here.
Moreover, the Russian government and the Assad regime oversee huge budgets intended to support scientific missions to Russia, Belarus, and Chechnya.
Russia's Economic Hegemony in Syria
There have been major business deals made through contracts to constrain and exploit Syrian national resources and force Syria to accrue sovereign debt. These deals render Syria indefinitely economically dependent on Russia due to penalties for delayed payments, as well as high accumulated interest. These contracts can take many forms:
Coercive contracts

with the Syrian regime proffer significant loans that must be implemented exclusively by Russian companies owned by individuals close to Russian President Putin. These contracts are subject to international sanctions because of Russia's involvement in the Ukrainian crisis and war crimes committed in Syria.

Export credit loans

, which Russia imposes by force in the form of secret loans for the regime. These loans come with the obligation to import and purchase goods exclusively from Russia and according to prices that Russia sets using rubles, which are higher than that of the global market.

Oil contracts

with illegal shell corporations under the umbrella of the Wagner Group, to which the regime grants

25% of oil

well revenues that it regains control of.

Contracts with private security firms—t

hese companies have recruited Syrians in Libya, Armenia, and Ukraine into the Russian army as mercenaries, and have been deployed to Libya, Armenia, and most recently Ukraine.

An exclusive contract

to control the Tartus port for 45 years.
These soft power efforts all help feed into Putin's haughty campaign to restore glory to Russia and achieve Russian supremacy at the expense of other peoples. Putin has employed hard and soft power in Syria to help prop up the Assad regime. However, the ways in which Moscow is implementing its soft power agenda in Syria demonstrate Russia's efforts to hollow out any Syrian autonomy in an attempt to suck what remains of Syria more deeply into the Russian orbit.