Europe's Position on Iran Protests Looks Nothing Like a Decade Ago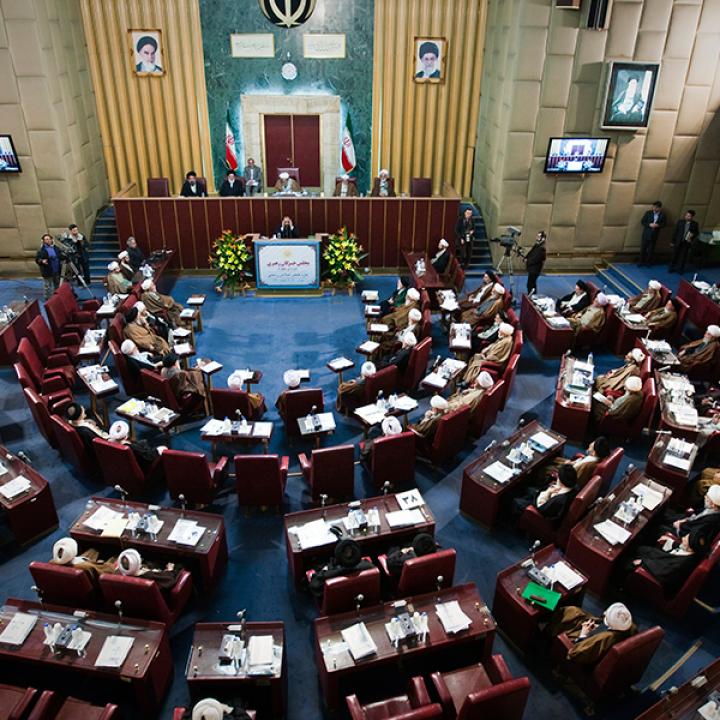 As protests erupted in more than twenty Iranian cities in the waning days of 2017, European leaders were placed in a precarious diplomatic position. When put side-by-side with European responses to the Green Revolution in 2009, the new statements reflect the tamer priorities of European countries: protecting their diplomatic and financial investments in the Iran Deal.
The protests arose at an awkward time in relations between the United States, EU, and Iran, right before Washington was due to announce whether it had decided to extend sanctions waivers and remain compliant with the JCPOA. The EU made clear it prioritized the JCPOA over the protests when EU ministers took a meeting on January 11 with Iranian foreign minister Mohammad Javad Zarif to reassure him of their commitment to the deal, rather than condemn him over his country's abuses of human rights. While the difference in rhetoric between 2009 and today can be attributed partially to new European leadership and other internal EU processes, this timing and context of the protests internationally paint a more telling picture about European priorities.
Since the lifting of international sanctions following the 2015 implementation of the JCPOA, Europe has been eager to engage with the Islamic Republic both diplomatically and economically. The UK reopened its embassy in Tehran, French company Total signed a $5 billion oil deal in Iran, and Europe's Airbus agreed to sell one hundred planes to IranAir in 2016.
European statements about recent protests in Iran broadly supported the demonstrators while glossing over allegations of the Iranian government's suppression of the protests. In contrast, U.S. government officials have sought a tougher rhetoric and made clear their disappointment with European remarks. In a Washington Post op-ed, Vice President Mike Pence wrote: "Unfortunately, many of our European partners…have thus far failed to forcefully speak out on the growing crisis in Iran. It's time for them to stand up."
The 2009 protests against the Iranian regime resulted from fraud allegations in that year's election of President Mahmoud Ahmadinejad. Over 4,000 were arrested, 140 taken to court, and up to seventy-two died. The protests that erupted in late 2017, originally over the price of eggs in Iran's holy city of Mashhad, have spread to more than twenty cities in the early days of 2018. Although these protests have not taken on the same size as the Green Movement, the crackdown has been swift. As of January 9, Iran's police and security services have arrested more than 3,700 people and nearly twenty-one demonstrators have died, four of whom were in prison. In 2009 and again in 2018, access to the Internet and social media were restricted.
High Representative of the European Union for Foreign Affairs and Security Policy Federica Mogherini's statement on January 2 relied on broad principles of international law saying, "Peaceful demonstration and freedom of expression are fundamental rights that apply to every country, and Iran is no exception." Mogherini added that she expected "all concerned" to refrain from violence and to guarantee freedom of expression." This false equivalency was widely panned in the United States, with one senior Trump administration official calling her statement "terrible."
The last time the Iranian government cracked down on a popular protest, the EU foreign ministers meeting in Luxembourg issued a joint statement saying: "The authorities should refrain from the use of force against peaceful demonstrations. [We] urge the Iranian authorities to ensure that all Iranians are granted the right to assemble and to express themselves peacefully." In addition, five EU member states— France, the Netherlands, the Czech Republic, Sweden, and Finland— summoned Iranian ambassadors to account for the police violence and claims of election interference.
In 2009, British Prime Minister Gordon Brown's statement was also much more explicit, saying "We are with others…in condemning the use of violence, in condemning media suppression." Brown added that "It is for Iran now to show the world that the elections have been fair … that the repression and the brutality that we have seen in these last few days is not something that is going to be repeated."
Compared to 2009, this year top UK officials have issued careful expressions of concern for the protests in Iran. On January 1, Foreign Minister Boris Johnson wrote in a Facebook post that "we believe that there should be meaningful debate about the legitimate and important issues the protesters are raising and we look to the Iranian authorities to permit this" and "we regret the loss of life that has occurred in the protests in Iran and call on all concerned to refrain from violence and for international obligations on human rights to be observed." A day later, this tightly-controlled response was on full display when Prime Minister Theresa May's spokesman repeated this rhetoric, nearly verbatim.
Some speculate these relatively unforthcoming statements may be a result of Nazanin Zaghari-Ratcliffe, the dual-national employed by the Thompson Reuters Foundation, who is serving a five-year prison sentence after allegedly plotting to topple the Islamic republic. Boris Johnson had been rumored to be negotiating for Zaghari-Ratcliffe's release during his trip to Iran in early December after it was reported the British government was prepared to pay £450 million to improve her chances of return.
From 2009 to 2018, French leaders went from severely criticizing the Iranian regime to sympathizing with the Iranian President's talking points. In the wake of the 2009 Green Revolution, French President Nicolas Sarkozy said, "The ruling power claims to have won the elections ... If that were true, we must ask why they find it necessary to imprison their opponents and repress them with such violence." He added that he was "worried about the situation in Iran" and that "the Iranian people deserve something else."
President Emmanuel Macron's recent response, in contrast, urged President Rouhani to "show restraint" and respect his people's freedom of speech and protest, although the crackdown had already begun. The next day, Macron went on to criticize the "official line" of the United States, Israel, and Saudi Arabia, saying the tone of their comments toward Tehran "is almost one that would lead us to war."
France has benefitted the most from post-sanctions investment in Iran. Macron is likely attempting to protect these deals by major French companies like Peugeot, Airbus, and Total while also attempting to preserve the positive diplomatic relationship France has built with Iran. In doing so, President Macron has given the impression that he is empathizing with Rouhani's rhetoric.
Recent German government statements also utilize "all sides" rhetoric similar to the EU, with Foreign Minister Sigmar Gabriel saying on January 1, "it is all the more important that all sides refrain from violent actions." Two days later, government spokeswoman Ulrike Demmer offered one of the most sympathetic statements toward the protesters saying, "in the view of the German government [the protests are] legitimate and deserves our respect when people have the courage to take to the streets with their economic and political concerns, as is currently the case in Iran."
On January 7, Gabriel went on German public broadcaster ZDF to invite Iranian foreign minister Mohammad Javad Zarif to Europe, saying "Together with the EU's foreign policy chief (Federica Mogherini), we agreed to invite the Iranian foreign minister, if possible next week."
German statements in 2009, by contrast, were much more explicit and forceful. German chancellor Angela Merkel criticized the use of "completely unacceptable force against protesters" and the "wave of arrests" during the demonstrations. "Germany is on the side of the people of Iran who want to exercise their right to freedom of expression and free assembly," Merkel said in a statement.
Europe may turn a blind eye to the crackdown on demonstrators in Iran, urge dialogue, and rely on Iranian president Rouhani's ability to quietly quell the protests. If the seal breaks on information coming out of Iran and more brutal repression comes to light, Europe may be forced to respond more forcefully, angering Iran and further complicating an already blighted US-European relationship.