Eritrea: Supporting Russia to Stay in Power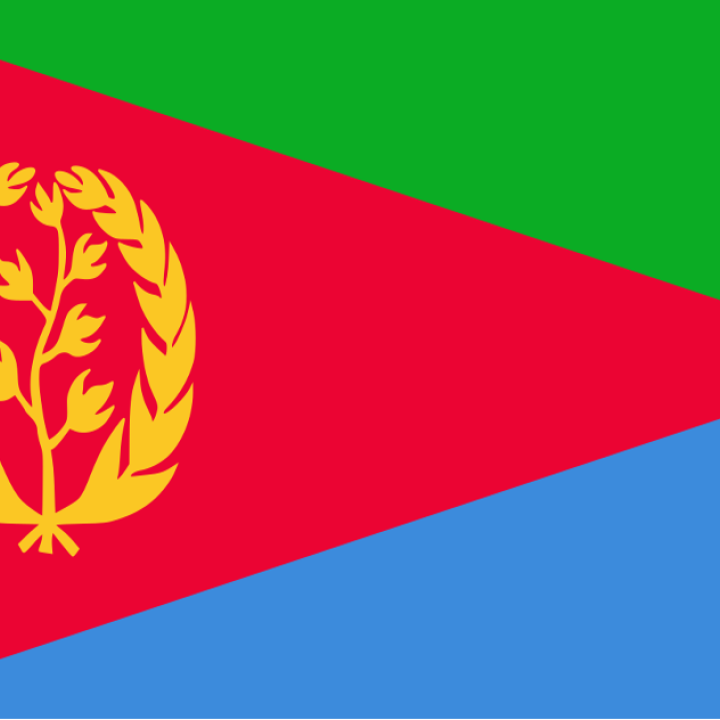 Eritrea is the only African country that voted against the United Nations General Assembly resolution demanding that Russia withdraw its military forces from Ukraine—a strong statement of support for Russia.
The intension behind this vote and the Eritrean regime's support for Russia are part and parcel of Eritrean President Isaias Afwerki's decades-long anti-American policy—a key pillar of his dictatorship.
Positive Eritrean-American relations in the 1990s
After Eritrea established its independence in 1993, and before Afwerki transformed himself from a guerilla leader into an all-powerful despot, Eritrea and the United States had a friendly, constructive relationship. The United States actively supported Eritrea's secession from Ethiopia, and Eritrea planned to implement neo-liberal economic policies.
Given Eritrea's 600-mile coastline along the Red Sea and shared border with Sudan, the United States considered it a key state in its efforts to combat terrorism in the 1990s. The two countries cooperated to stabilize the Horn of Africa, and senior U.S. military generals visited Eritrea—including the commander of the U.S. Central Command, General Tommy Franks. President Afwerki also cultivated close ties with Israel and chose to receive medical care in Jerusalem. In Arab media outlets, he was frequently accused of allowing the Israeli navy to operate from the Dahlak Islands and maintain an intelligence gathering facility on top of a mountain range on the mainland.
Afwerki's anti-American Campaign
Afwerki's attitude shifted after the Eritrean-Ethiopian Border War in 1998. Though legislative elections had been scheduled, they were subsequently postponed indefinitely and the country's prepared constitution was never implemented. During this period, Afwerki carried out a sweeping internal coup to consolidate an authoritarian regime. In response to growing pressures within his own ruling party—the People's Front for Democracy and Justice (PFDJ)—to make Eritrea's political system more transparent and allow for greater freedom of expression, Afwerki dismantled the party's leadership structures, arresting or exiling members of the central and executive committees, army commanders, business leaders, and the delegates to the National Assembly.
As a ruler repeatedly ranked as one of the world's most authoritarian, Afwerki runs the country through the PFDJ he restructured and a system that indefinitely conscripts all Eritreans who are over 18 years old. He has placed tight restrictions on foreign aid and has repeatedly expelled foreign NGOs as part of his aggressive vision of "nation-building," a method of national indoctrination bent on isolating his country from outside influences. Moreover, he has intentionally strained relations with Eritrea's neighbors—Ethiopia, Sudan, and Djibouti—as a means of directing internal frustrations towards external forces. Above all, Afwerki has hammered the Eritrean people with a clear message over the past two decides: the United States is Eritrea's greatest threat.    
In line with these shifts, President Afwerki supported Al-Shabab in Somalia and provided safe haven to a U.S.-designated terrorist, Sheikh Hassan Dahir Aweys, the founder of Somali Islamist group Hizb al-Islam. Afwerki likewise invited former Sudanese President Omar Hassan Al-Bashir for his first trip abroad after the International Criminal Court (ICC) issued an arrest warrant against him due to his role in the Darfur genocide. Additionally, Afwerki regularly visited Qaddafi in Tripoli, in disregard of U.N.-imposed sanctions against Libya following the Lockerbie terrorist bombing. These actions led to the Obama administration's sponsorship of the UN Security Council Resolution 1907 in 2009, imposing sanctions and an arms embargo against Eritrea—a resolution that Russia also voted to support.
In the ongoing civil war in Ethiopia, Afwerki sent his troops across the border to fight in Tigray, andturned down the Biden administration's peace initiative, causing the U.S.-imposed unilateral sanctions in November 2021.  
Afwerki did not ease his anti-American rhetoric after the Trump administration removed the sanctions on Eritrea in 2018 following Afwerki's peace deal with the Ethiopian Prime minister—but the Trump administration's actions undermined Afwerki's anti-American propaganda among Eritreans. When the Biden administration re-imposed sanctions on Eritrea, Afwerki's narrative was strengthened. The matter of public approval is critical for Afwerki's political survival.
The overwhelming majority of Eritrea's population is concentrated around Asmara and its surrounding villages, known as the Hamassien. Afwerki's legitimacy depends on the support of his army generals, who are predominantly from this region. These generals do not benefit from Eritrea's economic resources. They support Afwerki because they perceive him as the only person capable of defending their country from the foreign threats he discusses incessantly. Sustaining this narrative and maintaining this support is critical for Afwerki's political survival. Without these beliefs, the generals have little reason to back Afwerki.
Eritrea's pro-Moscow Position
Eritrea has consistently adhered to pro-Russia positions on a wide range of issues, despite lacking notable security or economic ties with Moscow. In 2014, Eritrea was the first country to send its foreign minister to Crimea after Russia annexed the peninsula. Recently, Russian President Vladimir Putin chose to ignore Afwerki's offer for a base in the port of Assab following the departure of UAE's forces in April 2021, preferring instead to press ahead with his effort to obtain a base at Port Sudanthat June. This decision underscores Afwerki's desire to maintain animosity towards the United States and avoid foreign interference in his repressive internal policies, which is particularly important for his domestic agenda.  
The U.S. sanctions fuel this narrative and fit into Afwerki's isolationist agenda. The sanctions target the Eritrean army, Eritrea's sole political party (the PFDJ), and most importantly—the Red Sea Trading Corporation (RSTC), the only company permitted to import and export goods, including food and medicine. The sanctions hurt Eritreans, who understand that their economic suffering is a direct result of Eritrea's financial isolation. However, Afwerki and pro-regime media have framed this condition as the result of antagonistic U.S. actions, successfully convincing Eritreans of this narrative.
U.S. Policy Towards Eritrea
The United States needs Eritrea to promote security and stability in Ethiopia, Sudan, Djibouti, and Yemen, yet as of now, Afwerki maintains contact with the Houthis and refuses to condemn their attacks against Saudi Arabia and the UAE. America's effort to stabilize the region over the last three decades has failed partly because of Afwerki's hostility and subversion. At present, he is arming and training disgruntled tribes in east Sudan, maintaining Eritrean forces in Ethiopia and flirting with Iran.
Notably, the MV Saviz, an Iranian military vessel, used to be stationed in Eritrean waters to coordinate Iranian activities in the Red Sea and Yemen against Saudi Arabia, the UAE, and Israel. Israel reportedly attacked the vessel in April 2021, causing the Eritrean regime to accuse Israel of violating its sovereignty.
The U.S. cannot ignore Eritrea's role in this volatile region. And after over a decade of sanctions against Eritrea, the U.S. should sincerely consider whether they have proven productive. There is an argument to be made that these sanctions strengthen Afwerki's intensifying campaign to blame America for Eritrea's hardship, and therefore do not benefit America's interests in the region.
The administration's priority when it comes to dealing with Eritrea should be to ease the current sanctions. When the Trump administration removed the sanctions on Eritrea, Afwerki's rhetoric continued, but its justification came under question. When the Biden administration reimposed sanctions, the regime's narrative was strengthened. It is critical to undermine Afwerki's anti-American rhetoric; easing sanctions is a crucial step towards that goal.
To do this successfully, the administration should explain that the sanctions aimed to harm the government, not the people. Such messaging is critical given the acute suffering that the sanctions have exacted on Eritreans. This is likely the only way to refute Afwerki's propaganda that the U.S. is the enemy and that barricading in a hermit state is the sole path to safety.