The Challenges Facing Egypt's Female Migrant Workers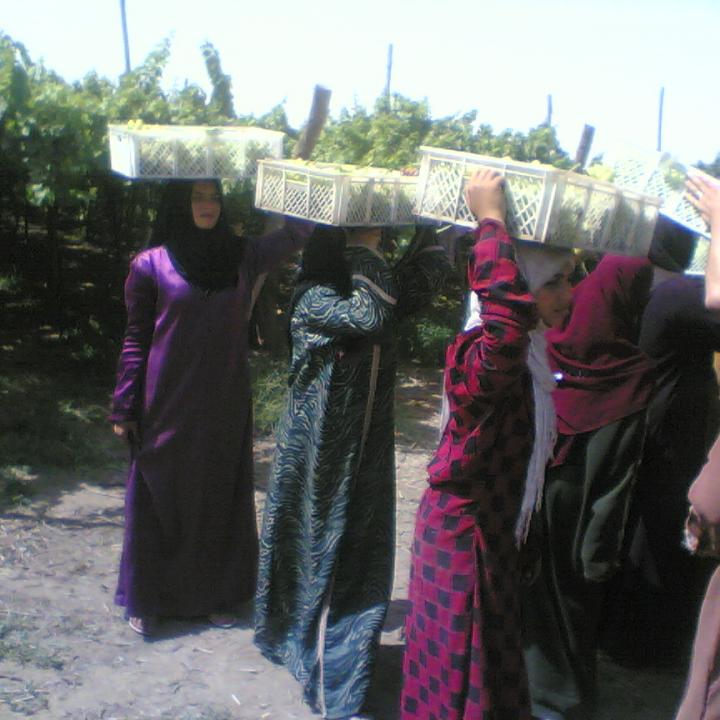 Safiya, 30, wakes up to the sound of her mother yelling, "Get up now or the car will leave without you." A new morning brings with it the same misery: Safiya is one of thousands of migrant workers in rural Egypt who, driven by poverty to pick grapes during the harvest season, are forced to endure physical and psychological hardships to earn a living for themselves and their families.
In the 1960s film based on Yusuf Idris' novel The Sinners, the character Aziza—played by Faten Hamama—is forced to work to feed her children and ailing husband. Aziza's struggles are typical of real migrant workers, and although more than fifty years have passed, the film still has an enduring impact on its viewers and reflects the intractability of the challenges migrant workers still face today. Migrant workers continue to lack protection or recognition from unions or labor laws, with their fate instead left in the hands of employers, contractors, and recruitment agents. Female migrant workers in particular struggle with a lack of legal protections guaranteeing their rights and able to put a stop to the abuses they face from employers and recruitment agents. The women often work long hours on indoor farms, with only one hour to rest, for a daily wage of 50 Egyptian pounds (approximately $2.79).
Legally, female agricultural workers do not fall under a legislative framework that offers protection to other labor forces, which could limit their exploitation by employers and recruitment agents. Previous labor laws, such as Article 159 of Labor Law No. 137 of 1981, excluded female agricultural workers from its protective provisions. Despite the fact that the new unified Labor Law No. 12 of 2003, which replaced Law No. 137, did provide female workers with various rights, it maintained the exception of agricultural female workers in Article 79—continuing to exclude a large percentage of Egypt's total workforce.
This exception is a clear injustice and an example of how women's rights are not recognized in the agricultural sector overall. The problem is compounded by the fact that as unregulated laborers, migrant workers lack the right to belong to a state organization, such as a labor union, that could guarantee their rights.
Statistics concerning the number of migrant workers trapped in this cycle vary, but the most accurate figures come from the Land Center For Human Rights report issued two years ago. This report puts the number of migrant workers at five million.
The report also revealed that female migrant workers suffered from job instability and exploitation resulting from the seasonality of agricultural work. They were often underpaid compared with other employees, found their wages held back by agents, and endured discrimination and wage inequality, especially in a system where women and children have historically earned only 35% and 30.5% (respectively) of what men earn on average, with few signs of improvement.
The increased use of agricultural machines for land preparation and irrigation has reduced the job opportunities available for women and placed them under incredible pressure to work in terrible conditions. Not only are their living standards declining, but they also face risks of injuries without any legal or health protection, insurance, compensation, incentives, or benefits.
Health risks for female agricultural workers are considerable, since women are constantly exposed to chemicals used in agricultural production without agricultural or health guidance regarding their possible side effects. Cases of respiratory diseases are frequent as the workers inhale chemicals, dust, and dirt. Liver diseases, schistosomiasis, and malnutrition are also common. In particular, the Land Center For Human Rights report highlighted that over 40 percent of female migrant workers suffered from diseases attributed to low calorie intake and protein deficiency. Tuberculosis cases were also recorded among male and female workers, including on jasmine farms that failed to meet the state's health requirements.
Sexual harassment is another problem for female migrant workers. Many cases of rape have been reported, especially as these women are often left vulnerable to the whims of employers and supervisors who exploit the absence of legal and social protection. F.R., a 19-year-old migrant worker, explained that she was harassed by her supervisor who blackmailed her and threatened to fire her if she did not do as he said. "I had to leave the job and I found a job with a female supervisor to avoid being put in similar situations again," she said. 
Even transport to and from work can be dangerous. These women face inhumane conditions as male and female workers are piled into pick-up trucks driven recklessly by a driver whose sole objective is to reach his destination as quickly as possible in order to return back and transport another human load. Serious accidents are not uncommon and sometimes lead to injury or death. In fact, according to the Land Center report, 79 agricultural workers (adult men and women as well as young girls and boys) were killed and 190 others were injured in transportation accidents and as a result of old and dilapidated equipment from January to September 2016.
Improving the lives of female migrant workers requires coordinated and continuous efforts from all concerned authorities and stakeholders: ministries, legal authorities, legislative entities, the media, and civil society organizations. Women's rights advocacy groups, especially those working with rural women, must direct their attention to this important underserved segment of the female workforce. Awareness campaigns can be organized and decision makers and legislators can be contacted to highlight the suffering endured by these women.
The state should also allow additional opportunities for Egyptian NGOs to work on similar programs and collaborate with state agencies as required by development needs. Media outlets also have a role to play by bringing this issue to light and advocating for the rights of this marginalized group. The end result should be a draft law that can help guarantee the rights of female agricultural workers, including female migrant workers. Because female migrant workers have lacked institutional support thus far, there is much that can be accomplished by both state and citizens to better the lives of this marginalized workforce.