A Call for Peaceful and Constitutional Reform in Iraq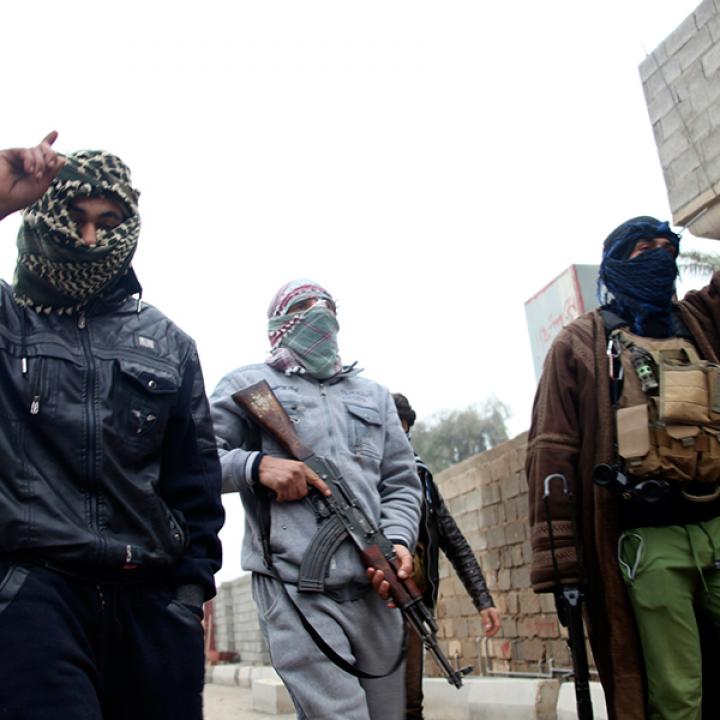 The current Iraqi political impasse offers an opportunity for moderate Iraqis to prevent the nation from slipping into a crisis that could be more dangerous than that brought about by the so-called 'Islamic State' — a crisis caused by the sectarianism of Iraq's Islamist parties.

It is time for Iraq's civil society to push for reform. There is increasing awareness of the need to abandon Iraq's political process, which is currently driven by ethno-sectarian quotas. Youth voters have focused on gathering popular support for broad reform and the Reform Alliance represents an emergence of parliamentary opposition to the quotas system.

These calls for reform reflect how Iraq's major Islamist parties have lost their credibility and popularity, which relied on sectarian rhetoric to mobilize communities against one other. These political blocs' reputations have since been undermined by their protection of corrupt senior officials in the face of growing demands to hold both parties and individuals accountable.

Reform is clearly needed on multiple levels to ensure independence and professionalism in multiple sectors of the Iraqi government. While electing a reformist government in the next elections would provide one aspect of this change, it is important to begin the process of reform before elections, in order to ensure that voters feel that the elections will actually represent their wishes.

An important place to start is with the 'independent' Electoral Commission.   The Electoral Commission has so far been plagued by the quota system that has shaped the body since its inception. This system has allowed various political parties to gain leverage with Commission officials that they support. Besides ensuring the independence of Commission members, the government should invite the judiciary to conduct and supervise legislative elections in order to provide an extra layer of oversight.

There must be reformation of a government with a specific mandate, headed by al-Abadi or others. Its purpose, in addition to dealing with pressing economic and security matters, would be to ensure the integrity, fairness, and freedom of the upcoming elections through a series of measures.

This type of reform must also be accomplished in other federal bodies. The Commission of Integrity—Iraq's intra-government anti-corruption body—should also be reexamined to ensure its independence from party interference. Similarly, the Accountability and Justice Commission, responsible for de-Baathification, must either be gutted entirely or substantially altered through the appointment of independent professionals to ensure its impartiality and stop its involvement in party politics.

On a broader level, whole sections of the Iraqi government, such as the judiciary, must be reevaluated for their independence and integrity. Only when this is guaranteed can they resume a power-balancing role with the legislature and take on a supervisory role in elections.

Concurrently, the Iraqi government should invite international sponsorship and help with preparation for the upcoming elections. The government should especially seek the involvement of the United Nations (UN), which has been marginalized in recent years. The UN should take on an active role in monitoring future elections, which would provide an increased sense of legitimacy for future governments.

After elections, international guidance could help set up a fairer system in Iraq to distribute legislative seats. Within Iraq, there is a movement that is ready and willing to take advantage of fair elections to move Iraq towards a reformist government – The Reform Alliance.

Work has begun at the grassroots level to form a broad political coalition of individuals and civil society groups who intend to enter the forthcoming elections as a bloc united around the platform of anti-corruption and anti-sectarianism. This platform—a national initiative announced during the coalition's first conference in December 2015 and fleshed out during its second conference this past April—outlines an initial framework of reforms that the coalition will undertake if elected.

These reforms are broad and ambitious. The initiative calls for activating the Iraqi Constitution's articles that have been ignored, such as the creation of a Federal Council. It also calls for a change in the Accountability and Justice Law, which has been abused by parties in control to marginalize opposition movements, which has in turn led to an environment that nurtures terrorism through political disenfranchisement. Ultimately, the Alliance hopes to enact a switch from Iraq's current proportional representation system to a mixed Electoral Law, as seen in Germany, which would allow for more direct representation of Iraq's individual provinces and limit the power of Iraq's largest political blocs.

Even after working towards a reform government, it is necessary to convince voters that the 2017 provincial elections and 2018 parliamentary elections will be free, fair, and transparent. Indeed, restoring trust in elections and elected officials is crucial to resolving Iraq's current crisis.

Without the implementation of these measures, the next parliamentary elections will in all likelihood reward extremists and disenfranchise moderates. In the absence of open, free, and fair elections, discouraged moderates will refrain from voting while supporters of parties associated with the successful Shiite militias will participate en masse. Consequently, Iraq could descend into another bloody conflict that resembles the situation in Syria, also potentially motivating a new generation of terrorist organizations.

It is essential to national interest that MPs form a parliamentary majority to support these initiatives. Their support would restore the status of parliament as the representative of the people rather than being driven by the interests of parliamentary blocs, sects, or political parties. So that this call is not misunderstood as a partisan initiative, members of the Reform Alliance should pledge that they will not present themselves as candidates for membership in the transitional government.

Iraq's success will also rely on a supportive regional environment. Regional actors must be persuaded that their interests are best achieved through a peaceful and cooperative Iraq. After all, sectarian conflict is a cross-border problem, whereas Iraqi unity is not. In particular, Iraq can no longer be the stage on which Arab Gulf states and Iran play out their battles; instead Iraq must become a neutral territory along the lines of Oman.

Currently, there is an opportunity for a political settlement in Iraq. The shift in Turkey's policy towards the region strengthens the possibility of political transformation in relations between countries in the region.  It is in the interests of all the moderates in Iraq's neighboring states to seek such a solution before Iraq moves in the direction of Syria or Yemen and only then calls for a political solution. In addition, the success of a political solution in Iraq will open the door for its application in Syria and Yemen.

Iraq and the region clearly have a great deal of internal changes to make in order to reposition the country on the right path. But the continuation of Iraq's problems has deadly consequences far beyond its own borders. There must be be stronger attempts to convince international actors –particularly in Europe, America and Russia –of the need to support efforts to counter sectarianism in Iraq and the region. Without a dramatic shift away from sectarianism, Iraq and the Middle East itself will only continue to be mired in extremist movements, wars, and terror. It is in the interest of the entire international community that peace prevails in this region and especially in Iraq. And as previous years have shown, this can only be achieved when the national, sectarian, and extremist rhetoric, ideologies and inclinations of Islamist parties are abandoned.