Arab Refugees Demand "Freedoms" the EU Is Granting Refugees from Ukraine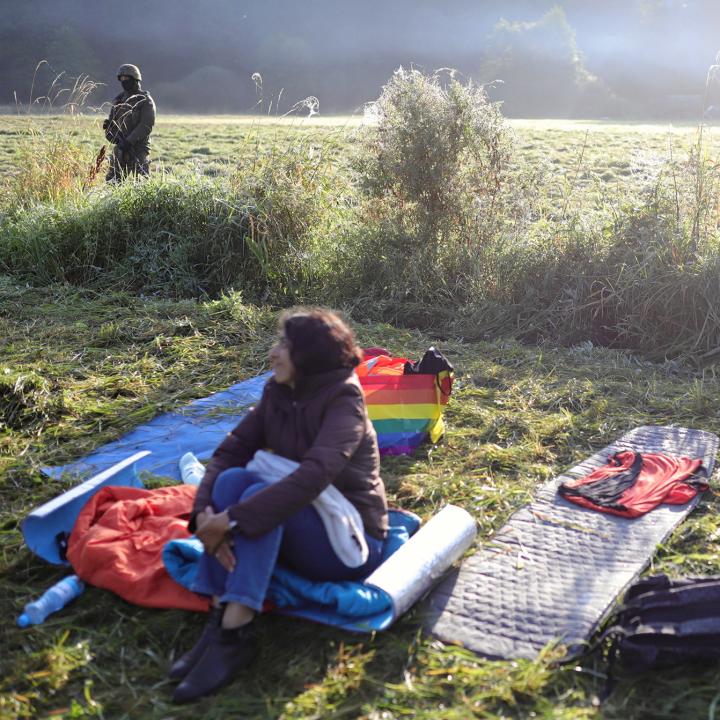 The EU's welcome of Ukrainian refugees has galvanized other migrants trapped in Lithuania to demand equal treatment as refugees of war.
Early last year, thousands of irregular migrants of various nationalities, many of them Arab, streamed across the borders of Belarus and headed toward Lithuania. These migrants were leaving relatively unstable home countries such as Iraq, Syria, and Libya in hopes of reaching Europe and building a stable life for themselves and their families.
The Lithuanian government held Belarus President Lukashenko entirely responsible for this increase in the numbers of illegal migrants arriving in Lithuania, noting that Lukashenko wanted revenge for the sanctions the EU imposed on his regime in October 2020 responding what the EU labeled as fraudulent presidential elections. Press reports likewise indicated that the Belarusian government facilitated the flow of refugees toward the Lithuanian border as a means of retaliation.
Months of Suffering
However, the arriving migrants were not initially aware that they had become pawns in a spat over sanctions. Migrants paid smugglers thousands of dollars to embark on a long, risky, expensive journey to Lithuania. Once arriving inside EU borders, however, several migrants who spoke with the author reported that they found themselves housed in camps that had originally served as prisons, where they faced difficult living and sanitary conditions. Most of them are stuck there while they await decisions on their requests for asylum.
These requests have mostly been denied. The media division at Lithuania's Ministry of the Interior stated to the author that "nearly 2,000 Iraqi migrants—who make up the majority of the migrants in the camps—are distributed among five separate camps. Residency has only been granted to five people."
Ali al-Saleh, a young man from the Syrian city of al-Zour who now lives in a refugee camp in Lithuania, explained: "I arrived in Lithuania in November of 2021. I applied for asylum with the immigration department, but, unfortunately, after a long wait, it was denied. I appealed the decision and the response was also negative. The food offered to us is not fit for animals, and the Lithuanian authorities treat us badly to pressure us to return to our countries. But, for me, this is impossible. I am from Syria, and the conditions there are completely unsuitable to return to."
Several migrants with whom the author was able to speak to complained of mental and physical illnesses. Some of them show symptoms of coronavirus, and they fear the spread of infection throughout the camp. During an interview with the author, the Ministry of the Interior said that 55 migrants tested positive for the coronavirus and had been quarantined in three hospitals, while medical committees continue to offer coronavirus vaccinations to those who wish them.
One of the young Iraqi men whose asylum application was denied—Haidar Aziz from Diyala Governorate—said: "I live in a camp that was originally a prison where the Lithuanian authorities put prisoners. I have been there about seven months now. In essence, we live the lives of prisoners. The camp is closed, and we are not allowed out. It is surrounded by barbed wire so we cannot leave." He asks, "Where is this freedom of which Western countries speak?"
He also noted that among Iraqi refugees, some were attempting to return despite the dangers that drove them to leave in the first place. On its official website, the Lithuanian Ministry of the Interior stated that 98 Iraqi citizens had left Lithuania for Iraq after applying for voluntary return to their country because they did not obtain asylum.
Lithuania's Ministry of the Interior added to the author: "Anyone who does not agree with the immigration department's decision not to grant asylum can appeal the decision to the courts. Meanwhile, a sum of EUR 1,000 is given to anyone wishing to return voluntarily. In this respect, 755 migrants who expressed their desire to return to their country have done so. In all cases, if the migrant is not granted asylum, he must return to his home country or else he will be repatriated there."
Haidar Aziz is staying, but feels that he is trapped: "Many media outlets and international organizations visit us to document our lives, but the authorities hold us accountable and remove our personal mobile phones to prevent us from contacting the outside world if we speak openly and publicly to the media. Where is this freedom we came for? Unfortunately, this is how we live, and the state stands by silently, unable to help us."
Seeing Double Standards
This crisis has been ongoing for months now, but the recent Russian attack on Ukraine—facilitated by Belorussian cooperation—has further soured migrants to European governments. The refugee crisis developing as a result of Russia's attack on Ukraine is severe—a report published by the UN High Commissioner for Refugees estimated that as of March 8, over two million people have left Ukraine for neighboring EU countries. Meanwhile, it is expected that 4 million people are in need of emergency aid and protection.
These refugees clearly require care and support, but Arab migrants can't help but compare the disparate welcomes facing Ukrainians with the reaction at EU borders for those fleeing other conflicts. From Aziz's perspective, "Since the first day Russia declared war on Ukraine, the EU nations quickly opened their countries to Ukrainians, welcoming them and giving them job opportunities and permanent residency without restriction or condition. Meanwhile, we have faced the fullest forms of discrimination and racism solely because we are Arabs who do not look like them. They have put Ukrainians in prominent 5-star hotels, while our fate is closed prisons with twenty people per room."
Some migrants of Arab, African, or Indian origin fleeing Ukraine have also reported facing similar discrimination at the borders of Poland. Reports have documented that those stranded at the border are facing difficult and strict procedures to enter Poland after fleeing Russian army missiles and the incessant bombing of Ukrainian cities despite Poland's official policy that it has opened its borders to refugees "regardless of nationality."  
In response to the images of European nations opening their borders wide to Ukrainians fleeing the war, non-Ukrainian migrants stranded in Lithuania for the last year have escalated their demands. The refugees in Lithuania are calling on the UN and the EU countries to handle their cases as they have handled the Ukrainians—especially since most of these migrants have also suffered from war in their countries for years. Among their requests are to grant them temporary or permanent residency, provide them job opportunities since most of them have exhausted their funds, and release them from the prisons where they live to begin the lives they dreamed of and were deprived of in their countries.
The migrants provided documents showing that the Lithuanian immigration department has extended the period of detention in the camps for another six months—a decision that prompted the migrants to launch a hunger strike that has led several to lose consciousness and physical weakness. Others have lost hope and have tried to commit suicide, according to the author's interviews with several migrants.
For Ali al-Saleh, the message is clear. "We spend all our time in prison. We need freedom and work so that we are not seen as non-productive citizens or a burden. We do not just want money from them, but to be treated without discrimination and the same as Ukrainian citizens fleeing their country because of Russia's war against them. Syria has gone through the same war and the same suffering caused by Russia in our country. Where are the human rights the Western nations speak of? I urge the EU, the international community, and human rights organizations to consider our cases and treat us with a humanitarian spirit. We can remain no longer in closed prisons. What is our fate? We want freedom."