A Short-Term Diplomatic Agenda for the Syrian Puzzle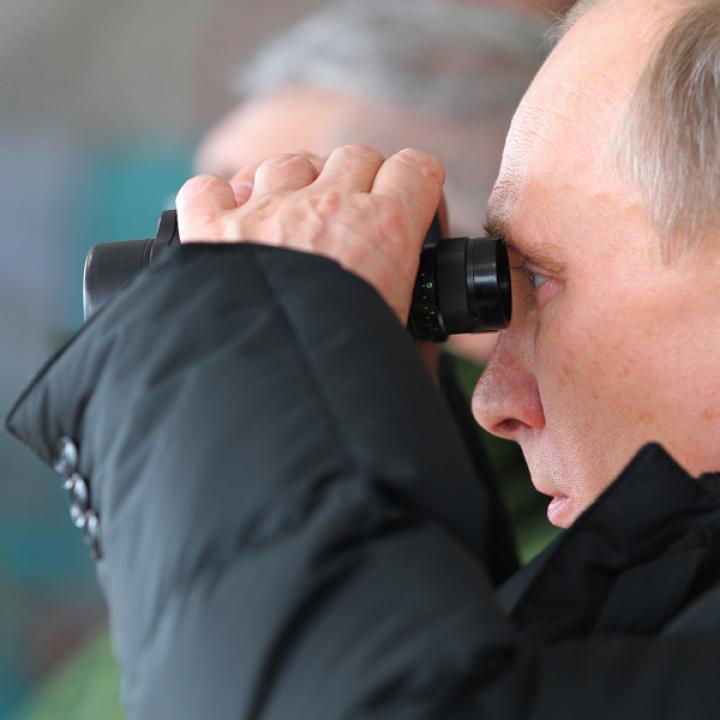 If Biden wants to create additional leverage before attempting difficult negotiations with Russia, he will need to display strategic patience by partnering with allies on ten preliminary issues.
The Syria policy of President-elect Joe Biden's incoming administration remains relatively mysterious. Five contradictory factors may frame it.
First, Syria has never really been a U.S. policy priority in the Middle East, and renewing the international framework to halt Iran's nuclear program seems to be Biden's top regional goal. In addition, the repeated pledge to "end endless wars" has created broad American consensus against a bigger footprint abroad, and the coronavirus pandemic will further reduce the White House's bandwidth for Syria.
Second, the United States has lost significant leverage in Syria due to the policies of the Obama and Trump administrations. For instance, when faced with a Turkish cross-border operation in the northeast late last year, U.S. troops partially withdrew, thus blurring the previously stable frontlines between Russian, Turkish, and American forces.
Third, Biden has praised the light U.S. force posture in northeast Syria. Contrary to other prominent Democrats, he argues that the "by, with, and through" strategy employed against the Islamic State remains a good model for American military action in the Middle East. This may indicate a willingness to keep a small contingent on the ground to support local partners.
Fourth, key figures in Biden's campaign—including Tony Blinken, his current nominee for secretary of state, and Jake Sullivan, his nominee for national security advisor—have publicly reflected on mistakes made in Syria during the Obama administration. Notably, Blinken has stated that he cannot imagine a policy of reengaging with Bashar al-Assad.
Fifth, when U.S. legislators passed the Caesar Act last year, they built in mechanisms that were intended to resist change by future administrations. Therefore, economic sanctions targeting the Assad regime are likely here to stay.
At first glance, these factors do not seem to leave much room for a particularly new Syria strategy, suggesting that the status quo policy will persist. Yet Washington has more leverage than it realizes, so long as it is willing to abandon the self-defeating logic of recent years.
How Can Biden Change the Status Quo on Syria?
One prerequisite for breaking the diplomatic stalemate is acknowledging that the United States has neither the means nor the ambition to solve the Syria quandary on its own, whether through military intervention or a grand bargain with Russia and Turkey. Washington can achieve more limited goals, however, such as improving the humanitarian situation, reshaping the UN's framework of negotiations between Syrian actors, and preventing new hostilities in the north.
A second prerequisite is to better combine the disparate sources of U.S. leverage. The Syria policy landscape is very fragmented, so Biden's team would need to do a better job of tying together financial, legal, diplomatic, and political matters that have previously either been dealt with separately or ignored.   
A third prerequisite is to reinject some diplomatic energy into Syria policy. Biden has pledged to restore U.S. leadership, rebuild alliances, and work more closely with foreign partners in general, and one obvious format for doing so in Syria is the so-called "Small Group," which gathers Britain, Egypt, France, Germany, Jordan, and Saudi Arabia. This collective has met regularly, but the Trump administration has been reluctant to invest in it, making little discernible progress on coordinating a strong, high-level effort to fix the UN process or deal with Russia, Turkey, and Iran.
A Short-Term Agenda for the Small Group
The Small Group should meet quickly after the confirmation of Biden's new secretary of state. At that first meeting, officials will need to take stock of Russia, Iran, and Turkey's responsibility for the current situation on the ground and the UN stalemate. From there, they should prioritize strategic patience, focusing for now on asserting the following joint positions instead of trying to formulate a grand new strategy for Syria:
1. Set a deadline for the constitutional committee. This UN-led committee has produced no appreciable results after more than a year of existence. Despite its flaws and limited chances of success, the committee idea was worth trying if only to prevent Russia from exploiting the diplomatic process and normalizing the Assad regime without addressing any of the war's root causes. Yet the regime has continuously blocked the committee's efforts for months in the hope that Assad can "win" the 2021 presidential election under the current constitution. Unless the committee produces dramatic progress at its next session (scheduled for January 25), the United States and its allies would be wise to set an expiration date, calling for the body's termination if it does not deliver in a few months.
2. Urge the UN to prepare a robust monitoring mechanism for Syria's 2021 election, as well as safe, neutral options for Syrians abroad to participate. The regime is unlikely to accept UN monitoring, but preparing such a mechanism is nevertheless important in order to clarify what the outcome means. That is, if the regime refuses monitors, it would undermine the legitimacy of Assad's presumed "victory"; if it allows them in, the resultant findings would probably make clear that the election was rigged.
3. Speed up Kurdish reconciliation. Recently, Syrian Kurdish fighters have engaged in border clashes with Iraqi Kurdish forces. Such incidents show that stabilizing northeast Syria will only be possible through a high-level push to resolve disputes between rival Kurdish factions and exclude non-Syrian members of the Syrian Democratic Forces (SDF). France and the United States have separately dispatched special envoys to mediate between the SDF and the Turkish-backed Kurdish National Council, but more coordination and political pressure are necessary. Time is running out given the risk of another Turkish offensive, so the Small Group should make clear to SDF leaders that they must deliver soon. Among other imperatives, this means giving Ankara stronger guarantees that they will delink the SDF from the Turkish-outlawed Kurdistan Workers Party (PKK).
4. Press Turkey to contain jihadists. Earlier this month, senior al-Qaeda-linked jihadist Abd Allah bin Muhammad al-Muhaysini reportedly met with the Turkish-backed group Failaq al-Sham in the Afrin area of northwest Syria. Such incidents should spur the Small Group to publicly oppose any collusion between Turkey's partners and jihadist elements; otherwise, large parts of north Syria could become safe havens for al-Qaeda affiliates and the Islamic State.
5. Include the SDF in the UN process as part of the Syrian opposition. Under UN Resolution 2254, officials tend to equate the "opposition" with the High Negotiation Committee, which is dominated by the Syrian National Coalition (SNC). This approach has led UN Special Envoy Geir Pedersen to exclude the SDF from the UN diplomatic process. Yet the SNC and SDF urgently need to reach an arrangement whereby they can regain diplomatic and territorial leverage while preventing Damascus and Moscow from forcing the SDF into a deal with the Assad regime. Egypt has already hosted talks between the SDF and the so-called "Cairo group," a minority faction within the SNC; individual members of the opposition have been engaged as well. A joint effort by Small Group states could help reinvigorate this process.
6. Fix the humanitarian framework and increase aid. Members of the Small Group are among the biggest humanitarian donors to Syrians in need, so they have substantial leverage to press international NGOs and UN agencies in Damascus on countering the regime's hijacking of aid. They should also prepare joint alternatives to the UN framework in case the resolution on cross-border humanitarian support is not renewed in July 2021. Assuming the framework is fixed, UN member states should be encouraged to provide additional funding for humanitarian operations (only 40 percent of the funding target for 2020 has been met so far). In addition, closer cooperation with humanitarian actors would help ease the problem of bank over-compliance with sanctions. Although the Caesar Act and similar measures are aimed at regime officials and include many humanitarian exemptions, international financial institutions often err on the side of caution and over-comply with these restrictions, indirectly creating serious obstacles for humanitarian operations.
7. Consider allowing "early recovery" projects in regime-held areas and more stabilization efforts in the north. Rather than focusing exclusively on emergency relief, donors should raise the possibility of extending funds to other projects based on each area's situation. For instance, if the Small Group proves able to coax progress between the SDF and Turkey, European members could reciprocate by increasing their contributions to stabilization efforts in north Syria, including Turkish-held territories. Similarly, members could offer to fund basic infrastructure repairs in regime-held areas if Damascus agrees to reduce its military attacks and its interference in humanitarian operations. This could be an especially attractive carrot for the regime at a time when even its loyal constituency is suffering from the economic and health crises.
8. Reaffirm the conditionality of reconstruction. The United States and the EU have long conditioned their funding of reconstruction projects on making visible progress in the political process, but Russia is lobbying European countries to change that policy. The Small Group should therefore renew its commitment to conditionality.
9. Strengthen cooperation against war criminals. Recent court cases in Germany prove that authorities can find and prosecute former Syrian officials who are guilty of war crimes. Likewise, the Netherlands has decided to hold Damascus legally responsible for gross human rights violations under the UN Convention Against Torture. Going forward, members of the Small Group should enhance judiciary cooperation and expand support to Syrian NGOs that focus on gathering evidence and assisting victims.  
10. Remind the regime about short-term measures that could break the stalemate. Although Assad is unlikely to engage in a gradual confidence-building process toward potential negotiations, the Small Group should nevertheless spell out the steps he could take to signal his interest in something other than a de facto military solution and continued international isolation. These include releasing political prisoners, halting arrests of returning refugees, and ending airstrikes against civilian facilities.
Ultimately, compromising with Russia is the only way to deliver a negotiated outcome in Syria, since Moscow has gained substantial influence through the Astana framework and its bilateral relations with Turkey and Iran. Once the Small Group has strengthened its leverage by carrying out the short-term agenda described above, it could pursue the mid-term goal of merging its efforts with the Astana format. This could help the group open a more global negotiation, reinvigorate the UN process, and assess whether it is ready and able to host substantive talks between the Syrians themselves. Developments on other fronts—perhaps including the Iranian nuclear program—could facilitate this process.
All of these points will require difficult negotiations, so only strong U.S. leadership based on a real multilateral process can deliver progress. The first step in that direction is clear: using the momentum granted by the coming inauguration to signal Damascus, Moscow, and Tehran that their current strategy of trying to wait out the United States will not work.
Charles Thepaut is a visiting fellow with The Washington Institute.