Putin's War in Syria
Russian Foreign Policy and the Price of America's Absence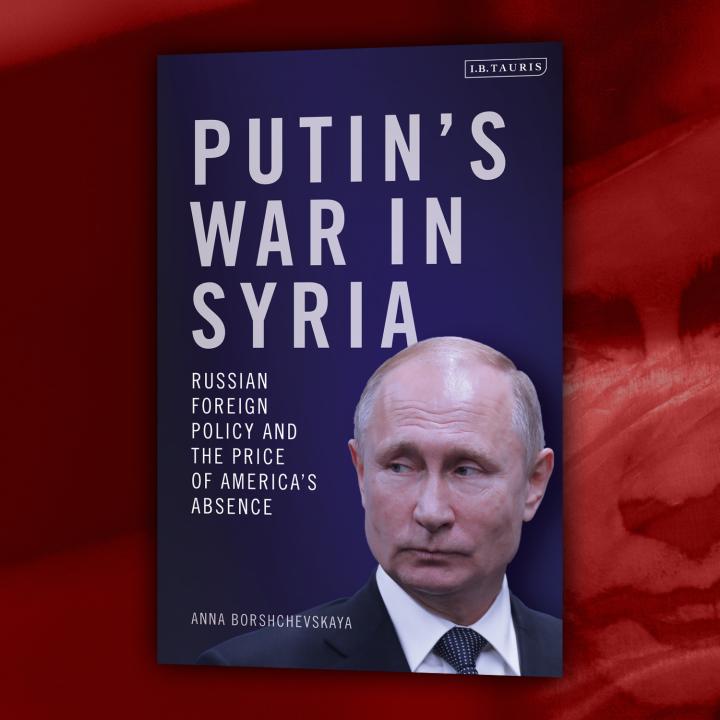 The Russian leader defied expectations of a quixotic, costly outcome for his country's 2015 intervention in Syria. As it actually played out, explains Anna Borshchevskaya in her recently published book, Russia leveraged the conflict and U.S. inaction to position itself as a leading power in the Middle East.
In September 2015, when Russia intervened militarily in Syria, international critics predicted that Moscow would overextend itself, with President Obama suggesting America's rival would find itself in a "quagmire." Yet in the end, as Anna Borshchevskaya argues, Putin achieved key domestic and foreign policy objectives without crippling costs, and is well positioned to direct Syria's future and become a leading power in the Middle East.
This outcome has serious implications for Western interests in the region and beyond. Dr. Borshchevskaya places Putin's intervention in that broader context, exploring his overall approach to the Middle East—historically, Moscow has a special relationship with Damascus—and tracing the political, diplomatic, military, and domestic threads of his Syria decision. The book also delves into the particulars of the Kremlin's military campaign, public opinion inside Russia, and Moscow's diplomatic tactics at the United Nations. Most crucially, it illustrates the impact of America's relative absence in Syria and lays out what a more effective Western role could look like in the Middle East.
Purchase  Putin's War in Syria  from the publisher.
Purchase  Putin's War in Syria  from Amazon.
Praise for Putin's War in Syria
"No one knows the subject matter better than Anna Borshchevskaya, whose research is extraordinary and insights into Russian high strategy are absolutely on target."
James Jeffrey, U.S. Special Representative for Syria, 2018-2020
"Anna Borshchevskaya has written an important account of how Putin not only avoided getting Russia into a quagmire in Syria as President Obama predicted, but instead succeeded militarily at low cast in part through leveraging the actions of others operating there."
Mark N. Katz, Professor of Government and Politics, George Mason University and Non-Resident Senior Fellow, The Atlantic Council
"Anna Borshchevskaya is Washington's go-to expert on Russian involvement in the Middle East. Her years of research have resulted in a thoughtful, comprehensive, and authoritative account of the evolution of Moscow's relationship with Damascus and of Russia's military and diplomatic intervention in the war."
David Schenker, Senior Fellow, the Washington Institute for Near East Policy, and former Assistant Secretary of State for Near Eastern Affairs
"Putin's War in Syria is an eye-opening examination of Russia as it relates to a much bigger world than NATO and central Europe...Borshchevskaya does a superb job of annotating what we have missed and how Russia has used all the tools of national power to keep the West one step behind on the chessboard."
Gen. Philip Breedlove, USAF (Ret.)
"The full tragedy of Syria is laid bare in this remarkable book...The first step for accountability begins with accurate history, and this volume will be a central part of it."
Adm. James Stavridis, USN (Ret.)