Israel's Karish Gas Field: Diplomatic Opportunity or Casus Belli?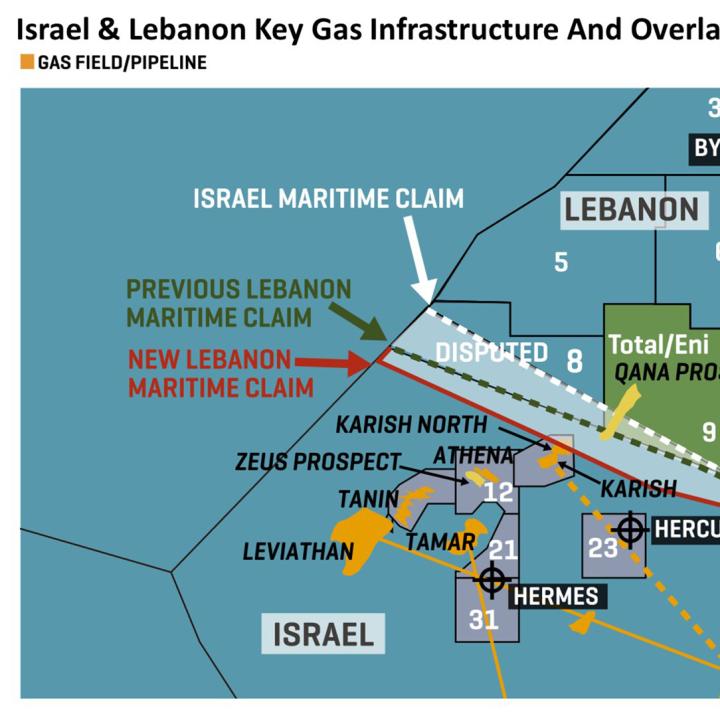 Seven experts examine how the fraught decision to start production might affect Beirut's negotiating stance, Hezbollah's military calculus, U.S.-Israel relations, and other factors.
This PolicyWatch was compiled by Washington Institute fellow Simon Henderson and includes sections by his colleagues Hanin Ghaddar, Matthew Levitt, Ehud Yaari, David Makovsky, David Schenker, and Andrew Tabler.
Before the end of the month, Israel is scheduled to begin production at the Karish natural gas field off its northern coast. The government's announcement has prompted threats from Lebanese Hezbollah, ambiguous comments from certain Israeli officials, and suggestions of a possible U.S.-orchestrated diplomatic breakthrough. Karish is much smaller than Israel's current producing fields, Leviathan and Tamar, but it has generated much more attention of late because it lies close to the disputed dividing line between Lebanon and Israel's exclusive economic zones (EEZs)—a festering disagreement that Beirut recently exacerbated by claiming an additional maritime area south of its previous declaration. Karish North, a separate field due to come into production next year, lies within this extra claim.
In addition to complicating the countries' broader maritime negotiations, the Karish site is also sensitive because of its potentially heightened vulnerability to attack. Unlike the production apparatus for Leviathan and Tamar, which are hidden beneath the waves and connected by long pipelines to processing platforms near the shore, Karish is tethered to a production and storage vessel floating just above the field; the same arrangement will eventually be used for Karish North. This offers a tempting target to Hezbollah, which flew three drones toward the vessel on July 2 (Israel soon shot down the aircraft). And all of these tensions are growing against a backdrop of other sensitive and relevant developments, including imminent elections in Israel and the United States, the October departure of Lebanese president Michel Aoun, and the ongoing global energy crisis prompted by Russia's invasion of Ukraine.
Whatever happens, all parties should be mindful of the challenges and timelines associated with offshore gas development. Typically, it takes five years from signing an initial contract before gas actually flows to a customer. The area must first be seismically surveyed, and a drilling rig must then be brought in to explore likely oil or gas deposits. In the deep waters of the East Mediterranean, each hole requires around ninety days to drill, and commercially viable finds usually cannot be confirmed until around day eighty-five or so. Additionally, each hole costs around $100 million—an expense that license holders will not take on until they secure a long-term sales agreement with the sovereign government (i.e., fifteen to twenty years).
Lebanon's Calculus
Beirut knows that failing to reach a deal would cause internal backlash, since the country's economy cannot afford more tensions with the international community. The political leadership hopes that agreeing to a U.S.-brokered deal on a broad maritime boundary will open other doors, such as facilitating the transfer of Egyptian (in reality, Israeli) gas to Lebanon while easing IMF and World Bank demands for reform. Given the threat of additional sanctions on corrupt politicians and the promised benefits that new gas supplies would hold for economically entrenched elites, an agreement with Israel does not sound bad at this point.
Hezbollah has its own calculations on the matter but may likewise let it pass. Crippled by internal financial problems, challenges within its fighting force, and ongoing Israeli attacks on its weapons facilities in Syria, the organization is well aware that starting another war would result in more losses than gains—at least for the time being.
If an agreement is realized, all parties need to keep in mind that the energy sector is still Lebanon's most corrupt and failed sphere. Hence, any compromises on reform requirements will only strengthen this corrupt system and, inevitably, Hezbollah itself.
Hezbollah's Military Caution?
In June, Hezbollah leader Hassan Nasrallah warned that his forces would take action to prevent Israel from extracting Karish gas unless it makes concessions toward a final maritime boundary deal with Lebanon. Israeli security officials understood this threat as a significant departure from Hezbollah's traditional redlines, under which the group would carry out reprisal attacks only if Israel strikes Lebanese territory or targets Hezbollah operatives.
Threatening Karish is risky for Hezbollah, since many observers believe the group does not want a full-fledged fight with Israel at a time when Lebanon is suffering severe political and financial crises. Yet Nasrallah has also seemingly concluded that the potential costs of taking this risk are outweighed by the benefits of claiming that Israel's concessions on Karish and related matters are made possible by Hezbollah threats. After taking much flak domestically due to its intervention in the Syria war, the group likely wants to show that its weapons are now being used in the service of Lebanon's interests, not Iran or Syria's.
Israel's Financial and Security Stake
Despite Nasrallah's repeated threats, Israel has not been deterred from proceeding with its Karish production plans, creating a dangerous round of brinkmanship that could result in escalating local hostilities or even a larger confrontation. According to Israeli intelligence assessments, now that Nasrallah has made such serious public statements and conveyed additional warnings through intermediaries, he may feel obligated to act on his explicit threats. For their part, Israeli leaders may have boxed themselves into a corner by publicly insisting that the project will not be delayed.
Regarding the broader maritime border negotiations, Nasrallah seemingly aims to strong-arm Israel into fully conceding the prospective Qana gas field, which straddles the proposed boundary. To compensate Israel for its share of the field (reportedly 20-30 percent, worth approximately $200-300 million), the United States apparently suggested that the firm QatarEnergy buy out the Russian company Novatek, which recently withdrew from its partnership with French Total and Italian Eni in this block. This type of "unitization" arrangement would enable Beirut to claim that it is not dealing directly with the "enemy." Earlier this week, the Lebanese government announced that it will take over Novatek's 20 percent share in Block 9 (the Qana area) and Block 4 (north of Beirut).
U.S. envoy Amos Hochstein is still working to remove other obstacles preventing an overall deal. Earlier today, he discussed the issue with Israel's national security advisor and Foreign Ministry director on the sidelines of the UN General Assembly meeting in New York.
U.S.-Israel Relations  
The timing of the Karish project seems to be a key matter for the U.S. and Israeli leaders. This is partly due to the uncertainty of what will emerge from Israel's November 1 parliamentary election; any progress on offshore issues before then could be seen as an achievement for caretaker prime minister Yair Lapid. Another mystery is whether Iran will give its Hezbollah proxy the go-ahead to permit a Lebanese deal at a time of broad regional uncertainty. For now, the various hopeful signals surrounding a potential breakthrough suggest that Washington is quietly urging restraint on Karish in order to give the rest of the diplomatic process time to play out over the next month or so.
Biden's Goals
The Biden administration has defined resolving the maritime boundary dispute as a "key priority" that will promote regional stability. Yet while an agreement on this frontier may remove one source of conflict between Israel and Hezbollah, it is unlikely to alleviate their spiking tensions along the Blue Line, the land boundary that runs from the coast to the Syrian border. Moreover, any service contracts and revenue stemming from an EEZ agreement could result in funds leaking to Hezbollah—in fact, such diversions seem inevitable unless international authorities insist on sufficient oversight and a Lebanese sovereign wealth fund, which might encourage the transparent collection and disbursement of related revenue.
The Biden administration is also apparently keen on brokering a maritime deal soon because it may influence the outcome of Israel's election. Prime Minister Lapid is currently running neck and neck with former leader Binyamin Netanyahu, and the White House would prefer a Lapid victory in order to further its goals of improving relations with the Palestinians and maintaining the status quo in the West Bank. Whatever the final terms of a maritime agreement with Lebanon, reaching a deal would burnish Lapid's foreign policy credentials and potentially help him at the polls.
The Syria Angle
In addition to maritime talks, the United States has spent more than a year in drawn-out negotiations to broker a Jordanian-inspired deal for supplying Lebanon with more energy. Under its terms, electricity generated in Jordan from Israeli gas—along with certain amounts of Israeli gas itself—would be transported over Syrian territory to Lebanon.
Much of the plan's controversy stems from the fact that Syria's Assad regime would reportedly receive 8 percent of any electricity and gas transiting its territory as a form of in-kind payment—this despite its continued status as a target of sanctions via the U.S. Caesar Act, the European Union, and the Arab League. Northern Lebanon has just one electricity generation station that is both adjacent to the Arab Gas Pipeline and capable of using gas as a feedstock, so Syria is the only party in a position to generate the amount of electricity Beirut currently needs. The Assad regime is also eager for this arrangement because its own generation stations often sit idle due to lack of feedstock.
Israeli sources describe the plan as an energy extension of their country's "good neighbors" policy toward the Syrian people during the civil war next door. In other words, Jerusalem has sought to show that it wishes Syrian citizens well even though their country remains dominated by Iranian and other proxy forces.
Conclusion
Lebanon's decision to take over Novatek's offshore stake could be part of a synchronized move toward an imminent maritime border agreement—one that also allows for Qatar's entry into the license consortiums. Despite questions about the nature and substance of any agreement involving Lebanon and Israel (whether directly or, more likely, indirectly), the nascent deal appears to have traction, reportedly including significant Israeli concessions on the final boundary line. Yet it remains an open question whether any near-term agreements will serve as a foundation for broader bilateral progress between Israel and Lebanon or collapse within a few months like past deals.