The Future of al-Tanf Garrison in Syria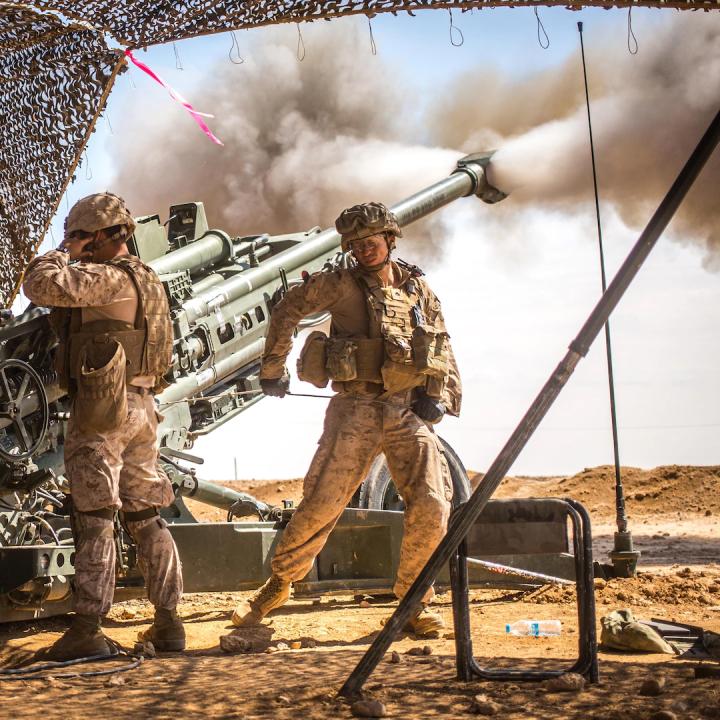 The remote U.S. base remains a relatively low-cost, high-impact tool for preventing an Islamic State resurgence, disrupting hostile Iranian activity, and exerting leverage over Syria's long-term outlook.
On the evening of October 20, a swarm of armed drones and projectiles targeted a small U.S. military base in south Syria. Established in 2016 at the intersection of the country's borders with Jordan and Iraq, al-Tanf Garrison (ATG) is home to more than a hundred U.S. service members. The base is used to continue operations against the Islamic State (IS) and disrupt the activities of Iranian proxies in Syria, but it also serves as leverage in the long-running negotiations over the country's future. ATG's status is not permanent, however, and the recent attack underscores why the Biden administration should chart a course soon for the future of America's local military presence.
ATG's History and Mission
Prior to 2016, the area around ATG was under IS control before being liberated by coalition forces. Since then, the United States has used it as a training base for Syrian opposition groups, with an average of 100-200 U.S. service members stationed there at any given time. The base sits along one of the main highways between Baghdad and Damascus, leaving it isolated from the U.S. troop presence in northeast Syria.
Surrounding the garrison is a fifty-five-kilometer deconfliction zone that emerged as part of a U.S.-Russian understanding in 2016. This zone has enabled U.S. and partner forces to disrupt IS operations and deny access to Iranian-aligned forces. It also had the secondary effect of attracting Syrian refugees to the Rukban camp, located just miles from the base on the Syrian side of the frontier. At its height, Rukban was home to over 50,000 Syrian refugees, though this number has reportedly dwindled to around 10,000 over the years as residents returned to regime-controlled areas following various deals with Damascus. The large refugee presence near an expeditionary U.S. base has put additional pressure on service members stationed there, as exhibited in 2020 when two pregnant refugees were rushed to ATG for emergency caesarean sections.
Rukban is also home to the families of the primary opposition faction at ATG, Maghawir al-Thawra (MaT), a group of former Syrian military officers largely hailing from the Deir al-Zour region, according to a tribal mapping project by the Center for a New American Security. The Defense Department estimates that around 300 MaT members are interspersed around the ATG deconfliction zone. U.S. forces have trained the group since establishing a presence at the base, and they currently partner on counter-IS and humanitarian missions. For instance, MaT interdicted IS drug smuggling shipments in 2018 and 2019, and it has periodically provided security for aid delivery operations to Rukban. Last month, it claimed to intercept a Lebanese Hezbollah shipment of Captagon destined for Jordan and the Gulf states.
The October 20 attack was not the first time U.S. forces have been targeted at ATG. In 2016, Russian aircraft struck the base twice—once using cluster munitions, and again after a U.S. warning that coalition service members were present. Four Syrian opposition fighters were killed. In April 2017, IS operatives attacked U.S. troops after disguising themselves as American-supported rebels. Just a few weeks later, an Iran-backed militia launched a bomb-carrying drone against the garrison.
Around this time, ground elements aligned with Iran also began probing the deconfliction zone. In May-June 2017, U.S. and coalition forces repelled a "pro-regime" force of approximately sixty soldiers and conducted strikes against other similar forces that entered the zone. By that summer, the United States had bolstered its presence with a high mobility artillery rocket system (HIMARS). In February 2020, MaT claimed to repel a force of Iran-aligned elements as they entered the zone, according to a report by Military Times.
ATG's Future
As U.S. Air Force colonel Daniel Magruder Jr. explained in a November 2020 Brookings Institution report, the military presence at ATG supports three American policy goals in the region: (1) continuing the campaign against IS, (2) disrupting Iranian-aligned activities across the "land bridge" from Iran to Lebanon, and (3) creating leverage in negotiations regarding the future of Syria. U.S. military officials are often loath to publicly acknowledge the second and third goals given concerns about the legal justification for America's presence in Syria.
At a Middle East Institute event in July 2020, U.S. Central Command chief Gen. Kenneth McKenzie Jr. noted that "our primary purpose for being in Syria is to conduct operations against [IS]." Yet his predecessor, Gen. Joseph Votel, hinted at broader goals while testifying to Congress in 2018: "[ATG] does have the derivative value of being along a principal line of access [and] communication that Iran and her proxies would like to exploit...So while that isn't our mission, we do recognize the indirect impact that we have."
In addition to impeding Iran's ground line of communication with Hezbollah and the Assad regime, the U.S. presence at ATG has also proven useful to Israel's "campaign between the wars," which has reportedly included dozens of air missions against targets in Syria. Some of these operations have struck Syrian bases where Iran's Islamic Revolutionary Guard Corps and/or their militia proxies were expanding their presence. In the past, these missions were usually conducted by flying over Lebanon, but two factors have made the ATG deconfliction zone the less risky, more appealing route for Israel: the reportedly higher concentration of air defense systems in west Syria and around Damascus, and the growing Israeli concern about Iran supplying more advanced capabilities to its proxies. The ATG route of attack enables Israeli forces to avoid Syrian early-warning radar systems oriented to the west/southwest. It is unclear whether Damascus would deploy air defense systems to the area around ATG if U.S. forces were no longer present there.
The garrison has served Jordanian interests as well. American troops and their MaT partners help secure the kingdom's remote borders with Iraq and Syria against smuggling and potential infiltration by IS or Iranian militias. Although Jordan has warned of the terrorism threat posed by Rukban camp, Washington has helped reduce this danger by establishing checkpoints and supporting the U.S.-trained security personnel who patrol the Syrian side of the border. Indeed, after President Trump ordered all U.S. forces out of Syria in 2018, King Abdullah II personally lobbied the administration to remain at ATG.
Conclusion
Recent reports indicate that the Biden administration has concluded its review of U.S. policy toward Syria and will focus on maintaining operations to defeat IS and advance humanitarian aid. This is a distinct departure from the Trump administration's policy, which focused on two other goals besides defeating IS: implementing UN Security Council Resolution 2254 (i.e., enabling a political transition that allows the Syrian government to reestablish control over the country) and securing the removal of all foreign forces.
The Biden administration may not care to prioritize its predecessor's goals, as evidenced by its perceived lack of interest in preventing Arab normalization with Bashar al-Assad or appointing a high-level envoy to Syria. Yet maintaining the U.S. footprint at ATG and in the northeast would benefit American interests and the administration's goals in crucial ways. In addition to preventing IS from reconstituting enough to launch new attacks in Syria or abroad, U.S. boots on the ground represent Washington's primary source of leverage in shaping Syria's future and disrupting Iran's malign cross-border activities.
In short, ATG is an extension of America's overall policy toward Syria. The Obama and Trump administrations believed that the benefits of a U.S. military presence there outweighed the risk, and for good reason—although the base has been probed by adversaries since it was established, no U.S. service member has been killed there. As long as the Biden administration remains committed to the counter-IS military mission in Syria, a continued presence at ATG makes sense. Despite the resources required to secure and provision the remote garrison, it remains a relatively low-cost, high-impact deployment that benefits U.S. and regional interests alike.
Grant Rumley is a senior fellow at The Washington Institute and a former Middle East policy advisor in the Office of the Secretary of Defense. David Schenker is the Institute's Taube Senior Fellow and former assistant secretary of state for Near Eastern affairs during the Trump administration.